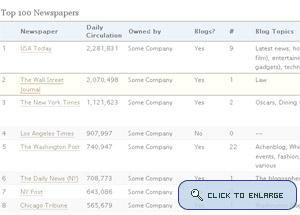 Click here for the full results. According to our calculations, only 14 newspapers in the top 100 have no blogs on the site. The most? NJ.com (Star-Ledger), Atlanta Journal-Constitution, Cleveland Plain-Dealer, Post-Standard in Syracuse, and San Jose Mercury News.
We tried to be as accurate as possible, but it's not always easy to find the blogs at a newspaper site. Be kind: E-mail us if you see errors or have fixes. Or use the comments.
"Facts About..." is the work of Trisha Chang, who designed and researched it, and stayed up all night creating the html; Kat Ocampo and Kaitlin Jessing-Butz, who edited and fact-checked the results; with Alexis Krase, Toli Galanis and Sara Williams, who helped review newspaper sites.