F.O.B in NYC
by Michelle Geslani
Fresh off the boat in New York City, a young woman faced ridicule and shunning from fellow teens because of her ethnicity and new immigrant status. She complained to school administrators but was ignored. Unable to take the pressure, she became depressed and dropped out of school. Now a St. John's study is looking at the impact of discrimination and bias on young Asian immigrants.
PRESERVING POLAND IN BROOKLYN by Michael Miller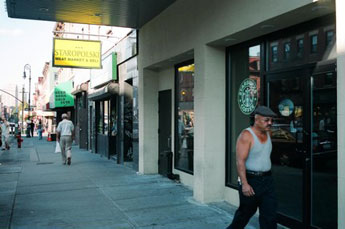 The Polish and Slavic community is alive and well despite gentrification and the arrival of Starbucks. At a local community center, residents find ties to their heritage and each other. But with Greenpoint following much of Brooklyn's economic trends, its future is still unsure.
After loud and steady opposition from many state officials and politicians, Gov. Eliot Spitzer dropped his plan to allow undocumented immigrants to obtain driver's licenses without proof of legal status.
Read the story by Dustin Seplow
Congress killed the proposed immigration reform legislation over the summer, but efforts to pass the Dream Act for college-age undocumented immigrants forge on. At universities including NYU, administrators say they are sure there are undocumented immigrants among the ranks of the student body, but their mission is to educate young people, not have them deported.
Read the story by Megan Stride
When school lets out at a New York City school, you hear the din of children in the yard speaking in English, Spanish, Chinese and many other languages. Yet, even though parents have a right to have school documents including report cards translated into their native language, about 60 percent of parents don't realize it and don't take advantage of the policy.
Read the story by Tamara Porras and Magdalena Slapik
KOREA REUNITED by Jin Lee
Koreans here are watching the reunification talks between North and South Korea with great interest, hopeful that someday they will be able to return to a unified country where the city streets are cleaner than in NYC and their money goes further.
GENERATION 1.5 by Alexandra Smith
An exhibit at the Queens Museum of Art showcases artists who belong to Generation 1.5: immigrants who came to the U.S. as children and adolescents. With a feature by Paula Kupfer on George Flores, one of the people hired in an effort to bring more Hispanics to the Queens Art Museum in response to the great growth of the Latin American population in Queens and NYC.
UNORTHODOX SABBATH by Myla Arumugam
At this Sabbath observance, instead of passing around traditional wine, the congregants pass around Grey Goose. This congregation in Brighton Beach caters to 20-something Russian Jewish immigrants.