SLAVERY:
Expression as
visual art
Linked arm in arm with two white people, a black man clutches his wounded heart. The Stars and Stripes, superimposed over the image, is dripping with blood.
Artist Faith Ringgold calls her painting "The Flag is Bleeding." But in fact the flag is not bleeding. The blood drips over the image from the open wound on the heart of the black man.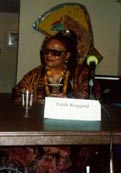 Faith Ringgold
"It is our blood that has been shed," said Ringgold, who has earned more than a dozen honorary doctorate degrees in her 35 years as an artist, referring to the blood and sweat of the African-American slaves who helped build the country.
Artists from around the world came together to partake in one of the week-long panels of the "Slave Routes: The Long Memory" symposium, hosted Oct. 5-9 by NYU's Africana studies program. The discussion, "Expressions and Documentation of the Route Through Visual Arts," took place Oct. 9. Nearly 100 people filled a 15-by-25 foot room in the Studio Museum in Harlem.
"In my home, slavery was an issue that was discussed with silence, an issue that was approached with avoidance," said Howardena Pindell, who teaches art at SUNY-Stony Brook.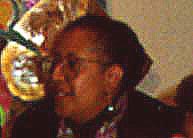 Panelist Howardena Pindell
Tom Feelings, an artist and childrens-book illustrator, said children as well as adults "need to be exposed to artwork with strong and emotional content, which passes on the expression and gives them their first tools for raising social consciousness.
"We must prepare them to open up pages and face the hard truths of the past," he said.
Feelings uses drawing and painting to tell stories. He believes that narrative art in the from of illustrated books is a natural part of his African heritage.
Sensing that children, both black and white, are bombarded with negative images of Africa, Feelings tries in his paintings to exhibit the color black as a strong force with a sense of dignity and pride. He believes that it is important for individuals to feel pride in their ancestry, not for being slaves, but for their strength as a people.
One of Ringgold's paintings depicts an African woman holding a weapon in her hand for protection in fighting, because "one has to learn to do that," she said.
Art is a tool that can be used to define a certain period, but hidden in its abstractness is its ability to change with the interpretations of the times and the interpreter. Pindell uses the presence of eyes in her paintings to symbolize what she calls "the witness."
"When we think of the atrocities that were committed against African people, and the fact that many people who murdered have gone free, there was a sense that there was no witness," Pindell said.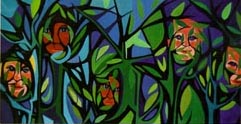 Ringgold's "Hide Little Children" 1996


"But we did witness it-- we are the witnesses and we pass these memories onto our children."

Another image Pindell painted represents a slave trader with no eyes. "For me," she said, "no eyes represent no conscience."

Produced for the Web by Michelle Pagan
---
LINKS

These sites are not part of J.Post, and the NYU Department of Journalism and Mass Communication has no control over their content or availability.