Sam E. Anderson, 53, is a New York City activist, teacher, and author. In 1966 he helped form the New York City branch of the Black Panther Party, which focused on grassroots organizing in Harlem, and at the age of 22 he became the first local director of Panther Information. In 1995 he formed the New York City Coalition for Excellence in Black Education. He taught at Queens College, Sarah Lawrence, Rutgers, SUNY at Old Westbury in Long Island and the Queens Center for Worker Education in Manhattan. Anderson is the author of In Defense of Mumia and the best-selling book, The Black Holocaust for Beginners.
Gary Morris, the director of Liverpool's nationally funded Maritime Museum, is a journalist, filmmaker, playwright and librarian. He specializes in developing the Transatlantic Slavery Gallery and is responsible for the new ethnographic galleries. He is currently Trustee of the George Padmore Institute. Since 1994, he has been an Outreach Worker for National Museums and Galleries in Merseyside and Liverpool.
Martia Goodson, an oral historian, is a professor of Black Studies at Baruch College. Goodson is a founding member of Baruch's Women of Color Network and currently teaches a course called The Black Americas: An Institutional & Cultural Survey. She published research on slave women's medicines and her book, Chronicles of Faith, a biography of Frederick D. Patterson, was nominated for the Pulitzer Prize.
Educators seek ways to make slavery
relevant to today's students
A "Teaching Slavery" workshop at the Schomburg Center for Research in Black Culture unearthed some issues that many Americans would prefer to keep hushed.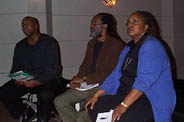 Gary Morris, S.E. Anderson and Martia Goodson
About 150 people crowded the small Langston Hughes auditorium Oct. 9 for one of the last events of an international symposium on the history of slavery, hosted by NYU's Institute for African-American Affairs and the Africana Studies program. In a room thick with heated opinions, speakers Gary Morris, Martia Goodson, and moderator S.E. Anderson focused on one main concept: the need to improve the way that U.S. public schools conduct the teaching of African-American history and slavery.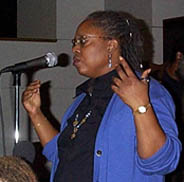 Goodson passionately describes her methods for educating African-Americans.
Goodson, a professor in Baruch College's black studies department, gave her braids an energetic toss and described the tendency of public schools to push African-American history to the side. She also thinks that African-Americans need to know that their past consists of much more than slavery.
"Something existed before that," she said. "And something existed after that. We're just not quite sure what. And we need to fill in those blanks before we can understand how to learn from them."
S. E. Anderson, a co-founder of the Black Panthers and author of the book, The Black Holocaust for Beginners, believes that the study of the slave trade has stalled because it cannot compete with the impact of more recent historical events.
"The figure of the Jewish Holocaust, that 6 million, is imprinted on our minds from the time we begin to study history," Anderson said. "And yet, no one realizes that almost 50 to 100 million Africans died during the 500 years in which slavery was an accepted economic practice."
Goodson told the audience that only Ohio, Missouri and New York require elementary, junior high, and high school educators to include slavery in their lesson plans. School boards in other states feel that teachers have the right to include or ignore topics they might feel uncomfortable teaching.
The speakers at the workshop believe the addition of a national public school curriculum could help alleviate some of the awkwardness that the mention of slavery still arouses.
Anderson tells us to know the history of slavery, instead of just saying you do.
When questioned by the panelists, many in the audience professed to know the history of slavery. But Anderson asked them to be specific: When did the Transatlantic Slave Route end? Who did the trading? No one responded.
The problem with teaching slavery does not rest solely on the lack of a national curriculum. Gary Morris, a former librarian and now director at Liverpool's nationally funded Maritime Museum, decried England's reluctance to make the teaching of slavery mandatory even though it could easily fit into the national curriculum.
"Slavery is history, it's central to everything that happened in five continents for four centuries," he said. "But right now, it's an option in a compulsory area. And it shouldn't be an option." Workshop participants expressed concern that African-American students had been made to feel embarrassed about their collective past.
One man, a retiree who had quietly sat through most of the workshop, suddenly offered: "Here's the problem -- most of the time we're not brutally honest," he said. "Most of the time, we mute our words because we've been taught to be polite in front of white people, to not say anything that will make them uncomfortable. Well, we just have to get over that fear."

"Our history did not begin in chains and will not end in chains."--Malcolm X

"Same cargo different destination."
According to Anderson these statements can be captured in every classroom on posters and other visuals. "We lack imagery of resistance and struggle. We have a lot of nice black imagery where people are standing and looking beautiful. We take images from Essence and Jet magazine and that's necessary but there is something else behind there that we have to reintroduce," Anderson said.
Felisha Moraes, a New York City public school teacher, said she doubted that most educators would independently decide to teach a subject without incentive. She cited the case of one African-American teacher who won't even bother with Black History month "because it's not on the Board of Regents."
Q1: How many Africans were taken in the slave trade?
Q2: From what parts of Africa were they taken?
Q3: Where were they taken?
Q4: When did this occur? Q5: When did it end?
Q6: Who did the trading?
ANSWERS
"Who's gonna teach the teachers?" asked Goodson. "I heard one teacher say that she wouldn't use Brother Anderson's book The Black Holocaust for Beginners because the pictures were too gross. Well, if the pictures are too gross, then what about he reality?"
A few of the audience members grasped for a possible solution to this problem: just flood America's educators with the proper background and knowledge, and then students will reap the rewards.
But Felicia Moraes does not believe that will help. "Don't expect your enemies to train you. You have to teach yourself.
Produced for the Web by Amanda Fung
Anderson tells us a story of a second or third grade teacher who recreates the Middle Passage experience in the classroom. It's a controversial exercise, but she receives parental permission and support from the school administration. She believes that through this particular abstraction we can convey the horrors of the Middle Passage to children. She darkens the classroom and instructs the children to go underneath their desks. They are not allowed to talk throughout this exercise. When the bell rings for dismissal the children are not allowed to leave the classroom and are told to remain underneath their desks. Thirty-five minutes later she turns the lights back on and only then are the children free to speak and move around. After this powerful exercise she explains to the terrified children that this was how Africans felt during the Middle Passage.
To learn more about the Middle Passage and activities you can use to teach this horrifying experience visit Middle Passage Voyage.
SOMETHING EXTRA...
To learn about educated fifth graders who addressed the problem of slavery visit "Dead History."
---
**LINKS**
These sites are not part of J. Post, and the NYU Department of Journalism and Mass Communication has no control over their content or availability.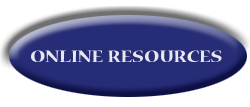 Where to get started, some useful activities and ideas for the classroom.

UNESCO "Breaking the Silence"


Exploring Amistad: Teaching the Story


K-12 Electronic Guide to African Resource on the Internet


AFRICA: One Continent, Many Worlds


The Atlantic Slave Trade: Demographic Simulation


The ACCESS INDIANA Teaching & Learning Center Guide to Slavery