FINDING YOURSELF
Search the Web for your
African-American heritage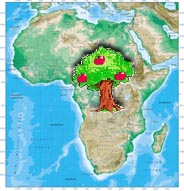 Almost everyone is interested in his or her heritage—where they came from, who their ancestors were; how they lived.
On the Internet there has been an explosion in recent years of genealogy sites. This is especially good news for African-Americans, who have traditionally had trouble tracing their roots: Generally, African people lost original surnames when they became slaves - sometimes they were given the last names of their masters, sometimes they had no last names at all. After Emancipation, freed slaves sometimes took the names of famous people whom they revered.
A search on "African-American genealogy" on the Altavista search engine brings up over 1,000 hits, and more are coming online all the time. Many sites organize links by region; others list surnames. Here's a look at a few of the best places to start your search:
Christine's African-American Genealogy Website. Links are broken down by keyword or region. There are connections to African-American cemeteries and U.S. Census data, as well as to African genealogy Web sites. Christine's page also has a section to help beginners get started tracing their pasts.
The International Black Index Source (IBIS) Directory. It specifically tries to help people of the African Diaspora. Note: As the result of a recent upgrade to the site, visitors must use Microsoft's Internet Explorer 4+ or Netscape Navigator 4+.
Afrigeneas. Links to topical newsgroups as well as family-tree-making software.
RootsWeb. Claims to be Internet's oldest and largest free Genealogy community. Lots of resources to get people started.
---
Related Web Resources
These sites are not part of NYU's Department of Journalism j-post, and j-post has no control over their content or availability.
Salon's Story on Web Genealogy
Christine's African-American Genealogy
Produced for the Web by Michael Smith