REJECTING AFRICA
Author argues that slavery was ultimately good for African-Americans

By Amy Sundberg

"Thank God I'm an American" was all Keith Richburg had to say to start a furor. As a statement, it was pretty innocuous -- not much different than Lee Greenwood singing "God Bless the U.S.A." over the clatter of a Fourth of July picnic. No one would think to accuse Greenwood of being a "shallow, low-grade" man who "sold his soul" for expressing the sentiment. But Greenwood isn't black. And Greenwood isn't Richburg, thanking God that his enslaved ancestors got out of Africa when they did.
"Thank God my ancestors got out, because now, I am not one of them."
"Thank God my ancestors got out, because now, I am not one of them. In short, thank God I am an American." With these words, Richburg concluded the preface to his first book, Out of America, a memoir of his experiences over three years as chief correspondent in Africa for the Washington Post. During that time, he covered the United Nations' intervention in Somalia, the genocide in Rwanda in 1994 and the post-Apartheid fervor in South Africa. In between, he explored his own heritage but left with a sense of being an alien on the continent many African-Americans consider their homeland.

To his detractors, Richburg's statement read like a thumbs-up to the trans-Atlantic slave trade -- tantamount to blasphemy, like an American Jew thanking Hitler for the opportunity he provided to emigrate to the United States. On hearing these words, there's an instinct to recoil.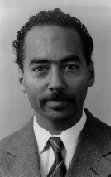 Salih Booker
"I thought, 'This boy must be sick!'" recalled Salih Booker, senior fellow and director of the African Studies Program for the Council on Foreign Affairs.
"Richburg is a shallow, low-grade African-American who has sold his soul," said Dread Masuku, spokesman for the Pan-African Youth Movement.
Pino Chikano, a Cape Town businessman said, "Richburg is a case of the rapist asking his subject why she is in pain. All the monsters in Africa have been groomed by the West."
But could Richburg's reaction be indicative of something even more insidious? Booker thinks so.
"There is a measure of self-hate here," Booker said. As senior fellow and director of the African Studies Program for the Council on Foreign Affairs, Booker has had the opportunity to debate Richburg several times. He first met Richburg when the two were living in Africa. Richburg was reporting from Kenya and Booker was living in Zimbabwe.
Booker said to his mind, Out of America has more to do with Richburg's own troubled sense of identity than with Africa. "I think he went there and mistakenly thought he might resolve those issues but it only exaggerated them."
The issues Booker refers to come through in statements such as this: "If Malcolm [X] were alive today," Richburg wrote, " . . . he might call me one of those self-hating black people, and that's why it so pains me to write down these thoughts. I am a stranger here [in Africa], adrift. I look like them . . . but I cannot understand what it is to be one of them. True, my ancestors came from this place, these are my distant cousins. But a chasm has opened up, a chasm of 400 years and 10,000 miles. Nothing in my upbringing, has instilled in me any sense of what it must be like to be an African."


Randall Robinson
That sense of disconnection is exactly what Randall Robinson, author and president of the foreign policy organization TransAfrica, argues is the poison that first spilled over the victims of the slave trade 400 years ago and has since fermented in the minds of all Americans of African descent.
"We have a responsibility to make the living victims of slavery understand what happened to them. They have no idea," Robinson told an overflow crowd at the opening plenary of an international slave routes conference Oct. 5 at NYU. Robinson stood at the podium, affixed with a seal of the scales of justice, and spoke about the lingering effects of the slave trade. Many of the 500-plus in attendance shouted affirmation when Robinson announced the title of his new book to be published in January: The Debt: What America Owes Blacks. He called the slave trade "America's own 350-year holocaust," and went on to explain how on a trip with his daughter to the Capitol Mall, he observed what to him was indicative of the erasure of blacks from the palette of American history. All the people in the paintings covering the Rotunda, with the exception of Pocahontas, were light-skinned, he said. In the painting in the eye of the rotunda, 60 robed men flank George Washington, all of whom, he said, are white.
---

LINKS

These sites are not part of J.Post, and the NYU Department of Journalism and Mass Communication has no control over their content or availability.
Reviews on amazon.com of Keith Richburg's Out of America
Online News Hour Interview with Salih Booker and Keith Richburg