MISSING STUDENTS

Undergraduate attendence
at slavery conference is low
By David Schwartz
The size of audiences varied widely last week at NYU during six days of panels and workshops about the history of African slavery in America, bringing together community members, academics and activists. But whether there were two dozen people scattered around a too-cavernous auditorium or hundreds crowding themselves into the Schomburg Center for Black Culture in Harlem, there were few young faces in the audience.

New York University undergraduates were absent from the "Slave Routes" conference for a number of reasons, according to organizers. Some were unaware of the conference, some were unable to attend uptown workshops, and others were ambivalent to the subject matter. These last students could not relate the history of slavery to their lives today.
Earlier this year, some fifth-grade students in Denver acted on the fact that slavery survived history. These kids devote time to raising money to free enslaved people in Africa. Many other schools across the country have adopted their own STOP, Slavery that Oppresses People, programs. Barbara Vogel, the teacher who began S.T.O.P, inspired many other schools to follow her lead.
Purchasing humans with money, even for a benevolent cause, is a difficult and complicated concept. The American Anti-Slavery Group and Christian Solidarity International explain how it works.
Teachers across the country are also finding inventive ways to bring slavery out of the history book and into the classroom. See related story, "The Lessons of Bondage."
An Oct. 6 panel titled "Culture and Slavery," for example, drew an overflow crowd to the 200-seat auditorium in Hemmerdinger Hall. Organizers ushered the extra people into an adjoining room to watch the proceedings on television monitors. Soon that 50-person-capacity room filled up, too, and people lined the back walls or sat on the floor for the two-hour discussion.
Fewer than a dozen of them were undergraduates.
Rosamond S. King, the assistant manager of programming for NYU's Africana studies program, agreed that few undergraduates had attended the workshops, which were free and open to the general public. "It's disappointing," she said of the low undergraduate attendance, but added, "We've had a lot of different kinds of students -- adult students, non-traditional students and graduate students... The slavery conference was a great success."
Later, however, she reconsidered, saying she hadn't been in a position to count. "You can always wish that more people were there," she said, "just like you wish there was more money in the budget."
Ben Plimpton, a sophomore in NYU's College of Arts and Science, was among the few undergraduates to get involved. He looked around a large Law School auditorium after a workshop on how well the print media has documented slavery. The panel was attended by 20 people.
"I didn't see anything around campus about the conference," said Plimpton, "except the article in the Washington Square News. If you didn't take the time to go to the end [of the article] where it lists the [conference] Web site, and then check the schedule, Idon't know how you'd find out."
In an informal survey of 50 students on Washington Square East, only seven knew that a major international conference on slavery was underway on campus - and only one had actually attended a workshop.
"I just don't see the relevance of the conference to me," said Abby Prestin when told about the conference.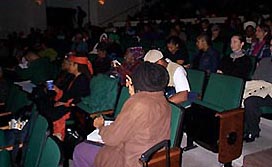 Few undergraduate students were among the many who filled conference seats.
Many of the workshops were held uptown at the Schomburg Center for Research in Black Culture in Harlem. King acknowledged that the distant location might have deterred some NYU undergraduates from attending sessions, but, she said, having workshops both uptown and downtown "gives people downtown the opportunity to go uptown, and people uptown the chance to go downtown... It's a chance to involve different communities with each other."
Robin Kelley, a professor who teaches a survey of African-American history for undergraduates at NYU, required his class to attend workshops. "I want the students to hear opinions on slavery other than mine," said Kelley, adding that the conference "gives students the opportunity to hear the authors that they're reading. These are the experts in the field."
Rebecca Hood, a student in Kelley's class, went to the Oct. 6 panel on culture and slavery at Hemmerdinger Hall. "It was good," she said. "I didn't agree with everything all the speakers said, but
a lot of it was informative."
---
LINKS
These sites are not part of the J-Post, and the NYU Department of Journalism
and the Mass Communication has no control over their content or availablity.

slavery survived history - Official Homepage for STOP

Robin Kelley - New York University Faculty Profile

NYU African Studies Program - Departmental Homepage

inspired - Various articles about STOP programs

explain - Frequently Asked Questions about purchasing the freedom of Sudanese slaves