Rashidah Ismaili is a psychologist, performer, and poet. She is the author of the collection of poetry Missing in Action and Presumed Dead (Africa World Press). Her work has also appeared in The Heinemann Book of African Women's Poetry. She is Associate Director of the Higher Education Opportunity Program at Pratt Institute in Brooklyn, New York.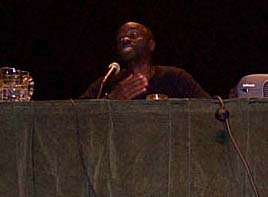 Kamara speaks of his home country, Sierra Leone, during the workshop
Kewulay Kamara is a journalist, teacher, performer, and producer with a broad range of professional experience in academia, media, business, cultural, and government. His writings have appeared in The Guardian News, Africa News, Pan African Notes, and Black Scholar, among others. His performance group, Lasiri Jamas, performs art based on the Mandeng Jai traditions. He produces the annual Badenya festival of African culture in New York, and has been engaged as a consultant for the Center for Traditional Music and Dance and the International African Arts Festival. He currently lectures on race and ethnicity in the Department of African American studies at the John Jay College of Criminal Justice, CUNY.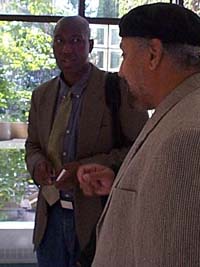 Tandia fights slavery by promoting awareness in public events
Bakary Tandia is President and founding member of the Committee for the Defense of Human Rights in Mauritania, an organization focusing on the issues of slavery and racial discrimination against black Mauritanians. He played a key role in the international campaign that led to the liberation of Mauritanian anti-slavery leader Boubacar Ould Messaoud and other human rights activists imprisoned in January 1998. Since 1995, he has been participating in the Africa Peace Tour, sponsored by the American Friends Service Committee.