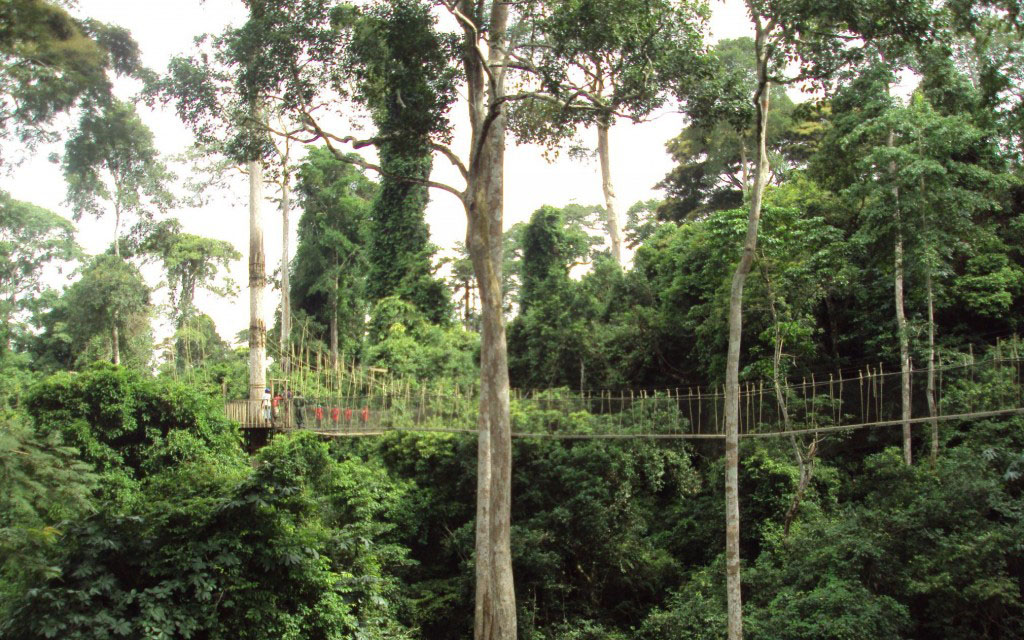 ABRAFO, Ghana— A faded green sign welcomes visitors to Kakum National Park, "a unique rainforest" near the town of Abrafo. Nearly 140 square miles of undisturbed tropical rainforest makes up one of Ghana's most famous national parks, located 20 miles north of Cape Coast.
The park features exhibits, Afafanto campsite, and Sun bird trails, along with lodges, shops, and a restaurant. But the main attraction is the Canopy Walkway, seven rope bridges perched 130 feet above the ground, offering spectacular bird's eye views from a vantage point among the treetops.
Philip Yaw Nartey, a 33-year-old nature enthusiast from Accra, said he had wanted to visit the park ever since his high school years in Cape Coast. Fifteen years later, he finally made the trip.
"The canopy walk is breathtaking," said Nartey. "It is something that shows the unlimited aspiration of man, walking mid-air."
Established in 1960, Kakum National Park is one of Africa's most biologically diverse ecosystems. Yet what stands today is only a fraction of forestry that originally spanned from Sierra Leone, Liberia, Guinea and Cote d'Ivoire, which diminished due to farming, mining, and settlement.
In the past, the trees were used for logging and foliage for medicinal purposes. Now, the protected park boasts countless varieties of flora, more than 300 bird species, 500 butterfly types, and a vast range of wildlife, including endangered animals like the forest elephant, bongo and Diana monkey.
The park officially opened for tourism in 1990, but only saw low visitation numbers of about 1,000 annually. After two Canadian and six Ghanaian engineers constructed the Canopy Walkway in 1994 to boost tourism, numbers rose dramatically. Turnout for 2010 reached 140,000, and domestic interest has remained high– over 80 percent of visitors are Ghanaian.
"Tourism was low because many Ghanaians didn't want to see just a park," said Samuel Owusu Asante, a tour guide, "but now it has become a big money maker for Ghana's tourism."
The park receives some government funding, but also makes its money through tourist attraction fees. The cost for the Canopy Walkway for non-Ghanaian adults is 30 Ghana cedi ($20) and 15GHC for students, while the charge for Ghanaian adults is 12GHC and students 2GHC, in addition to a 1GHC park entrance fee.
The 1,080-foot-long aerial walkway is reinforced with steel cables and wooden planks that can hold eight tons, and are connected in a horseshoe-like pattern by six observational tree platforms. Each touring group is led up the slopes from ground level by one of the nine guides, who point out interesting flora along the way. Before long, visitors are met with the first bridge.
"The swinging made it feel like I was going to fall into the forest," said Katy Gorentz, 18, a student from Arma, Kansas, "but once the adrenaline kicked in I loved every minute."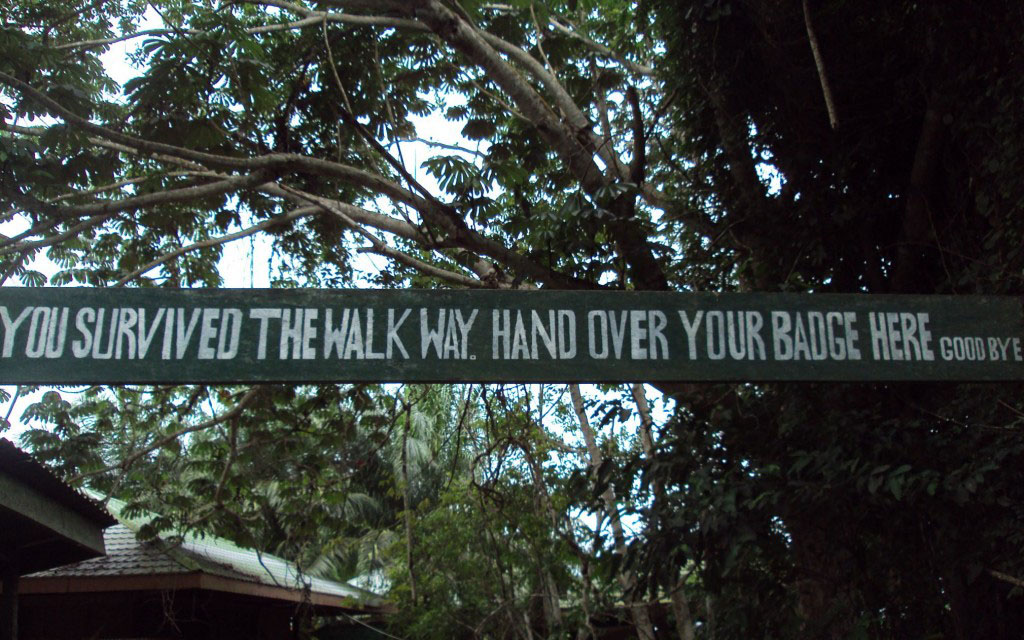 For some, nerves and fear get the better of them.
"I wish I could cross but I'm too afraid," said Doris Kyere, 23, a midwife from Dormaa-Ahenkro.  "Maybe one day I'll be able to walk across."
In addition to giving information, the guides provide the much needed moral support for hesitant visitors.
"There's nothing on earth that nobody can't do, move all your fear," said Asante, while demonstrating there's no way to fall by throwing his body against the roped sides.
Asante, 46, who used to visit the forest with his father for medicinal plants, has worked as a tour guide for 11 years.
"I love my job so much," he said. "I want people to understand why we need to protect the forest and see that we can have fun doing it."