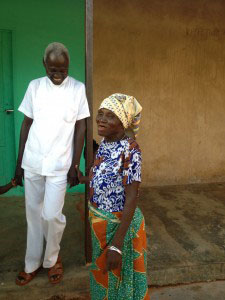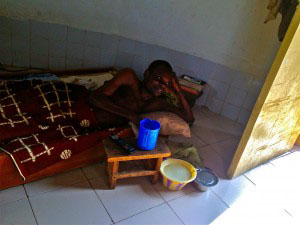 TAMALE, Ghana – They call him the "Mad Doctor of Tamale." He sees 30 new patients a day, and doesn't receive a salary. He houses lepers, HIV/AIDS patients, the mentally and physically disabled and the destitute – all of whom would be otherwise left to die.
He is Dr. David Abdulai, the founder of the Shekhina Clinic, located in Tamale, in Ghana's northern region, where poverty strikes every corner of the city. Dr. Abdulai grew up poor and alone in Tamale, losing his father to leprosy, and his mother and 10 siblings to poverty-related illnesses.
After attending University of Ghana Medical School, Dr. Abdulai began work at Korle Bu Teaching Hospital and 37 Military Hospital, both located in Ghana's capital, Accra, in the south of the country. But still, he was not satisfied. Eventually, Dr. Abdulai left his job to serve those most in need, opening the Shekhina Clinic in 1989.
"I knew what it meant to suffer," Dr. Abdulai said, remembering his own struggle to survive.
This suffering has shaped Dr. Abdulai's work mentality. "I'm an outlaw in the medical field," he said. Smiling and laughing, Dr. Abdulai explains that he is ashamed to be called a doctor. "Doctors aren't interested in this type of help because there is no money in it. When the money motive is at stake, everything else isn't," he said.
All of Dr. Abdulai's services are funded by donations, including those from the U.S. Department of State and former Ghanaian President Jerry John Rawlings.
This funding is attributed to God. "We believe that God will fight for us when the need arises. We don't go asking for support from people, but people come and see, and they feel they want to be a part of it," Dr. Abdulai said.
George Amimnu, a paraplegic patient living in the clinic, was sent to Dr. Abdulai after hospitals could not cure him. Today, Amimnu lives in his personal quarters with minimal pain. Lying on his specially designed waterbed, Amimnu expresses his gratitude for Dr. Abdulai. "He treats me like his son," said Amimnu.
Aside from treating patients, and housing many in his hospice center, Dr. Abdulai also has a "Meals-on-Wheels" program. "I never had enough to eat," he said. Today, Dr. Abdulai provides lunch daily to 150 destitute and mentally ill people within a 65-kilometer distance of the clinic.
More so than providing medical attention, Dr. Abdulai uses a holistic approach to the healing process. "He believes that love for his patients is a cure," said Tamale native James Suran-Era.
Dr. Abdulai sums his medical philosophy up by saying, "When you give up, dying can be easy. But when you become accepted, and feel accepted, dying is difficult."