By: Mariana Fernandez
ACCRA, Ghana- Driving down the extensive Labadi Road adjacent to the beach of the same name, the obtrusive three-story pink building that sits almost in isolation is hard to miss. The building houses the Artists Alliance Gallery, which remains one of the most respected cultural institutions in the midst of Accra's rapid cultural growth.
Once the visitor grows accustomed to the all-consuming smell of humidity that accompanies any place overlooking the ocean, they are greeted by George Hughes's "Head and Time" – an abstract painting of a head with doodles impossibly evocative of Basquiat.
Just like the gallery itself, Hughes's piece represents contradiction.
It stands amid traditional sculptures of animals, wooden furniture, and hand-carved antiques so widely different in taste that it is difficult to imagine anyone being able to appreciate both in the same space. And yet, as the gallery's head curator, Leopard Glover, explained, "Each piece stands separately as an expression of time, even if they are not all to the contemporary viewer's admiration."
For more than 31 years the gallery has aimed to select art that reflects the constant changes and variations in African artistry. The Artists Alliance establishment was originally located in the Nungua suburb of Accra, but relocated to its current location on Labadi Beach due to population growth over 10 years ago. Artists are showcased from across West Africa, but the larger 80 percent of works are specifically by Ghanaian artists who create anything ranging from traditional to contemporary art.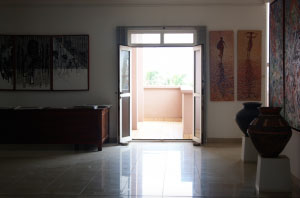 The gallery's self-proclaimed mission is to provide the consumer with the experience of "buying art directly from the artist," Nortei Lokko, one of the many artists showcased at the gallery, said. Its curators seek out prospective artists from universities and choose to showcase the work based, above all, on originality.
A winding staircase with banisters draped in traditional Ghanaian tapestry takes the viewer to the floor housing the most modern – and expensive – selection of works. The clean, white walls and rooms drenched in sunlight make the perfect backdrop for the brilliant hues of red and blue that characterize Ablade Glover's "Bird Sanctuary" and Kosina Nyarko's net full of fish. The gallery's top floor, however, is reserved for more realistic depictions of life in West Africa, among which can be found paintings of people fishing, visiting the market, or more overtly political pieces of women protesting domestic violence.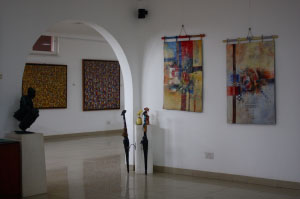 The gallery is equally frequented by foreign art enthusiasts as by school children learning about art, but because the overwhelming amount of purchases are by expatriate and foreign clients, it has brought worldwide attention to the burgeoning cultural scene of Ghana's capital. Accra now boasts multiple thriving art establishments, among them The Nubuke Foundation, Gallery 1957, ANO Centre for Cultural Research, Accra dot Alta, and The Foundation for Contemporary Art.