Bill Batson and the Subway People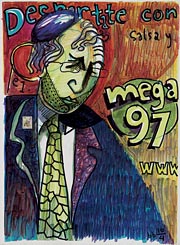 Illustration: Bill Batson, © Bill Batson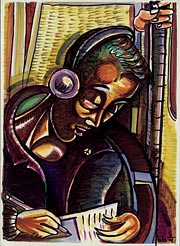 Illustration: Bill Batson, © Bill Batson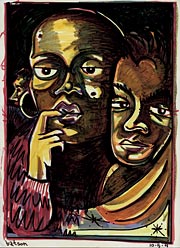 Illustration: Bill Batson, © Bill Batson
"The lives of the millions that make up the city are totally forgotten," says Brooklyn artist and activist Bill Batson of our celebrity-obsessed culture. "I elevate the commuter to the status of a significant part of recorded history. Art can do that."
For 20 years, Batson has documented moments in the lives of commuters during his subway rides from Brooklyn to Manhattan, where he worked in various jobs as a public servant. He's filled dozens and dozens of small black notebooks with what he calls "public portraits," drawn in the few minutes he's shared with each of his thousands of oblivious models in the depths of the city. A few months ago, Batson chose several of these drawings, some detailed, others unfinished experiments, and enlarged them into 18x24 works of art. These pieces, drawn in magic marker, are now being shown at Ripple, a bar around the corner from Batson's Prospect Heights apartment that offers the perfect space to display his subway observations.
The brightly colored drawings are hung in nine columns on white string across an expanse of exposed brick. The room is narrow and the floor seems to be a polished form of the sidewalk outside. The drawings themselves, whether faces or entire bodies, are squeezed into a tight box, partly by necessity so that they could fit on the page—but also serving to evoke the smallness of space people inhabit in a subway car. Some of the people depicted read, sleep, talk to friends, hold their children or are lost in thought. Some are genderless or raceless. But all, as Batson describes them, show "more than just physical representations. They show the mood, the personality, the ethnicity – in a tribal aspect."
Batson, 41, is visibly excited about the success of his show thus far. He's sold 10 pieces since the late November opening (for $300 each; in his stated "pursuit of an egalitarian society," he can't "value one more than any other"). In his two earlier shows – one in which he displayed in a Park Slope restaurant the ink drawings directly from the subway – he never sold anything. Those who bought his work at Ripple were middle class, not wealthy collectors. A long-time activist and man of the people, Batson, who comes from blue-collar New Jersey roots, wants his art to be an extension of his public service.
Batson's resume reads like that of a man with high ambitions to lead. Before coming to his current position as Director of Community Relations for State Senator David Paterson, he co-founded the American Civil Rights Education Service Inc., which brings young people from New York to the South to learn about the Civil Rights movement. After the death of Amadou Diallo in 1999 he organized demonstrations against police brutality, and in 1988 he was a member of Jesse Jackson's delegation to the Democratic National Convention. What he's most proud of, however, is the founding of the Harbor View Arts Center, an organization that trains the staff of 110 community centers across the city to teach art to local youth.
Earlier this year, Batson joined Community Board 8, which covers parts of Prospect Heights and Crown Heights. Some of his colleagues considered this to be a step down, Batson says. But he has become an outspoken member of Community Board 8, and has protested against the lack of open discussions over Bruce Ratner's proposed Nets arena development. Community politics, according to Batson, can produce more direct results in actual neighborhoods. And he believes art can affect people, as well.
Speaking of the pieces hanging at Ripple and of the thousands remaining in his portfolios, Batson says, "It's like I've taken a census of the city with these esoteric facts to show." Many reflect the time during which they were drawn – newspaper headlines or book titles, advertisements on the subway car, signs carried by protestors, a man with headphones and peace-sign pin on his coat, a pious Orthodox Jew surrounded by ads in Spanish. There seems to be an element of abstraction in his drawings – certainly no one captured in his art could recognize his or her own image.
As he flips through binders stuffed with drawings, Batson points at some old favorites – on this page, a woman's shoe dangles off her foot, and on the next, two men sit in front of a subway poster that says, "You can improve yourself," revealing what he calls a "curious relationship" between subway riders and the advertising that "frames our reality." He flips through further, however, and comes across drawings done outside the subway car, and outside the United States. Scenes from Italy to South Africa—one of a Kenyan chief, the chief's son and other village children, another of a Nepalese woman who demanded that he draw her when she noticed him working on his pad—all reveal Batson's ability to capture what he calls "spirit snapshots" of people he finds in all walks of life.
The show ends January 15, on Martin Luther King Jr.'s birthday, which is no coincidence. And before that, Batson will guest bartend at Ripple on December 21, pouring drinks from behind the bar opposite his artwork. He's not sure what will come next – perhaps a show of his newer drawings of buildings, perhaps one displaying his works from his travels.
For now, Batson is content to show – and sell – his subway pieces in his own neighborhood. While discussing the merits of choosing Ripple to display his work, he suddenly jumps up from his seat at a cozy candle-lit table. He runs to the far left column of drawings and lightly swings it to the left, and as it continues its pendulum arc back and forth, he quickly makes his way down the row, swinging each column until they all sway in an uneasy vibration against the brick wall. His face glowing, he says, "Now it looks like they're sitting in a shaking subway car."

"Metro," a show of Bill Batson's art, is on display at Ripple, 769 Washington Avenue, in Prospect Heights, Brooklyn (718-230-4516) until January 15, 2005.