WHERE IT BEGAN
First panel tackles 'Origins of the Slaves'
By Christopher Dale
Historian Colin Palmer reported that nearly two-thirds of all Africans who came to North America in the slave trade originated from 300- to 400-mile swath of west-central Africa, and his mostly African-American audience let out a collective gasp.
This appeared to be less because of the significance to African history of this relatively recent finding, and more because of what it meant for their own.
As the soft-yet-surprised calls of "How about that?" and "Oh my" died down and the crowd settled in again, Palmer vindicated the expressions of surprise.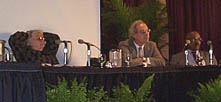 (left to right) Gwendolyn Midlo Hall, Paul E. Lovejoy and Colin Palmer.
"These statistics have enormous implications for our understanding of the ethnic and cultural stream that contributed to the making of the African-American peoples," he said. A professor of history at CUNY, Palmer has written several books on Africa, including Passageways: An Interpretive History of Black America, his most recent work.
The panel, entitled "Origins of the Slaves," took place Oct. 5 at NYU Law School's Tishman Auditorium. It was the first of more than a dozen scheduled symposia and presentations in the week-long "Slave Routes: The Long Memory," an international conference sponsored by the university's Institute of African-American Affairs and the Africana Studies Program.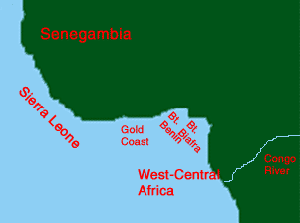 Six major regions of the African slave trade
For this first panel, Palmer joined three other keynote speakers to discuss results of current research about the origins of African slaves during the slave trade -- the largest forced migration in the history of mankind involving some 11 to 13 million people over a span of 350 years. His fellow panelists were Paul E. Lovejoy, a professor at Canada's York University and author of such books as The Ideology of Slavery in Africa; Djibril Tamsir Niane of Ghana, a member of the Societe Africane D'Edition, who spoke through an interpreter; and Gwendolyn Midlo Hall, a Gugenheim scholar who taught history at Rutgers University for twenty-five years.
Palmer also took advantage of the occasion to introduce other new data on the slave trade to the general public, such as evidence concerning the African regions that produced the majority of the world's slaves. Palmer said that the number of slaves who ended up in the United States, for example, represents only about 6 percent of the total number of Africans forced into slavery. Further, he said, that nearly 80 percent of all enslaved Africans came from an area extending from Sierra Leone to Angola, a coastline of approximately 2,700 miles.