The Scranton Community Area Foundation has awarded nearly $1 million in federal relief to nonprofit community organizations in an effort to help the city climb out from its lingering post-pandemic economic distress.
While much of Pennsylvania's nonprofit community has restored its workforce, many Scrantonites said that business activity has yet to fully bounce back. Storefronts that survived lockdown have reopened only to serve an empty store. Owners are months behind rent. Local residents are disgruntled with price increases while hourly wages still sit under national minimum. 
The foundation, which is responsible for allocating grants under President Joe Biden's American Rescue Plan Act, has awarded funds to more than 50 associations struggling financially to help jumpstart the economy. Nonprofits such as Meals on Wheels of NEPA, Boys & Girls Clubs of Northeastern Pennsylvania, and NEPA Pet Fund and Rescue have received funds ranging from $4,000 to $45,000, totaling approximately $989,000.
Under ARPA, $350 billion has been allocated to help states, cities, and counties recover from the pandemic. Recipients have used the funding to improve water and sewer infrastructure, provide bonuses to front-line workers, and help small businesses revive. Scranton alone has received over $68 million since the bill was signed into law.
Frank Caputo, grants and communications coordinator for the foundation, said their organization acts as "a community steward," by awarding grants as well as bringing partners, like nonprofits and local establishments together. 
For associations like Scranton Tomorrow, such additional funding is what keeps their business afloat.
"We sustain off grants, partnerships, and stakeholders," said Leslie Collins, CEO and President of Scranton Tomorrow, which provides free marketing programs as well as economic and developmental support for community businesses. "We're grateful for every dollar we get." 
The foundation uses a need-based ranking formula, prioritizing aid to organizations that fell under a Qualified Census Tract or disproportionately affected area. Applicants are also required to provide additional information such as business sustainability, proof of economic struggle, and recent tax filings. 
Awarded funds can then be used to resolve hourly pay gaps, according to Chris Hughes, ARPA Communication and Information Manager for the City of Scranton. For those recipients, the federal aid will fill any wage discrepancies entirely during the first year and then half of the second year in order to provide businesses time to lift worker pay from existing to livable.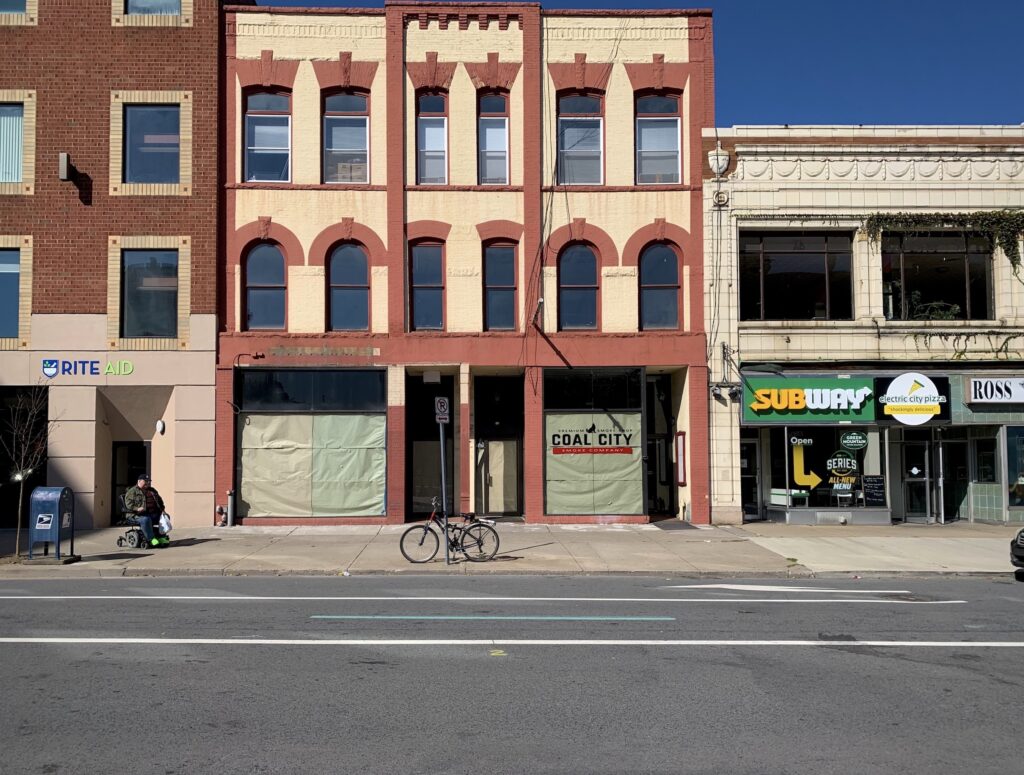 Business Disrupted
Nonprofits, like Scranton Tomorrow, typically operate under grant cycles but Covid made all aspects of the enterprise especially challenging. 
Events that organizations traditionally relied on for funding could not happen due to Covid guidelines from the Centers for Disease and Control and donations matched economic lows. Insufficient funds left many establishments unable to make needed equipment repairs, payments for rental spaces, or compensate employees.
"A lot of it is programmatic," Caputo said. "Basically, if the pandemic didn't happen and you were able to hold all the fundraisers you had to cancel, how much money would you have?"
Worsening matters, the pandemic's unexpected longevity thrusted the nonprofit and small business sector into a scramble for technological expertise, something many local mom-and-pop stores were not prepared for. 
Early Pennsylvania Covid reports from Independent Sector, an international philanthropy network, showed that nonprofits experienced over 80% decrease in revenue from 2019 to 2020.  Other studies also found that the nonprofit workforce decreased approximately 11% throughout the state.
Establishments, young and old, rushed to adapt their management operations. Many are still utilizing street-side pick up services, e-commerce profiles, and no-contact delivery methods.
"The small businesses are resilient—they stepped up to the challenges and adapted to new business models," Collins said. 
Community members agree that support for ongoing revitalization is needed and local leaders regularly work with the city to find more. While both Scranton office candidates have shown their support for the town's revitalization efforts, Mayor Cognetti has been a leader in pushing for greater improvements ahead of the upcoming midterm election.  
"A lot of things haven't been done necessarily correctly in a long time," said Hughes. "Mayor Cognetti is turning around the way the city does business, spending federal money in the right way […] and lifting the city from the bottom up."