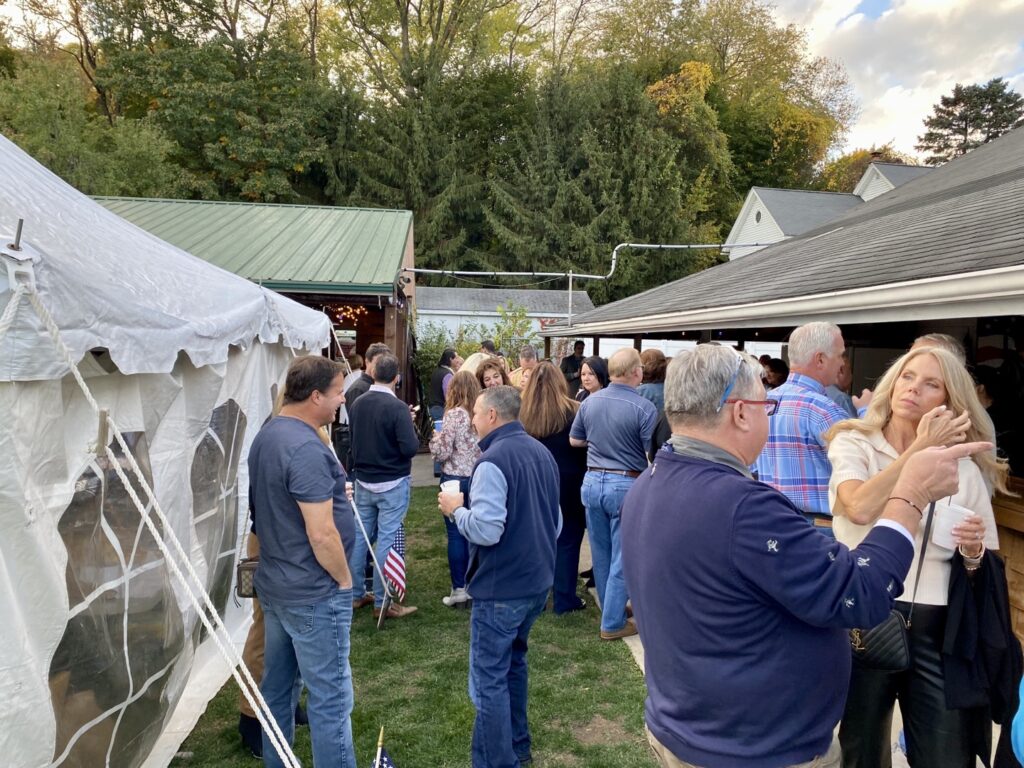 On a recent Saturday afternoon in Scranton's Veterans of Foreign Wars Post 25, people danced to live music under the outdoor pavilion, celebrating their high school reunion. Two weeks before, the backyard was transformed into a carnival, where kids had their faces painted and jumped on a bounce house. The week after, Scrantonians dressed in costumes for a Halloween party. 
Inside, members of Post 25 relaxed around the bar, watching football games and enjoying the company of fellow veterans while drinking cold bottles of Yuengling.
The seemingly inharmonious scenes inside and outside are the key to how VFW Post 25 continues to thrive amid a nationwide decline in membership.
After peaking at 2.2 million in the early 1990s, VFW membership around the country has fallen by half, to a little over one million, according to a VFW press release.
With active participation of community members and business savvy, however, Scranton's Gen. Theodore J. Wint VFW Post 25 not only made it through the pandemic but continues to grow, marking its 105th anniversary this year. It even plans to expand the building to facilitate its operation and accommodate more members for events.
"Right now, we're the only VFW Post active in Scranton," said Jim Kuchwara, a Vietnam war veteran and the commander of VFW Post 25. He said five posts were established after Post 25, but are now considered paper posts, referring to those without a premise or sufficient members.
Since its charter in 1917, Post 25 has honored the legacy of local veterans and has served the veteran community. With the help of donations and federal and county grants, it hosts local veterans' ceremonies and holds weekly food distribution for veterans. The post also built a memorial featuring more than 900 names of Scranton soldiers who lost their lives serving the country.
But what keeps the veteran organization going is something other than outside contributions. With its bustling canteen and regular events, Post 25 draws in a number of visitors and, with them, income.
In fact, the primary customers of its business are social members, who are non-veterans. It is not uncommon for VFWs these days to accept non-veteran members, as they are crucial for the posts to survive amid shrinking veteran membership nationwide. At Post 25, they account for the majority of its roughly 500 members, according to the commander.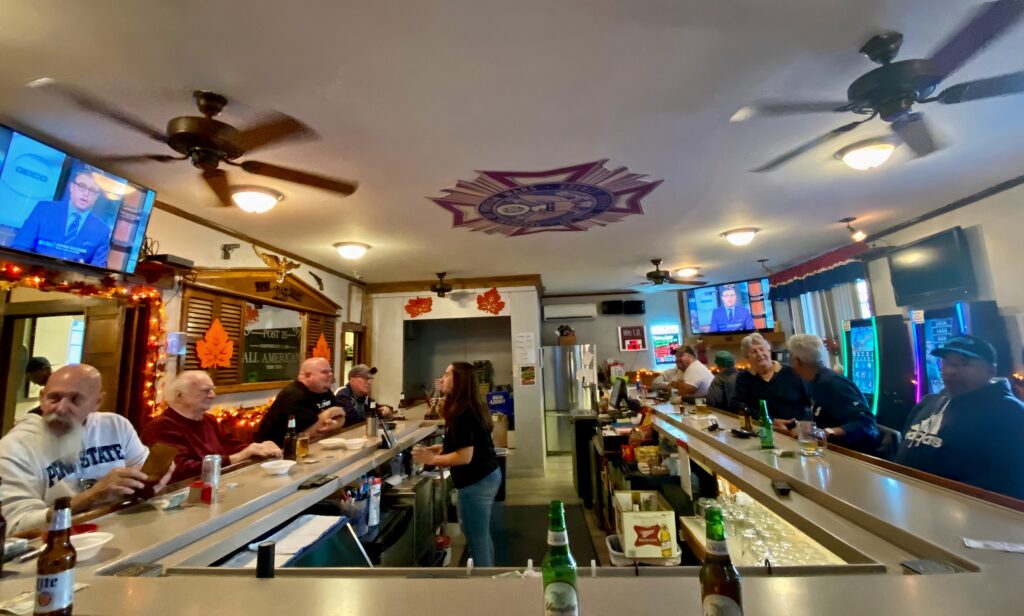 "There's no money donated to buy us booze, food, bands or anything. That's what social members do," Kuchwara said.
Beyond welcoming social members, the post is open to the public for weekly events or fundraisers. And community members do seem to want to come and hang out. In April, 150 tickets were sold for the Easter party. Two hundred fifty people showed up for a backyard picnic and band performance in July. The officers attribute these achievements to the bar manager, Kelly Gerrity.
"She is so good for this club. I would actually say if it wasn't for her, we wouldn't be open right now," said Kuchwara. "She really took this business, turned it around to where we get money to operate."
Joining the post in April 2021, Gerrity planned a myriad of successful events — including Halloween, Christmas and Easter parties — fundraisers, and complimentary buffets, all open to the public. She utilized social media as an effective marketing tool, promoting functions to local residents looking for a fun weekend.
Post 25 saw significant profit growth, with its income doubled after Gerrity took over the bar business. On its most lucrative day, it made more than $2,000.
The events and gatherings not only generated proceeds from ticket sales but also helped recruit new members and raise the profile of Post 25. After the Easter party in April, the post signed up as many as 25 new members. "This year, I've noticed people transferring out of other posts down to here," Gerrity said.
Her efforts to create a warm, lively atmosphere in the pavilion and the bar set Post 25 apart from other VFWs. "We are unique in that respect," said Basil Bannister, an Afghanistan war veteran and the quartermaster of VFW Post 25.
After covering expenses, the profit made from the events is used for the veterans; recently, the post hosted a complimentary barbecue for more than 100 local vets. With social members and residents helping the business, VFW Post 25 can keep its focus on the veterans.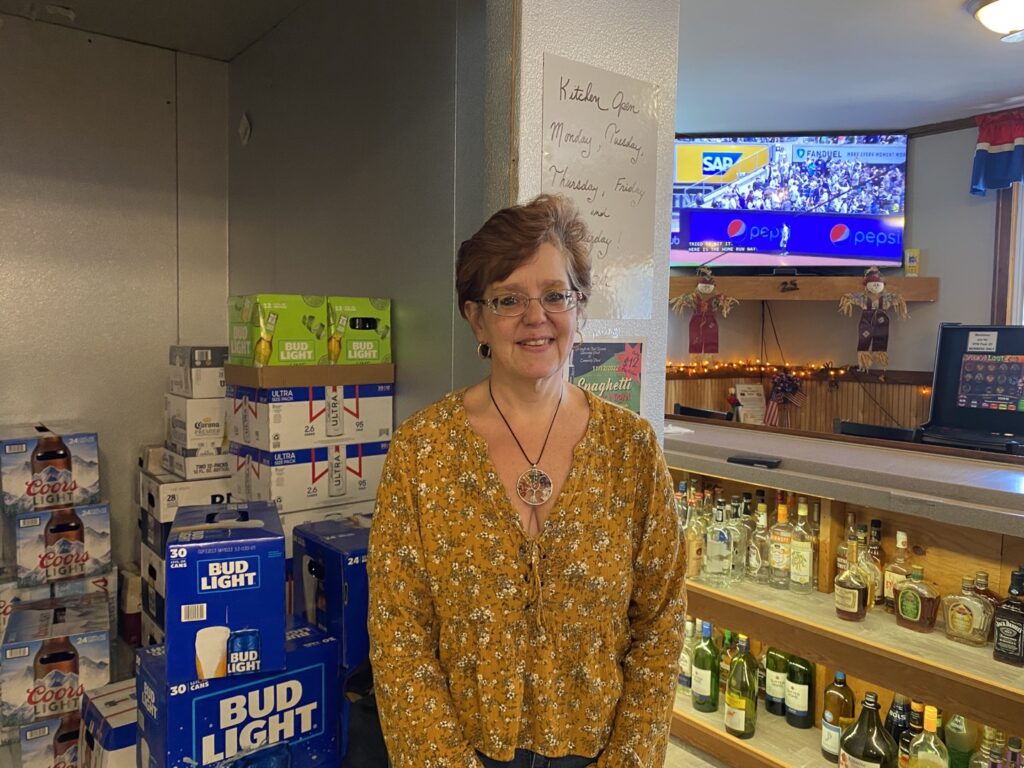 Despite the post's accomplishments, however, its leadership has concerns about the future. Most veteran members are in their 70s, having served in the Vietnam war. Even this thriving club struggles to recruit young veterans.
This problem is not specific to VFW Post 25. According to 2016 research by AARP, the average age of VFW members nationwide was 67; more than 400,000 out of 1.3 million members were over 80.
"I get this feedback from younger soldiers. There's this perception, or I should say misconception about the post as, like, [an] older and older crowd are hanging out there," said Bannister. He noted that young vets would prefer to be in a group of younger people like themselves rather than in a place with older people.
Bringing in younger vets is another reason why the leadership of Post 25 wants to feature more parties. With hopping events from graduation parties to band concerts, they hope to attract new blood who could uphold Post 25's more-than-century-old legacy.
To the officers, bar manager, bartenders, and patrons at VFW Post 25, the place is more than just a club or a bar, but a family-like community that recognizes its veterans. Conveying this to a new generation of veterans would be Post 25's next mission and the key to keeping it going for another century. 
"To get people to know this place and love it as much as I love it, and give back to the veterans, that's the main goal," Gerrity said.