by Chris Pyo
KUMASI, GHANA – The walls of Christopher Akambe's store at the Kumasi National Cultural Center are adorned with a picturesque arrangement of vibrant necklaces and earrings.
It almost seems as if the wooden giraffes next to the necklaces are stretching their necks up to the walls, hoping to be embellished with the jewelry Akambe displays at his store, Akambe Kreationz.
However, some days it seems as if the giraffes are the only ones who might be able to physically try these products on, simply because of a lack of tourist presence.
Akambe, 33, is one of many small business owners within Ghana who has had financial struggles over the past decade, even with the government having recently placed a lot of emphasis specifically on further developing private sector tourism throughout the country.
According to the Oxford Business Group, the Ghanaian Tourism Act of 2011 was meant to "place a strong emphasis on cooperation with the private sector" by "establishing a strong presence with local people." Yet many small businesses are still figuring out how to maintain livable wages and increase their revenue.
When out-of-country tourists first began to visit his store over a decade ago, Akambe wondered how he could maximize his sales by promoting his business internationally.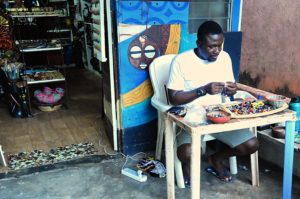 Today, Akambe utilizes social media to sell his work worldwide and generate higher levels of revenue.
"I normally ship to people who have been recommended to my store by someone who has purchased or knows about my works" said Akambe.
"I also hope to build up my customer base outside of Ghana so that I can ship even more, and once demand goes up I will be able to train and hire more people."
About 250 miles north of Kumasi, artisans at the Tamale Cultural Center also face challenges in finding customers to sell their goods to.
At CK Textiles, 21-year-old Haiwafu sometimes sits for hours on end with her child before she receives a single customer.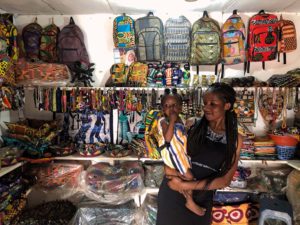 To maintain a living wage, Haiwafu says that her family teaches tourists how to create Ghanaian artisanal goods.
"When they want to come and understand what we do, we teach them how to make these [objects]. Some people come to learn; others just come for the experience" said Haiwafu.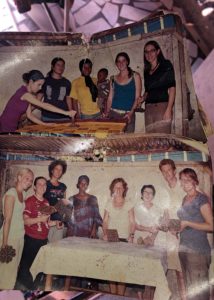 In the future, Haiwafu wants the government to encourage young people to develop smarter business practices through governmental initiatives and university courses.
Akambe also echoed these sentiments, saying that "Instead of trying to promise people jobs, they need to give us an environment to facilitate business so that entrepreneurship can be an integral part of the next generation of Ghanaians looking to succeed."
Dr. Edward Salifu Mahama, who serves as the Director for the Institute for Interdisciplinary Research and Consultancy Services at the Tamale Institute of Cross Cultural Studies, said that "It is more difficult to sustain almost any kind of thing here than in the South, because generally the economic levels are lower here."
However, he also said that he believes when governmental initiatives come to fruition, "many lives are improved, and the tourism sector greatly benefits from them," signaling the importance of collaboration between the government and private sector.
According to Akambe, in order for small artisanal businesses to flourish in northern Ghana, the government also needs to do more to develop and sustain profitable business models.
"The goal of the government should be to create enabling environments for the private sector to flourish," said Akambe. "They must also promote Ghana to the international community through art, culture, and especially tourism, not only for our businesses to grow, but also for Ghanaian pride in itself."