Coca Crystal: Handmaiden, Slum Goddess, Reporter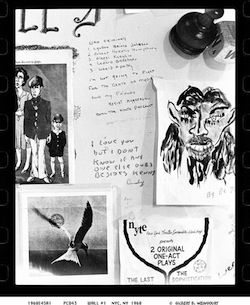 Coca Crystal (born Jackie Diamond) was EVO's self-described "gatekeeper," receptionist, sometime reporter and sometime model until the bitter end, when, as staff and resources dwindled, she became its defacto publisher (she financed the final two issues out of her own purse). Here, she describes how she got her start.
The first time I set foot in the EVO office, it was in the fall of 1969 and I had come to visit with a college friend, Barbara, who was EVO's secretary.
The office was located on the third floor of the Fillmore East building on Second Avenue and Sixth Street. The place was a wreck. It was freezing, the garbage cans were overflowing, cigarette butts were everywhere, and the walls were covered in fabulous cartoons by the best in underground comix: R. Crumb, Kim Deitch, Spain Rodriguez, Yossarian, Shelton, Art Spiegelman, just to name a few. It was chaos, but a kind of cool chaos.
The office was in a frenzy to get copy ready for the typesetter, and I was asked if I could type. I said I could and was given the job of typing up the classifieds. I had never seen such weird ads. ("Dominant Iguana seeks submissive zebra," sex ads, odd employment opportunities, legal advice for pot busts). I had to type while sitting on Allen Katzman's lap (his idea), wearing my winter coat and gloves. When I had completed the classifieds I was told the other secretary, Marcia, was leaving and I could have her job if I wanted it. The pay was $35 a week. I took the job.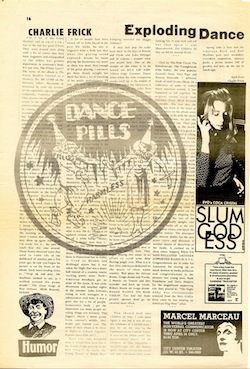 Soon Barbara left and I was the only secretary. I did everything. But the best part of the job was just being there, spending time with what seemed to be the coolest people on the planet. I was in a wonderful position to meet and greet everyone who walked in. Everyone from our landlord, Bill Graham, to Timothy Leary, Jerry Rubin, Allen Ginsberg, Ed Sanders, and Abbie Hoffman, who chased me around the stat machine. I was alone when three Hell's Angels stormed the office to protest a story we published about them. I charmed them and flirted with Sandy Alexander and they left with a promise from me to right the wrong. Ray Schultz and I went to their headquarters and Ray wrote a piece that was to their liking.
I started writing for the paper in addition to my secretarial duties and joined the weekly late night paste-up ritual. The country was in upheaval. The Chicago Seven were on trial, demonstrations against the war were causing havoc and it looked like we just might get that revolution we were all talking about. EVO was a clearinghouse for every cause and movement. My main job, however was to act as assistant to Jaakov Kohn, the editor.
My job was enhanced greatly when a photo of me appeared in the paper under the SLUMGODDESS headline. To me it was a great honor, but my parents failed to see the benefit of such a title.
We had weekly staff meetings. I was there when a visiting R. Crumb hit the publisher, Joel Fabrikant with a pie to the face. Joel was an unconventional publisher who paid everyone in cash with money he pulled from his cowboy boots.
One day, Bill Graham showed up. He was angry about an article in the paper and threw us out of the office above his Fillmore East. We moved to 20 East 12th Street. Our circulation was plummeting. To save money, we tried delivering the paper ourselves, but it was too late. In a short time, EVO was dead; but I will always be a SLUMGODDESS.