Ishmael Reed on the Miltonian Origin of The Other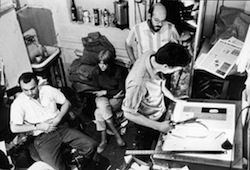 Last weekend, in one of our posts celebrating The East Village Other, Ed Sanders wrote that poet Ted Berrigan may have named the alternative newspaper after the Rimbaud line "I is an Other." Mr. Sanders acknowledged, "Another account has Ishmael Reed coining the name." In the comments, EVO editor Peter Leggieri wrote that Allen Katzman (who founded the paper along with Dan Rattiner and Walter Bowart) "always gave the impression that he had suggested the name 'Other.'" After citing the reasons, Mr. Leggieri wrote, "However, if the question of origin came to a vote, I'd probably pull the lever for Ishmael Reed." Here, now, is Mr. Reed himself, on his role in shaping The East Village Other.
My receiving a job as the editor of a newspaper in Newark, N.J., led to the origin of The East Village Other. I worked a number of temporary jobs from the time I arrived in New York in the fall of 1962 until I left for California in the summer of 1967. One of those jobs was that of a pollster for The Daily News. So when I went to the Department of Labor to get a temporary job, after the poll was completed, I was informed of an opening for a reporter for a new newspaper in Newark.
I had written for a newspaper in Buffalo called The Empire Star, edited by the great A.J. Smitherman , who was the target of mob violence during one of the worst riots in American history, the Tulsa riots of 1921, which left 300 blacks dead.
Smitherman believed in armed self-defense against lynching. After an interview with the investors, it was decided that I would be the editor of a newspaper that I named Advance. Although I had watched the production of a newspaper using the old linotype method while working for the newspaper in Buffalo, I hadn't a clue about offset printing.
Walter Bowart was a bartender at Stanley's, which was our hangout. It was owned by Stanley Tolkin who was a patron of the arts and our benefactor.
During the summer of 1965, Walter and I developed a friendship. Walter always reminded me of a leading man in a Western movie. He was also a painter, one among many painters located on the Lower East Side, some of whom were abstract painters; others were using technology. Bowart was a collagist.
Both Walter and I had cut-and-paste minds. While attending the University of Buffalo, I was influenced by Nathaniel West's short work, a collage in writing, " The Dream Life of Balso Snell " (1931) and Erich Kahler's " The Tower and the Abyss " (1957), a book about discontinuity, translated by W.S. Merwin.
So I paid Walter to come up with a model for Advance. I went to his loft to see the result. It was something unlike anything that I'd ever seen – suitable for an exhibit of Neo Conceptual art at the Whitney, but not for a community newspaper. He called the philosophy behind the paper pata-realist. But before I could utter my criticisms, he said, excitedly, "Hey, why don't we start a newspaper down here?"
I was skeptical, but agreed to sit in on a series of meetings. During one meeting, there was a discussion of a name for the paper. Walter wanted to call it The Joint. I suggested The Other. I'd just read Carl Jung's introduction to Milton's "Paradise Lost," where he referred to Milton's Satan, the revolutionary Satan, as the "Other." And that's what we were: Cultural outsiders, who were not native New Yorkers; people who had ambivalent attitudes toward the city where we hoped to make our reputations as artists. We saw comic books as art, and now a newspaper that was a work of art. Walter took his painter's style to the newspaper.
Bowart needed a writer to assist him. I was working in Newark and wasn't available and so I introduced Walter to poet Allen Katzman. We hung out a lot together. He worked at a place called The Ninth Circle, where I met Norman Pritchard, the poet, for the first time. Allen Katzman and I use to go to literary parties. We were part of Panna Grady's salon at the Dakota, where we ran into Ralph Ellison, Norman Podhoretz, Alfred Kazin and others. At Norman Mailer's one night, he insulted Mailer's wife. Mailer's friends – boxing champions, including Archie Moore – surrounded us. I got him out of there. "Allen," I said, "This is not the place to make a stand."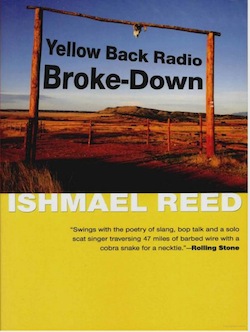 He was a disciple of William Carlos Williams.
On the night of the newspaper's release, I was in Newark and so I asked Penny Shaiman – my girlfriend at the time, who was studying art history at NYU – to help Sherry Needham to pass out copies of the newspaper to patrons in restaurants and bars. She used to run into Ed Sanders at the school library. He was studying Egyptology. She now runs a gallery in Seattle and is an art dealer.
The appearance of the newspaper was stunning.
I wrote a few articles for the newspaper, one of which was a blast at the owner of The Metro, who'd hired some plainclothes thugs to monitor blacks who attended poetry readings there. He'd previously threatened musician Archie Shepp and his "Goldwater for President" sign in the window was meant to be a red flag for blacks. One night, one of them attacked Tom Dent, the leader of our magazine Umbra (one of the most important literary magazines to be published, though it gets ignored because the media, when covering the Lower East Side of the 1960s, bond with those who resembled their journalists and their tokens.) It was at Umbra workshops where the revolution in Black Arts began.
I went to Tom Dent's aid and was punched. Penny and I left the Le Metro Café and halfway home I turned and went back. Poet Walter Lowenfels was reading. I told Walter that if he continued reading I would never speak to him again. The café emptied out and that was the end of the readings there. William Burroughs, who was scheduled to read the following week, cancelled. After a weekend of searching for other places, bars, restaurants, coffee shops, where readings might be held, Paul Blackburn and I asked the then rector, Michael J. C. Allen, whether we could hold readings at St. Mark's Church.
That was the beginning of the St. Mark's Poetry Project . Joel Oppenheimer ran the poetry workshop; I ran the fiction workshop. If you check out the St. Mark's Poetry website, none of this is mentioned, another example of how the black participation in the counterculture gets expunged from the record.
After I resigned from editing my Newark paper, as the investors wanted it to become a mouthpiece for the local government, which was a criminal operation, Walter asked me to write for The Other. I chose to begin my first novel, " The Free-Lance Pallbearers ."
I was sharing rent with choreographer Carla Blank who was a rising star in the Judson Church post-modernist dance movement. Her classic, "The Wall Street Journal," a dance based upon a collage score, was revived in 2009 by Carla and Robert Wilson as part of their collaboration about their work with Suzushi Hanayagi, called "KOOL." She was in contact with South Asian and Japanese artists. I introduced some of these international artists to The Other. Carla contributed a couple of collages, so did my friend, the late John Harriman. The great cartoonist Mary Wagner was also a contributor. When my first novel was published, Allen Katzman gave the book a great send off.
I was one of those featured on a record that Walter produced called " The Electric Newspaper ." Walter and I worked on a project called International Mind Mining, but nothing came of it. I took the idea west, where I founded the Before Columbus Foundation , a multicultural service organization for writers and sponsor of The American Book Awards, now in their thirty-second year.
Walter hooked up with Timothy Leary and got off into drugs. I think that was a turning point in our relationship. One night he slipped a tab of mescaline into my glass of orange juice without my knowledge. After this creepy act, our relationship became strained.
I left New York in 1967 and on the basis of having written "Pallbearers" obtained a 35-year teaching job at the University of California at Berkeley. Mike Gold compared California with a sanatorium. After the turbulence and excitement of New York, I needed one. With the fame accompanying The East Village Other, Walter went uptown. On one occasion, Carla and I had dinner with him and the rich woman whom he married. Actor Rex Harrison's ex-wife served the dinner.
I saw him and Allen Katzman a couple of times after that. Carla and I had dinner with Walter and his wife in Tiburon. Timothy Leary was one of the guests. Allen Katzman and his girlfriend at the time, the painter Carol Alonge, came to visit us in California. I visited them at Westbeth in New York. As soon as I stepped over the threshold the lights went out. Allen laughed. "That's Ishmael," he said. "Powerful." He and his daughter were killed in a car accident in 1985. Allen was on the way to becoming a major American poet. Someone sent me a poem by his daughter. I saw Walter Bowart in the 1990s when I read from my work at the University of Arizona at Phoenix.
And finally at Long Beach, when I was the guest of Malauna Karenga, Walter and an associate made a videotape of my reading.
Walter Bowart was a restless, troubled genius. A visionary. An iconoclast. His idea of the anarchic-technological utopia influenced my second novel, " Yellow Back Radio Broke-Down ." He was a fan of Buckminister Fuller and Marshall McLuhan. He invented the New Journalism when he hired poets and novelists to write stories and features and lifted cartoons to the status of an art form. His mind belonged to the future, but he also could be small minded and petty. They're all deceased now — Sherry Needham, Allen Katzman and Walter Bowart — but when I think of them, my family, it brings me back to those days in the 1960s: The music, the cheap rents, food, the energy and excitement, the buzz of something new. What lovely days those were! We were all young, experimental, ready like Muhammad Ali, our hero, to shake up the world. It remains to be seen whether we Others succeeded.