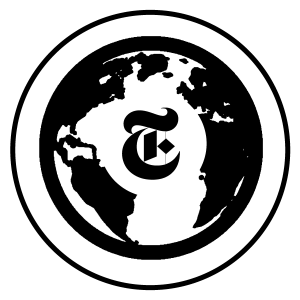 The New York Times used to be one of a handful of national newspapers in the U.S. (the Wall Street Journal and USA Today were the others) and it put great effort into making the printed product available coast to coast. But the internet is different: every user is equidistant from every site. The economics favor global distribution, where the Times competes with the Wall Street Journal, The Financial Times, Reuters, Bloomberg and the Guardian.  As executive editor Dean Baquet put it in a staff memo in February 2015: "Just as The Times found an entirely new market when it became a truly national publication, we now believe there are compelling possibilities in growing our international audience."
This year has already seen a redoubling of efforts on the translation of select articles into Spanish, which began in 2013. Translated articles originally covered Latin American topics, but now are including TV shows and international news as well. These are published mainly in the América section of the International New York Times, whose Twitter account has 27,000 followers. The Times has also experimented with publishing select articles into languages such as Malay.
The focus on becoming an international brand started in 2012, when publisher Arthur Sulzberger announced that new global markets would be one of the four key areas of investment. (The others: mobile, social, video.) That same year, the Times launched its Chinese website, with staff based in China. Though later blocked by the Chinese government, it has been largely considered a success. In 2013, the International Herald Tribune became The International New York Times, with editors based in New York, Paris, and Hong Kong.
Examples
The Times' journey to expanded global coverage has had its road bumps: its 2013 plan for Portuguese website was abandoned. In 2011, the Times launched its blog India Ink, which mainly provided coverage on India. This was a reach out to the biggest democracy of the world, a potentially profitable market. But coverage later folded into the broader global report on the International New York Times.
In June 2012, the Times launched its Chinese language website, designed to bring New York Times journalism to China with staff based there. It includes not only articles translated from English, but also original Mandarin pieces submitted by contributors. There are two editions: one in simplified Chinese characters and one in traditional. The website was later blocked by the Chinese government, along with NYT's Chinese social media handles.
In 2013, the International Herald Tribune, a Times Co. property, became The International New York Times, with editors based in New York, Paris, and Hong Kong. Its Spanish-translated articles fall under a section called "América."