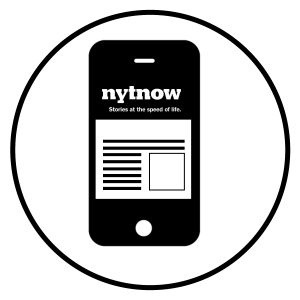 The "mobile imperative" is the term used inside the Times to describe its effort to expand its presence on mobile platforms and its mobile readership— and also to learn what works. The initiative started before the term was coined. It began in July 2008 with the launch of the New York Times iPhone app and expanded to its first iPad app in April 2010. It has gained urgency in recent years with the massive shift to mobile usage among news consumers.
Today the Times has 15 apps, including the news app in Chinese and English, as well as a variety of "niche" apps, including NYT Cooking, NYT Now, and NYT Crossword. The mobile payment model is subscription-based, and smartphone and tablet subscriptions are separate. The mobile imperative also includes the mobile website for the New York Times, which launched in 2006 and was last updated in May 2013. Referred to as "mobile web," it's treated distinctly from the Times' main website.
Examples
NYT Cooking, an app for tablets launched in September of 2014, offers more than 17,000 recipes from the Times archives. Its search function allows users to narrow a search by specific terms such as "vegetarian." "easy," or "dinner," and save recipes to a "recipe box." Reviews praised it for its usability, its recipe recommendations, and most importantly, the fact that it was free. It is enormously popular – it has been downloaded more than 300,000 times.
NYT Now, an app in which the top stories from the New York Times are handpicked and summarized by Times editors, has not achieved the profitability that was expected. But the reviews have been very positive. Sales have not met expectations. NYT Now has garnered around 20,000 subscriptions from an audience that is mostly younger than the average Times reader. The Times is considering making NYT Now a free product. It is run by senior editor Cliff Levy.
NYT Opinion gave access to an "opinion-only" bundle. It was created in June of 2014 and eliminated in October of the same year, after a very low rate of subscriptions.