Migration
BORN IN THE US, RAISED IN AFRICA
Read More
By Toluwani Eniola, Naziru Mikailu, Sahina Shrestha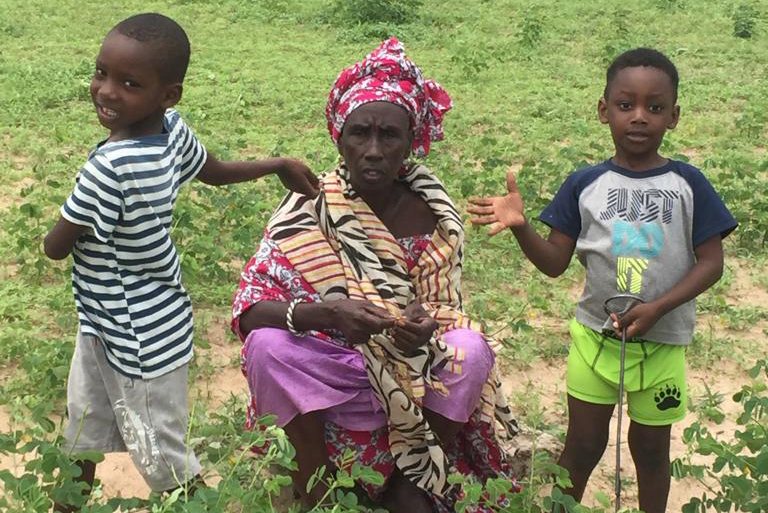 Mohammed (7) and Aliyu (5) with their grandmother, Adja Balle in Thies, Senegal. The boys were born in New York.
---
Ndoyi Daouda, 49, sat on a low stool under the slightly swaying trees adjoining Diop Gift Shop, an African fabric store, on West 116 Street in Harlem. Daouda, a tall taxi driver from Senegal, had just finished his shift for the day. He reached into the breast pocket of his brown coat and pulled out his phone. As he scrolled through, he seemed to be enjoying the cold, breezy evening and the African music pouring from the shop.
Daouda starts his day by 7 am, driving through the streets in his yellow taxicab to scout for passengers. "Sometimes, I don't stop working until 7 pm," he says. Daouda has to work long hours to financially support his relatives in Senegal. To unwind after a tiring day, sitting here has become his daily routine. The gift shop is managed by Daouda's friend who also hails from Senegal.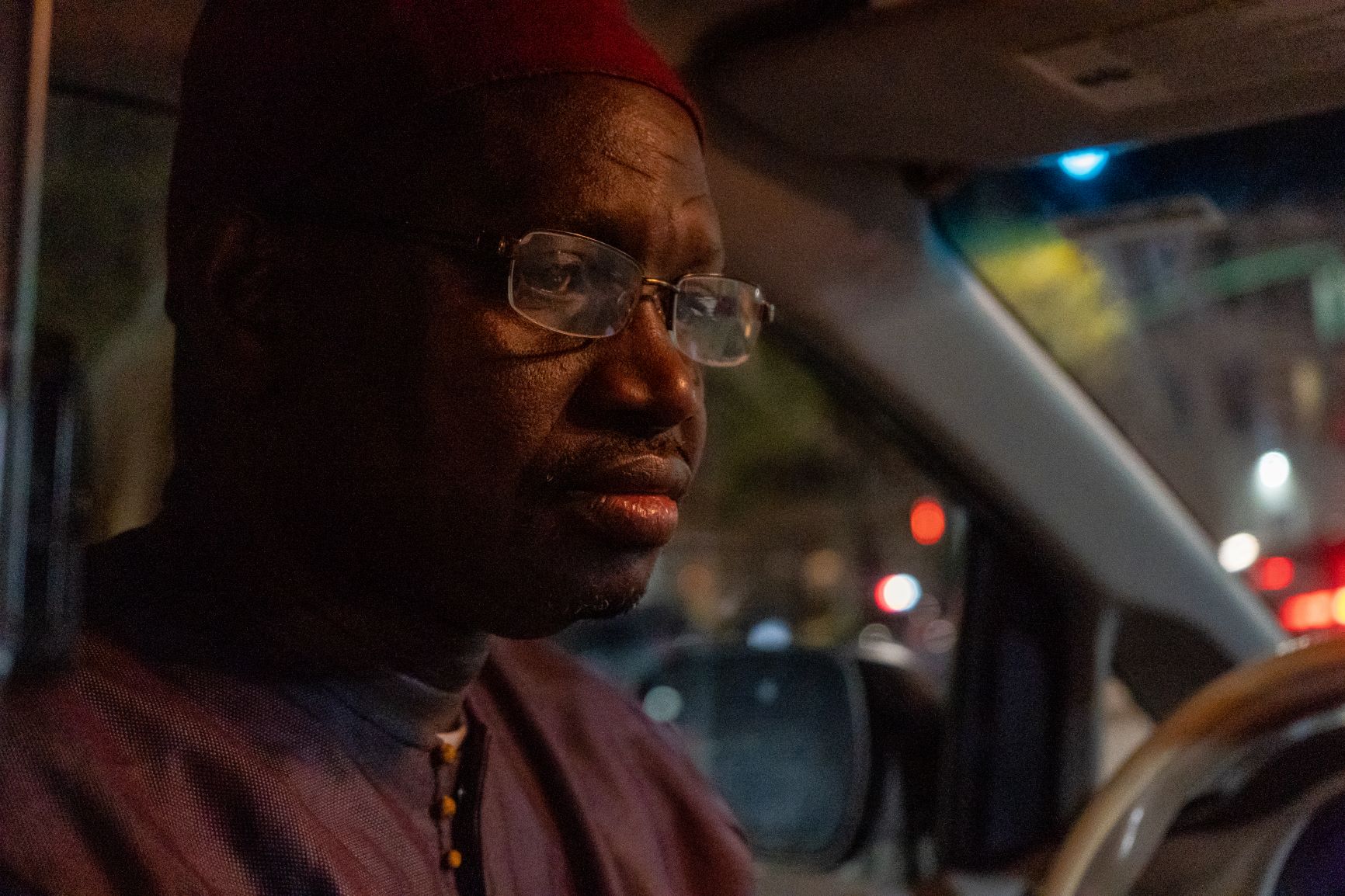 Ndoyi Daouda from Senegal migrated to New York in 1999. In 2017, he sent his children back to Senegal so that they could connect with their African heritage.
---
Daouda immigrated to New York in 1999, joining a thriving African community at the heart of Harlem. Popularly called Little Senegal, this area comprises blocks surrounding West 116th Street, between Lenox Ave on the east and spilling to Frederick Douglass Boulevard to the west, is mostly inhabited by French-speaking African nationals from Guinea, Mali, Ivory Coast and Senegal who were lured by economic opportunities in the US.
Like many Africans in this neighborhood, Daouda is not comfortable raising his kids in Harlem. They are sending them back to Africa at young ages— in the care of family members— with the hope that doing so would make them become "more responsible adults."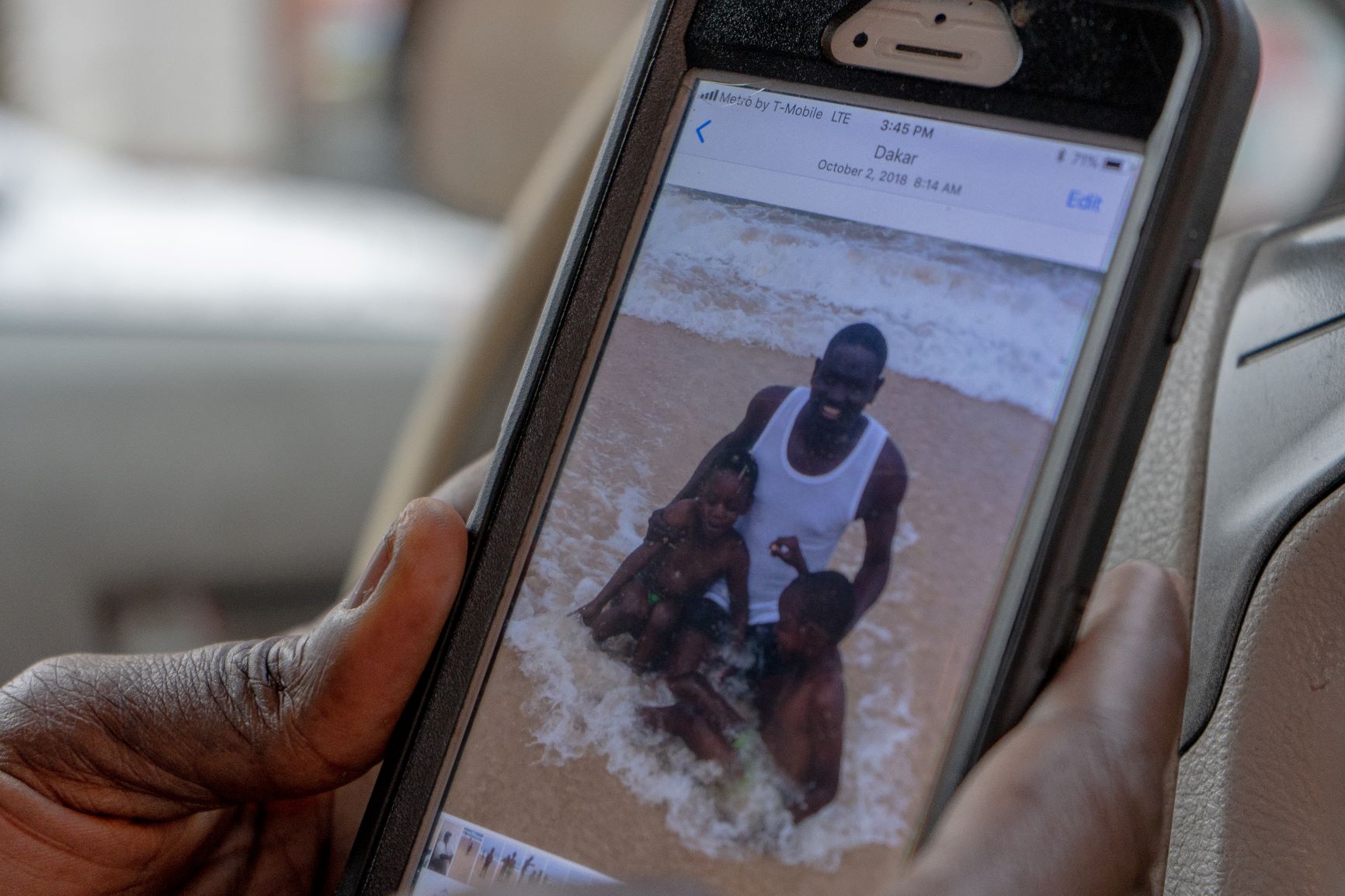 Daouda with his children on a beach in Dakar.
---
For instance, Daouda's children—Mohammed (seven) and Aliyu (five) — are thousands of miles away in Africa in the care of their grandparents and aunties in Senegal. Daouda and his wife reached this decision because they believe early exposure to American culture would make their kids abandon their African heritage.
"When I moved into my apartment in 2004, I recognized some African kids in the neighborhood going to school," he recalled. "I knew them well; right now, they don't go to school anymore. I see them by the stores and street corners, selling drugs and smoking. They stay there till midnight. I don't want my kids to turn that way. I want them to have the same upbringing as me."
Daouda's experience underscores the evolving challenges of parenting faced by many Africans in Harlem. These African immigrants want to raise their kids the way their parents raised them in Africa. In interviews, some parents complained that the American culture clashes with their traditional values of parenting. 
Daouda's friend, Drame Kong, a father of four kids, who hails from Senegal, has also sent three of his kids to Africa. "He was thinking like me," Daouda says. "The same reasons made my barber, who is from Mali, to send his kids to Africa."
Mohammed Fadiga, an immigrant from Guinea, shares the same concern about parenting in Harlem. Fadiga has six kids. He has been living in Harlem for 11 years. He drives the MTA bus and sells African fabrics in Little Senegal on the side.
"It is not easy," he says, "I have been struggling to raise my kids here because of the (American) system. The way we raise our kids in Africa is different."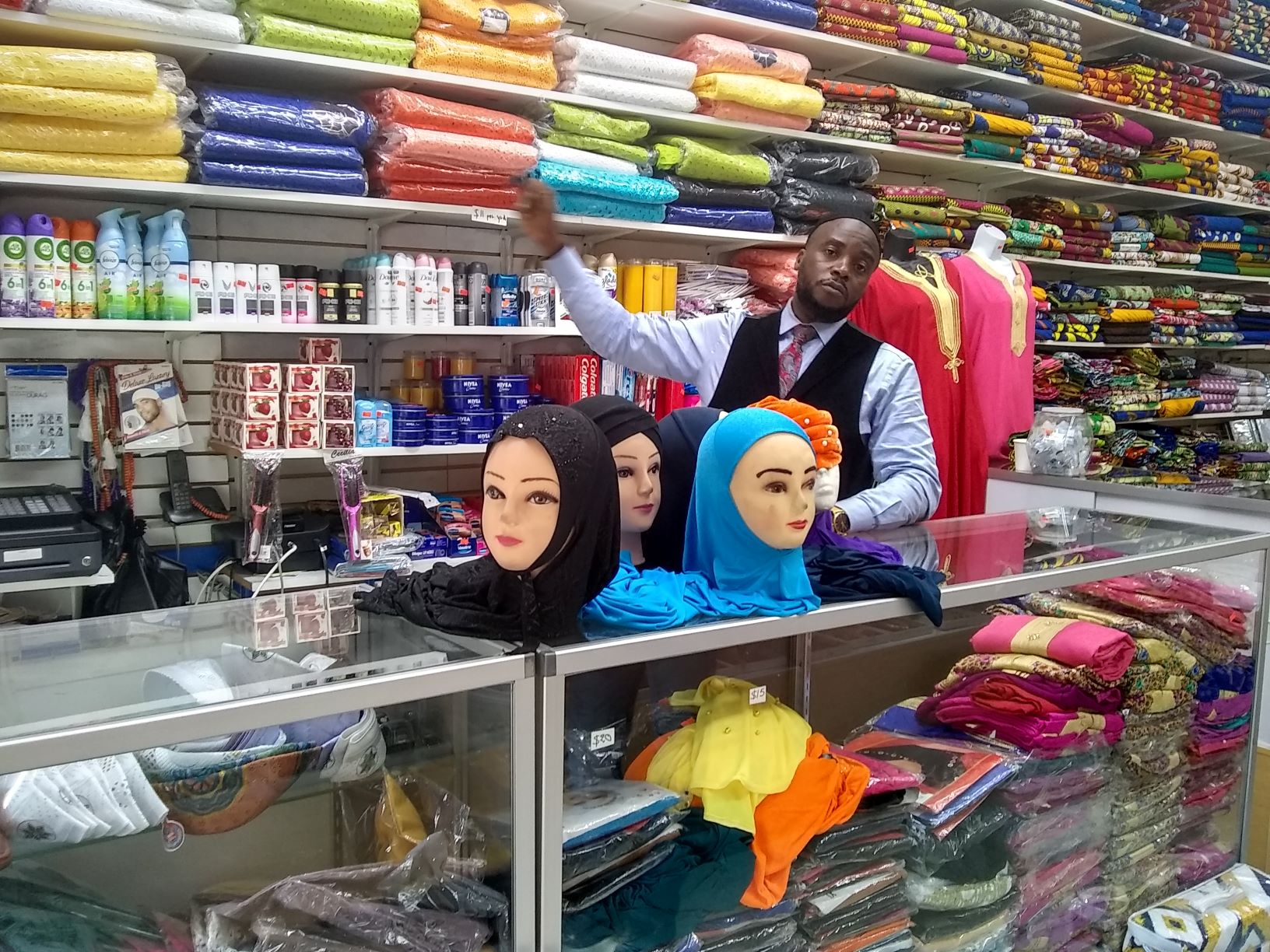 Mohammed Fadiga at his fabric shop.
---
Fadiga recalled he met some African kids who were sent back to the continent to learn African culture. He is impressed by their behavior when they returned to America. "The kids come back and are full of morals and everything goes well. I see a lot of parents do that and I am thinking about that too."
He faulted the American education system. "When they go to school here, they (teachers) tell the kids things we don't do back home. We are afraid to talk back to our parents but the kids here are not. If you tell your kids here, 'do this', they are not going to do it. 
"You can't cane them, you can't do anything. And they tell them in school that if their parents do things they don't like, this is what to do or call the police. Our parents didn't raise us that way."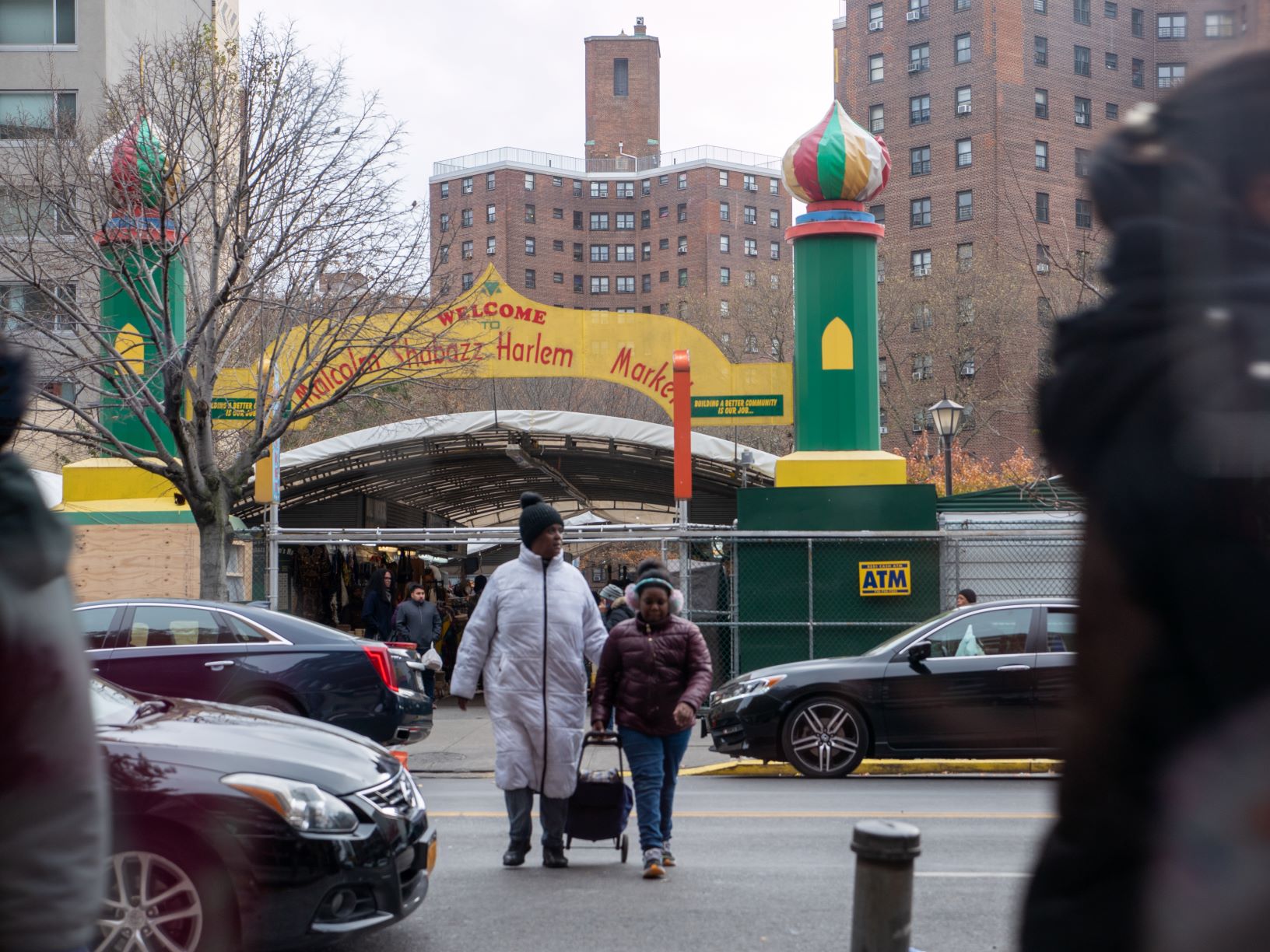 The Malcolm Shabazz Harlem Market specializes in African goods.
---
Many African parents are stuck in the deeply embedded practice of flogging their kids when they do wrong, despite decades of research that shows that corporal punishment harms children. 
This parenting challenge has also caught the attention of some African embassies in New York, including those of Senegal and Ivory Coast. 
While lamenting the effects of this early move to Africa on the children, Vice Consul of the Ivorian Consulate in New York, Mrs. Marie-Madeleine Aboui, shared a different perspective about why African parents in Harlem send their kids to Africa.
"Some of them (African parents) are simply overwhelmed by their jobs in America. I think this is a major problem. It is not easy for them," she says. 
"They don't have the time for parenting. I know more than five parents who sent their children to Africa. Some of them work for many hours in New York. There was an Ivorian woman I know who had a five-year-old child. She was working almost all day in a restaurant. She had no time for the child. She had to send the child to Ivory Coast. There was also one taxi driver. One day he went to his son's school very late and met the police waiting for him."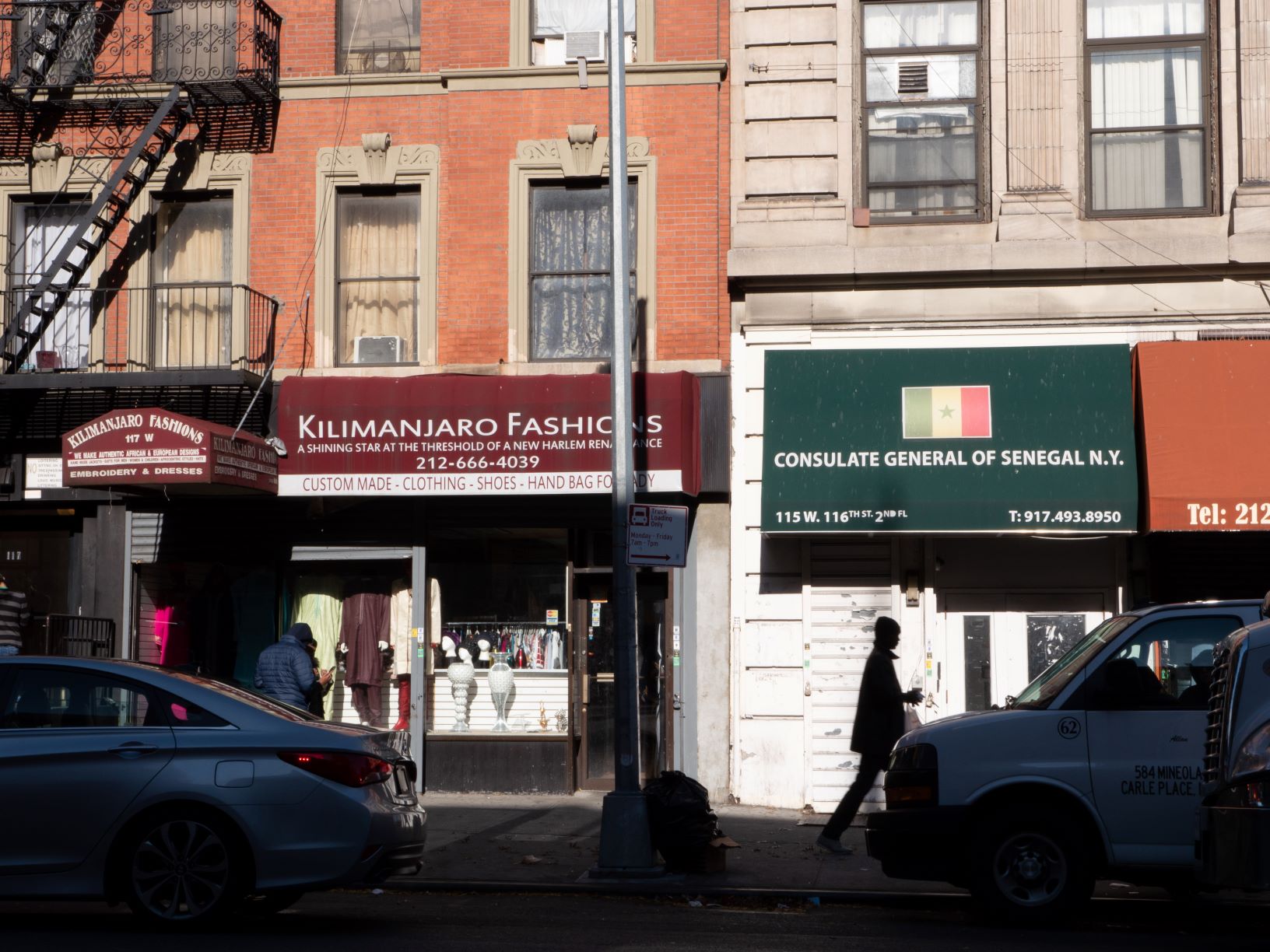 The Consulate General of Senegal at 116St, New York.
---
A senior official at the Senegalese Consulate in New York, who spoke on condition of anonymity, buttressed Aboui's view, claiming kids raised in Senegal "don't smoke or do drugs" like their counterparts raised in Harlem. 
"I think it is a good idea that these children are sent back home," the source says. "We have noticed that some Senegalese prefer to send their kids, usually at the ages of five, six or seven to Africa and bring them back to America when they are ready for college."
Not all African parents embrace this idea. Some do not believe in the practice of sending kids to Africa. Aminata, who owns a small shop in Little Senegal, is one of them. She hails from Ivory Coast and has been living in Harlem for 11 years. 
This evening, she is being assisted by her eight-year-old daughter, Zara, as she takes a break for the afternoon prayers in a mosque in the same building.
"I know some Africans who sent their kids to Africa," she says as she munched on a plate of grapes. "I don't think it is good. You know in Africa, there is a high rate of drug abuse now. If you can't raise your kids here, no one can do that for you in Africa."
Aminata has some advice for African parents struggling to raise their children in Harlem. "You have to be with them (kids), show them how to respect people. You have to pray to God to help you. It is not easy but show them, talk to them and don't give your responsibility to someone else in Africa. If you do, you are gonna lose."