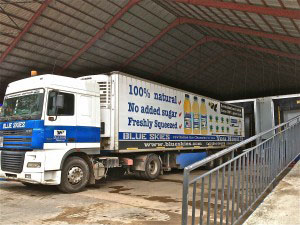 NSAWAM, Ghana — Men and women clad in white sportswear labeled "Keep Fit" roam the freshly cut green lawn, while others socialize around picnic tables eating freshly cooked meals.
Helping employees have a balanced diet and providing exercise opportunities is not typically in the forefront of the Ghanaian business plan. And yet, Blue Skies is committed to promoting healthy life choices for both its employees and its consumers.
Blue Skies is a popular juice company founded in 1997 by British entrepreneur Anthony Pile in Ghana, located in Nsawam in the Eastern Region, just outside of Accra. Their juices, which are exported throughout Europe, are all freshly squeezed with no added sugar or preservatives – they're all natural and all fresh.
Pile says he often sites research out of the UK and US when discussing the health benefits of fruit. "Generally speaking, I think that fruit tends to speak for itself. There's a natural compulsion for those who are seeking health through healthy eating towards vegetables and fruits," Pile said.
Blue Skies factory has an onsite sports complex to encourage people to lead a healthy lifestyle through exercise. Employees can arrive early to Blue Skies, or stay late, to utilize the workout facility.
"We have a volleyball team, too. We're also setting up a gym with a boxing clinic," said Assistant Development Manager Eunice Yeboah Afeti, who was raised in Accra and has worked at Blue Skies for 12 years.
Blue Skies is also committed to subsidizing a balanced meal everyday for its employees. "The food is very important because when we were not provided food, people have to walk far. Because of that people didn't eat," said Afeti.
According to Pile, the fruit sold by Blue Skies has two advantages: "On the health side, it gives you most of the things you need on a real cost-free basis. On the other side, for those people who want to move towards vegetarianism, we have something to offer, because most fruit doesn't bleed."