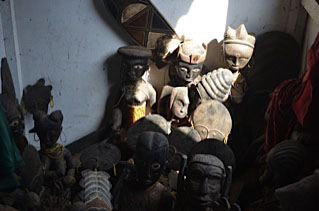 by Morgan Boyer
Upon arrival at the Centre for National Culture, visitors  find themselves bombarded by craftsmen earnestly vying for their attention. Many of the stalls at the Centre sell the same goods—ebony carvings, paintings of identical style, cloth and jewelry.
In order to stand out among the sea of stalls, the onus is on the craftsmen to entice visitors  without being too aggressive. A man introduces himself as Colin Powell and asks where they are from.
"You're from Ireland?" he asks three girls. "Do you know Killarney? Drogheda? Cork?"
Impressed and surprised by his knowledge, they follow him into his stall.
"When they built the new market, we became the backyard people," Sanio said. "My strategy became telling customers that if they name a state or country, and I don't know the capital, I will give them a free carved elephant. They challenge me and are forced to come to my shop."
Colin Powell's real name is Mohammed Sanio. He earned the nickname after September 11th when the largely Muslim market was buzzing about the attack. Sanio defended America, earning himself the name of the former US Secretary of State.Though often successful, his strategy poses risks for him with the Greater Accra Arts and Craft Dealers Association, who dictate that no vendor is allowed to sell outside of his shop.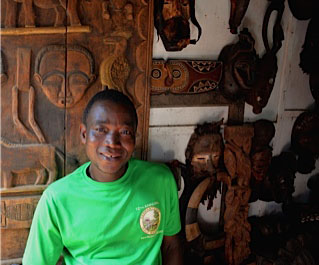 "Colin faces problems in the market because the association plays favorites," said Issaka Sulemana, a 42-year-old neighboring craftsman. "They take the side of people who are from their villages or have mutual friends, and he's not one of those people."
The consequences of breaking this rule are fines or suspension, but they aren't consistently enforced. If Sanio didn't search for customers at the front, they would rarely find his shop.
"By the time people get back here—if they find me at all—their money's gone."