by Tianne Johnson
ACCRA, GHANA – While on a tour of the Kwame Nkrumah Mausoleum, Nicole Koonce, a professor from University Park, Illinois, recalled her 16-year-old self and a deep longing to visit Africa. She described a Sankofa bird that still hangs in her home today to symbolize this long-held dream of hers. Yet, it wasn't until last week, at the age of 49, that Koonce's dream finally manifested.
Koonce is currently here with a group from Governor State University for a service learning project in which they worked alongside a public health brigade in the Ekumfi District, one of twenty districts in the central region of Ghana. Koonce stated that being in Ghana during the 'Year of the Return' feels amazing and she is very grateful for the experience.
In September 2018, The Year of the Return was formally declared by President Nana Akufo-Addo as the year of 2019, which marks the 400th anniversary of enslaved Africans' first arrival to North America.
As part of a cultural tour, the group went to Cape Coast Castle as well as Elmina Slave Castle. But what struck her the most was walking the physical path of her ancestors at the Ancestral Slave River Park in Assin Manso, Ghana.
"The most momentous moment for me was when we went to the last bath and then we took our shoes off and we walked the trail where those of us who were lost went. It was very sobering but also very connecting." said Koonce.
The 'Year of the Return' encourages people of the African Diaspora to come to Ghana to connect with their roots. Many celebrities such as Naomi Campbell and Idris Elba took part in the Full Circle Festival, a week of events in Accra hosted by African American celebrities with Ghanaian roots, Boris Kodjoe and Bozoma Saint John, to "forge closer ties between Ghana, the African continent and those of African descent living elsewhere."
For Nicole Karikari, a medical student from Virginia Commonwealth University and the child of parents from Cameroon and Kumasi, Ghana, her first time visiting Africa was on a family trip in 2012. But today, she is back for the second time.
"I'm in med school so coming back and working with the people you come from is important," said Karikari at the Kakum National Park. She realized how grateful she is to hold with her the memories of her past family trip and a close understanding of her parents' history but acknowledges that many others within the diaspora don't share this same connection to Africa.
"My other friends who are black Americans wouldn't know what to do… they don't identify with the culture as much because nobody in their family grew up here."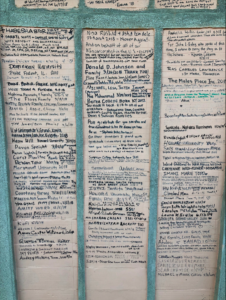 Back at the site in Assin Manso stands three blue walls adorned with writings and signatures from visitors. Joshua Akasuatste Kwesi, a Ghanaian tour guide who has worked at the Assin Manso Slave Site for over two years, watches each week as visitors write their markings on the walls, often writing the term "Sankofa."
Kwesi added that Sankofa is a symbol of resurgence and return for the diaspora.
"Sankofa means going to return to pick anything back from your roots… to go back and take what belongs to you," said Kwesi. "it is time for us to tell the stories for ourselves."
Koonce stated that she is grateful to the country of Ghana for promoting a way for people from the diaspora to reconnect and to become integrated on a macro level into the black experience on this earth. For her, the story doesn't just end here. 
"What [The Year of the Return] has inspired in me is a huge desire to continue to plant this particular service and cultural experience as a part of our university experience," said Koonce regarding Governor State University in University Park, Illinois where she works as a professor.
Governor State University comprises over 50% black and brown students and this was their first trip to West Africa as a service learning study abroad program. Her experience in Ghana during The Year of the Return has inspired her to share the experience of black greatness she has learned with not only her students, but her son.
"We really wanted to empower our students to know the greatness they come from… And I am determined that my son is coming [to Africa] before he goes back out into the world."