Bill Beckman and EVO's Own Touch of Evil
I came to EVO in late 1965. I think the paper was about three issues old. Walter Bowart had quit his job as a bartender at the Dom on St. Marks Place (Ed Sanders says it was Stanley's, maybe it was both) and had raised some money to publish what he was soon to become fond of calling "a hippie National Inquirer." ("Hippies don't like to read. They like pictures and big headlines.") I had just come to New York City from Texas. At the time I wasn't sure if I wanted to make it uptown or downtown. All that was certain was that I needed to get some kind of employment.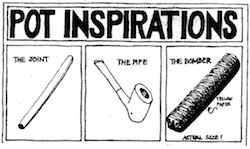 I was living in the basement of Bill and Debbie Beckman's apartment on East Ninth Street between Avenues C and D. At the time, this was decidedly a sketchy neighborhood, populated by young Puerto Rican street entrepreneurs who would have duels with ripped-off car antennae, whipping each other viciously over turf or girlfriends or whatever. The old mittel Europeans, Ukrainians, and refugees who lived in the ratty tenements would scurry to get out of their way as they crossed Houston to get a knish. It would have been maybe December of 1965 when I arrived. It was shaping up as a very cold winter, with an incredible blizzard that happened just a few weeks after my arrival. Being a naive Texan, I had innocently driven my car and tried to keep it on the streets. I lost it for almost 10 days under the snow. It was all very new to me. Snow. Hippies. The East Village Other.
Bill Beckman was one of the uncredited founders of EVO. He had put in some of the early "seed money." He liked to avoid publicity, however, since he had this other business that kept him quite busy. On the one hand, he was a very talented artist who had gone to art school at Yale and the University of Texas, and on the other, he dealt in controlled substances and had a stellar clientele from both uptown and downtown. One would be amazed at the number of noted cool people who would brave the depths of deep East Ninth Street to obtain some of the exceptional weed and blonde Lebanese hashish that Bill seemed to always have in ample supply. He was a pot dealer to the stars. The day that Augustus Owsley Stanley walks in your door trying to score, you know you must be at the top of some kind of game.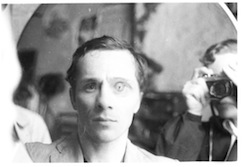 All of this is to contextualize the founding of EVO. Walter Bowart was definitely not a newspaper type. To this day, I am not even sure if he was literate, but he was prescient and energetic. I don't know how he met John Wilcock or Allen Katzman. By the time I wandered onto the set, things were already rolling. EVO was in its storefront office across from Tompkins Square Park, which was quite convenient to Beckman's house. Not only had Beckman been one of the "seed money" guys, but for the first few issues he was also EVO's art director. That meant that he was responsible for the first logo and layout of the paper. He was not a newspaper pro, but he did have a great sense of style, and the first few issues were Bill's domain. He didn't write, but he knew something about paste-up and doing a dummy. He decorated the paper with a garish but distinctive design and his own cartoon strip "Captain High."
Bill was the coolest of the cool you might meet. How many people did you know in those days who had been in the Marine Corps, gone to Yale, and served time in a Mexican prison for pot possession? Not many I bet. Even Ed Sanders deferred to Bill, and that is saying something. There was a hierarchy in those days and life experience definitely counted. I was sort of blessed and cursed to know Bill. Knowing him gave me an instant pass, plus the fact that I had just come off of six months working for an English language newspaper in Mexico City gave me some cachet as an actual newspaper person.
Walter wanted me to work for the paper. I, on the other hand, needed dough. I couldn't keep living in Beckman's basement. So I never did actually work for the paper, but I did get a few moments of beatnik media glory. The blessed part was that Bill gave me entrance to this cool world. The cursed was that it was downtown – I was never going to make a nickel. Oh, the dilemma.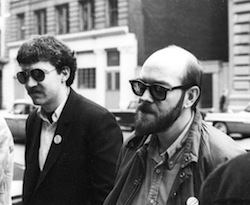 I took a job up on Park Avenue with D'Arcy Advertising. At the same time I moved into an apartment on the fifth floor of a walk-up on Ninth Street. Beckman had rented a storefront in the same building and opened The Invisible Gallery with a big frosted window. The only thing you could see was one clear 12-inch square where Bill would do little cigar box sized installations… much to perplex the neighbors.
When Claes Oldenburg opened a storefront right next door showing papier mache dresses designed for Alice in Wonderland, we knew Bill was on to something. The neighbors grew even more perplexed. Art bloomed on East Ninth Street! The kids at P.S. 64 didn't know quite what to make of this art invasion, however small it might have been. People threw stuff at the storefront windows. Oh, well.
So, rather than try to take employment at EVO, I more or less hung around. Call me a newspaper groupie. All kinds of people came and went. In early 1966 I had written a letter to Texas to my old artist pals from the days at the Texas Ranger, one of whom was Gilbert Shelton. I mentioned to Gilbert that EVO might be interested in running some of his cartoons – not his Wonder Warthog cartoons, but the artier stuff that he had drawn while eating peyote. Gilbert sent a few drawings up to EVO and Bowart flipped out: "Oh, this is great!" He ran several of the very existential cartoons that Gilbert had drawn. The next week Spain Rodriguez showed up — completely wigged out by the cartoons. They struck a nerve. Cartoons started to become a new art form in a mass medium.
It wasn't long before Kim Deitch, Spain Rodriguez, R. Crumb and others were being published regularly in EVO. What few people realize today was that in the beginning of that New York bloom was Beckman with "Captain High," followed closely by Gilbert Shelton who, a couple of years later, would make big cartoon news with his "Fabulous Furry Freak Brothers" and the hit comix from the Rip Off Press in San Francisco.
By the time that summer of 1966 rolled around I had attended a concert in Tompkins Square Park and heard the Grateful Dead play. I was high as the Fourth of July that day. What else could a poor boy do? I quit my job at D'Arcy. I packed my bags. I bid goodbye to friends like Beckman and Ed Sanders and Walter Bowart and Elaine Solow and Ken Weaver and I drove to San Francisco to seek another kind of fortune.
No one ever knows if they did the right thing. At the end of the game, all the pieces go back in the box.