PROFIT MOTIVES
Making money from missions
Some news outlets find the key to sustainability lies in aligning their business models with their sense of purpose.
The idea of diversifying revenue streams to maintain a healthy business isn't new, but as Facebook and Google devour most of digital advertising, news organizations are scrambling for new ways to make money. "Pivoting to readers"—through audience revenue initiatives like subscriptions and memberships—is the current buzz phrase.
Getting readers to pay for news might seem like a return to an older model, but the pivot to readers speaks to a broader, more innovative shift in how journalism can be funded in the future, as the traditional walls come down between the editorial and business sides of news companies. In contrast to the days when these businesses were largely reliant on advertising—and journalists steered clear of revenue-generating concerns—news organizations are increasingly experimenting with creative ways to align their business models with their editorial missions. Here are a few examples of mission and revenue alignment.
Membership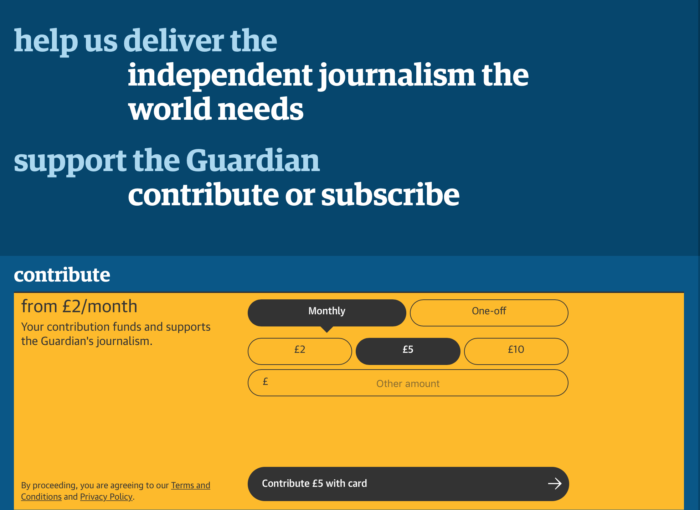 In 2016, The Guardian—historically reliant on advertising, like most publishers—was in financial trouble. It reported £69 million in losses (almost $96 million in U.S. dollars) and cut a third of its U.S. staff. But a turnaround strategy was already in place through its membership program. By 2017, reader revenue surpassed advertising revenue, and the Guardian was projected to break even by 2019. Its number of members quadrupled from 75,000 to 300,000, and it slashed overall losses by more than a third from 2016. It currently has 800,000 paying readers, including members, donors, and subscribers.
Although the publication's membership program began in 2014, it became a focus for the company in 2017. The program is directly tied to the Guardian's journalistic mission, as the publication has foregone a paywall strategy and opted instead to appeal to its most loyal readers to directly support its work and values. "Our relationship with our readers is not transactional: it is about sharing a sense of purpose and a commitment to understand and illuminate our times," Katharine Viner, the editor-in-chief, wrote recently.
Members receive exclusive newsletters, access to events, ad-free reading, and the opportunity to engage more deeply with staff. But executive editor for membership Natalie Hanman said the organization has found that the biggest driver of new memberships is the Guardian's emphasis on public accessibility. Whenever "the 'no paywall' point is made explicit," Hanman said, the Guardian sees a surge in conversions and contributions.
In addition to putting the organization on the path to sustainability, Hanman said, memberships have helped to internally strengthen the Guardian's mission, instilling the value of listening to readers and spurring closer collaborations among departments.
The Guardian's mission:
In 1921, the great British journalist and editor C.P. Scott marked the centenary of the Manchester Guardian with an essay that laid out the newspaper's values as "honesty … courage, fairness, a sense of duty to the reader and a sense of duty to the community." Last November, the Guardian's editor-in-chief, Katharine Viner, drew from Scott's example in an essay titled "A mission for journalism in a time of crisis": "Our moral conviction … rests on a faith that people long to understand the world they're in, and to create a better one. We believe in the value of the public sphere; that there is such a thing as the public interest, and the common good; that we are all of equal worth; that the world should be free and fair."
Data sales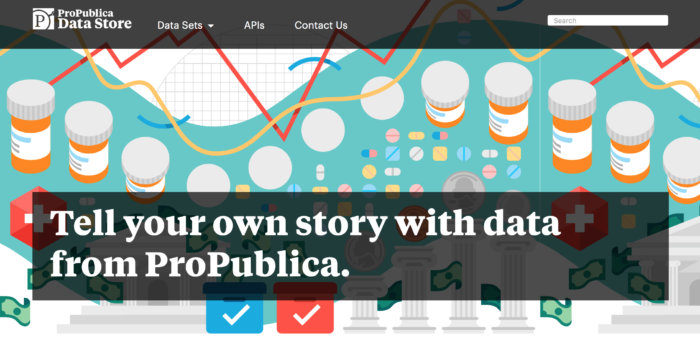 Most of ProPublica's revenue comes from donors and foundation grants, but the nonprofit newsroom also earns income through a few initiatives. One is the ProPublica Data Store, which sells datasets and APIs made from the data collected through the site's investigative reporting.
Repurposed datasets are available for free, while original datasets cost anywhere from $200 to $10,000, depending on the amount of work that went into the dataset and the customer's ability to pay. According to Celeste LeCompte, ProPublica's vice president of business development, customers for the Data Store include journalists, academics, nonprofits, and large companies. ProPublica also sells data for other newsrooms, including the New York Daily News, Investigative Reporters and Editors, the Chicago Tribune, and the Associated Press.
The store has brought in about $250,000 since its 2014 launch, and more than half of that has been in the last two years, according to LeCompte. Although this is only a fraction of ProPublica's $10 million annual budget, LeCompte sees it as an important initiative to further diversify revenue and repurpose reporters' work in a cost-effective way. "The content creation for the Data Store is already done in the course of normal work and is basically just exhaust from the work that we're already doing," said LeCompte.
Most importantly, LeCompte said, the store not only extracts more value from the site's reporting but furthers ProPublica's mission of maximizing impact.
ProPublica's mission:
"ProPublica is an independent, nonprofit newsroom that produces investigative journalism with moral force. We dig deep into important issues, shining a light on abuses of power and betrayals of public trust — and we stick with those issues as long as it takes to hold power to account… We focus on stories with the potential to spur real-world impact."
Events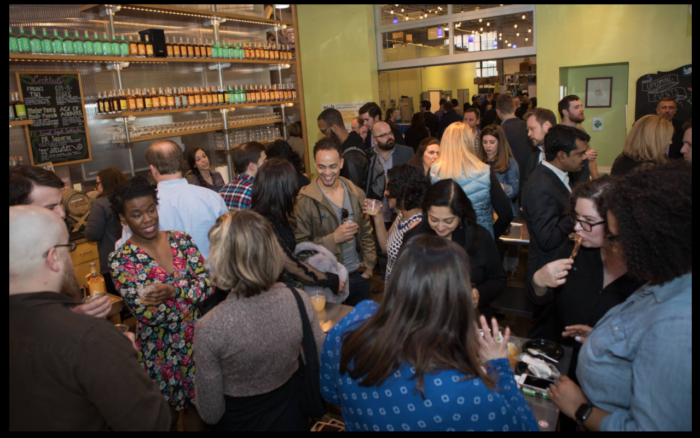 The Incline's "Who's Next: Technology" event in March 2017
Spirited Media is the parent company of three local news sites: Billy Penn in Philadelphia, The Incline in Pittsburgh, and Denverite in Denver. Since its inception, the company has centered its revenue strategy on events. According to founder Jim Brady, the 60 events the company currently runs each year make up 55 percent of its revenue.
Spirited Media's events vary widely. Most are ticketed, some are sponsored; some focus on networking, others on journalistic programming. The events serve each site's respective community. There are happy hours for specific industries, annual galas, scavenger hunts, election watch parties, and panels dedicated to local issues, like Denverite's fall panel on homelessness and housing insecurity.
Chris Krewson, Spirited Media's vice president of strategy, said that the community events don't always tie back into hard news, but they're nonetheless core to the sites' local missions. "Another part of the journalistic mission is discovery, and so we might offer a tour of a new brewery, or a first look at a new good or service from somebody. All those things also support other types of journalism, news that is finding out about the city where you live and exploring it."
Events also fulfill another tenet of Spirited Media's sites: accessibility. Dave Burdick, Denverite's editor-in-chief, said people often show up at events to talk to journalists about their work. At a recent event, for example, a couple who felt that their neighborhood wasn't sufficiently covered by local media came to talk to one reporter who had done a few stories there. "They felt like they could absolutely do that—show up at our event and find just a couple of minutes to talk to [the reporter] and let him know what they thought about their neighborhood and what they thought was important," Burdick said.
Brady said it's no accident that events are at the center of Spirited Media, since the company was founded to help foster deep relationships between its sites and their communities. "What better way to exemplify that than by getting your readers to show up somewhere and not only interact with our staff but also with each other?" he said. "We can't just be of the people: we have to be with them."
Spirited Media's mission:
"We are all local all the time… First and foremost, we value our readers' time and their user experience. We are focused on bringing our local audiences together both online and offline… We also believe that while all cities have real problems, the voices of those trying to solve those problems often go unheard, and we try and cover many of those efforts."
Speaking engagements
The Lens, a nonprofit newsroom in New Orleans, has created a Speakers Bureau for reporters and editors to promote the organization and its stories at various engagements dedicated to the wide variety of topics the site covers, including local politics, criminal justice, the environment, and land use.
The bureau began in 2014 after Lens co-founder Karen Gadbois noticed reporters were constantly being asked to speak to companies, schools, universities, and community forums. "For a long time, we offered those services for free as a way of getting our name out there [and having] people become familiar with the work we do," she said. Founded in 2009, The Lens is largely funded by donors and grants. But as the site matured, revenue diversification became a priority for The Lens and its major funders. Gadbois said, "I just thought to myself, we need to monetize something we do for free right now."
Although the bureau isn't a major source of income for the site—it generally charges a speaking fee of just $100—Gadbois said, "It has been helpful for our bottom line—not hugely significant, but we do get members from it, and we also get some revenue."
Beyond the small amount of money it collects, the Speakers Bureau serves a core part of The Lens' mission, Gadbois said. "Any time we go out into the public and present what we do, we generate trust and buy-in for the mission. Especially in news, trust is a rare commodity. We value that as much as we value the money that comes in."
The Lens' mission:
"Our mission is to educate, engage and empower readers with information and analysis necessary for them to advocate for a more transparent and just governance that is accountable to the public."
Education
The Tyee is an independent Canadian online news magazine based in Vancouver. The site has an array of revenue sources, including memberships, donations, advertising, events, sponsorships, and what it calls Master Classes.
The Master Classes are taught by the staff, as well as by experts in what the site's chief revenue officer, Jeanette Ageson, calls "The Tyee universe," or its community of friends and supporters. Classes are held in two "seasons" (the fall and the spring), in person or through webinars, and they vary widely in topic. There have been classes on photography, memoir writing, investigative reporting, community organizing, persuasion, public relations, data visualization, interviewing, and podcasting.
While the classes are mostly marketed toward The Tyee's readers, the site also takes a B2B approach, selling Master Classes to businesses for their employees.
The Master Classes make up a tiny portion of The Tyee's revenue—according to Ageson, they annually bring in about $12,000 of The Tyee's $800,000 budget. But they serve an important purpose as they allow the site's community to interact with the organization in a different and more personal way, while capturing value and revenue from the skills of the staff and community.
"It's really nice to have some face time with our readers and bring them in a little bit closer, and have a sort of different relationship with them than a normal newspaper would," Ageson said. "It's just a really great relationship-building moment, and I hope that people come away with a feeling of greater ties to The Tyee than they would have if they had just bought a subscription to a newspaper."
The Tyee's mission:
"The Tyee strives to be a widely read and respected independent online magazine that publishes news, reviews and commentary not typically covered by B.C. and Canada's mainstream media. We aim to inform and enliven the democratic conversation necessary to improve environmental, economic and social conditions… our most loyal readers are ordinary people deeply invested in the public debates that shape our day."
Caveats and challenges for aligning missions and revenues
There's an industry-wide shift to align journalistic missions with business models, but revenue diversification remains a hurdle for many organizations—and that's especially true for diversifying revenue streams in a mission-aligned way. Here are some caveats and challenges for mission and revenue alignment.
Cost-benefit analysis.

When considering a new revenue-generating initiative, organizations must weigh the costs of that initiative against the revenue it will realistically generate. Celeste LeCompte considered building a commercial data-journalism education effort at ProPublica, before a thorough cost-benefit analysis killed the idea. If ProPublica had more product engineering and marketing staff, it might have been doable, LeCompte said. "We're a nonprofit journalism organization that focuses very specifically on investigation and accountability work. As much as education is part of our mission, to some extent, we're not staffed to provide education as part of what we do."

Resource constraints and choosing mission over experimentation.

The newsrooms most in need of new revenue sources are usually the ones with the narrowest bandwidth to experiment. Karen Gadbois spoke about how internal constraints have kept The Len's Speakers Bureau a small endeavor. "We could probably do more, but it also means that you're asking the reporters to do more work," she said. Similarly, LeCompte said revenue-generating experiments can be tough for organizations that are particularly mission-driven. "The dollar that you spend, on whatever this other idea is, is a dollar that you don't spend on journalism."

No one-size-fits-all approach.

"There are no get-sustainable-quick schemes," the News Revenue Hub's Chief Strategy Officer Tristan Loper

recently told the Membership Puzzle Project

. As evidenced by every example here, aligning journalistic missions with revenue strategies isn't easy, and more often than not, one new revenue stream will make up only a fraction of the money necessary for sustainability.

With the decline of advertising, there are now almost as many business models as there are journalism organizations. Each organization must find the approach that works best for its mission.
Why is this important?
The wall is crumbling between newsrooms and the business sides of their companies. News organizations must think more holistically about how they can make money and fulfill their journalistic goals.