MOBILE NEWSROOM
Using mobile devices to capture mobile audiences
Publishers are changing production strategies to meet the changing means and habits of news consumption.
What Is the Mobile Newsroom?
The Mobile Newsroom is a polysemy that refers to a new mobility in news creation and distribution and the ability of mobile devices to function as a newsroom.
From the convergence of capture and distribution to the dynamic shifts in job roles, the Mobile Newsroom has affected how publications strategize, create, and staff themselves.
The Rise of Role Aggregation
In the face of revenue declines, publishers are striving for cost-effectiveness in human resources. This, along with the increasing demand for native content across platforms, has given birth to "video polymaths," in the words of Quartz editor-in-chief and co-founder Kevin Delaney.
These producers/reporters are expected to script, report, shoot, edit and package videos for multiple platforms. Quartz and Vox expect their content creators to be involved at every stage of the production process.
The Washington Post was looking for polymaths when it staffed a 70-member video team in 2017, but it encountered many people adept at video yet lacking in reporting skills, as well as journalists who had few technical abilities. "We were seeing candidates who were coming from top news organizations, who had incredibly impressive resumes but were still narrow in their focus and skill set," said Phoebe Connelly, the Post's deputy director of video.
Whether journalists work for The New York Times or Vice, multitasking is part of their job. Reporters are now expected to be engaged in producing and crafting distribution strategies specific to each platform.
Changing Production Practices
Content Creation and Capture
1. Smartphones are armed with processors more powerful than computers and cameras that can rival digital single-lens reflex cameras (DSLRs) and other digital video cameras. These devices have made content creation more accessible for producers of all sizes and budgets as well as for the people formerly known as the audience. With software like Final Cut Express, Adobe Premiere Clip, and iMovie, producers can edit videos on smartphones instead of computers.
2. Smartphones can shoot high-quality 4K video and transfer it in a few clicks (with the creation of the H.265 codec), a capability that many conventional video cameras and DSLRs still don't have.
3. Mobile rigs have been gaining in popularity. Rigs can connect smartphones or DSLRs to a multitude of production accessories, including lights and microphones, and provide stability to shots.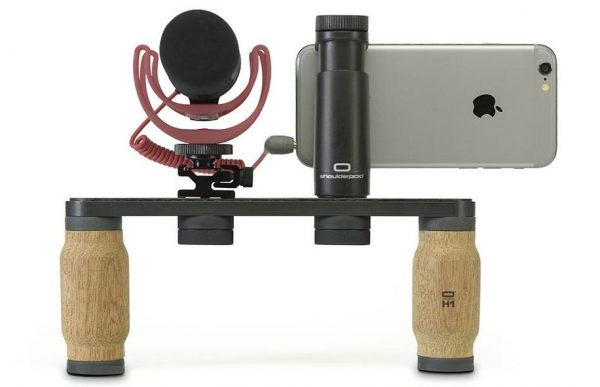 4. Samsung's Gear 360 makes shooting and livestreaming 360-degree video with a smartphone more accessible and cheaper. CNN's VR team and The New York Times use the Gear 360 for a lot of their 360-degree video and VR reporting. (Samsung is a sponsor of the Times' project.)
5. Producers at WNYC and Buzzfeed News are broadcasting live from smartphones. Various apps have made it easy to record and distribute podcasts via smartphone. Adding a mic to the headphone jack improves the production.
6. Publishers are using text overlays or closed captions to reach consumers who neglect to turn up the volume, as videos on Instagram and Facebook are set on mute by default.
7. Deploying the front cameras of smartphones to report from the field has become increasingly popular with various media outlets looking to humanize their productions.
8. Mobile-based journalism tools allow journalists to develop a greater number of stories with fewer resources. This leads publishers to invest in more specialized content, based on which content works better.
Another key shift is platform-native production. For platforms like Instagram or Snapchat, producers are limited by built-in cameras and mics within the apps. Producers also have to hit minimum time limits set by the platforms to be eligible for monetization.
As of December 2017, Facebook has been urging publishers to focus on producing longer on-demand videos with mid-roll ad breaks. Reports claimed the move came just as Facebook planned to stop paying about 300 publishers, celebrities, and other providers of video when their old deals ended.
In the past, most publications would limit how their content looked based on certain overarching production principles and direction. Now more publications are taking one of two approaches:
Content-specific (What's on screen > Which screen i.e. TV, Facebook, YouTube, etc,)
Producers decide script, framing, tools of production and other elements based on the what best suits the content that they're covering. The content takes precedence over distribution channels. For example, Vox often changes its production formats and style—from animation to live-action documentaries—based on the story.

Distribution-specific (What's on screen < Which screen i.e. TV, Facebook, YouTube, etc,)
If the publisher's primary objective is platform success over content aesthetics, producers can choose framing and production tools based on distribution channels. For example, when The New York Times wanted to increase the mobile audience for its Facebook videos, it decided to shoot a majority of the videos with a vertical aspect ratio (9:16), which is more phone-friendly, instead of the traditional horizontal ratio.
Live Streaming for News
News organizations can send reporters to cover an event or breaking news story armed with smartphones. They can then use a free live-streaming app like Periscope, Facebook, and YouTube with instant user interaction.
The table below illustrates the various social broadcasting platforms for live video used by news organizations:
Concerns for the Mobile Newsroom
1. Mobility v. Quality
Smartphones and mobile rigs have increased the capacity of video creators to be more fluid and free when reporting. However, this freedom comes at the cost of potentially better production values, which may require heavier equipment.
2. Dependence on connectivity and battery capacity
The power of mobile production, broadcasting or live streaming is possible only when publishers have access to high-speed internet. Otherwise, they need a hotspot to broadcast from. Microwave signals are not smartphone-friendly. The need for powerful batteries is becoming more urgent as going live from a smartphone can be a drain on the battery (1% of battery life for every 1 minute of HD live streaming).
3. Lack of control on Live
Numerous ethical and editorial questions come into play regarding what is appropriate to be aired live on social platforms and what isn't. Producers can't control what will happen in a live scene, making it hard to edit and frame.
Key quotes
Every producer is expected to wear all the hats of production.
We expect our journalists to own their stories and be the creative force from conception to completion. . . . The skills aren't new, but the expectation that you'll find them all in one person is.
If all you do with it right now is tweet, send the occasional email and take selfies, you're driving a Ferrari in first gear.