I Got My Gig Through the East Village Other
When I first migrated to Manhattan from Queens in 1970, it was with dreams of becoming a working scribe, preferably writing Beat fiction (unfortunately, one of the few things I was born too late for) and/or covering film in some capacity. Instead, I landed a boring temp job typing at a downtown insurance firm. During this time, somewhat happier circumstances led me to Screw, where the magazine's then-art directors, Larry Brill and Les Waldstein, were going halves with publisher Al Goldstein on a new spin-off tab titled Screw X, a satirical variation on Screw (the height of redundancy, no?)
I auditioned for a writing/editing gig, with no guarantee Larry and Les would even get back to me. But a couple of days later, the phone rang in my East Sixth Street pad with promising news from the pair: Seems my work had been extolled by another of their writers, Dean Latimer , who told them it was "almost as good" (accent on almost) as his own stuff and that they should hire me straightaway.
For me, this was a frankly stunning turn of events. It so happened that Dean, whom I had never met, was already something of a personal hero; his "Decomposition" column and other writings were my favorite sections of The East Village Other. I considered Dean one of the most vivid and versatile writers I'd ever read anywhere , one equally adept at reportage, "think pieces," memoir, criticism and totally devastating satire. That he had encouraging words for my fledgling efforts cheered me no end, and I resolved to thank my benefactor for his unsolicited largesse.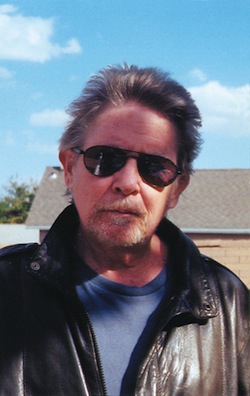 I began my search at the EVO office on 12th Street, where a long-haired kid informed me, with visible disapproval, that I might locate Latimer at the Buffalo Roadhouse bar where, per said kid, he was frequently "in his glory." It was already dusk, so I headed right to the Roadhouse on Seventh Avenue, south of Sheridan Square. Sure enough, there sat the elusive Latimer — recognizable from snaps that had appeared over the years in EVO and Screw — sharing drinks, laughs and a table with fellow EVO journalist Lynda Crawford .
When I hesitantly introduced myself, the two couldn't have been more welcoming, inviting me to join their modest group, a group that would grow as the night wore on, with EVO writers Ray Schultz , Rex Weiner and others drifting in and out. The vibe was as warm and friendly as it was wickedly witty. In the course of that single night, I felt I'd found a new crowd and home.
After Screw X went the way of all flesh following a falling-out between the increasingly fractious co-publishers, Larry and Les launched The Monster Times , a biweekly genre-film/pop-culture tabloid melding traditional "monster kid" publications like Castle of Frankenstein and Famous Monsters of Filmland with a clearly EVO-influenced streetwise style and sensibility. Dean (sometimes under his well-suited pseudonym Mark Swain) became a regular contributor. At about the same time (early 1972) in a basement office down the very same street (West 17th between Fifth and Sixth Avenues), young EVO alums Rex Weiner and the ironically monikered "Honest Bob" Singer started The New York Ace .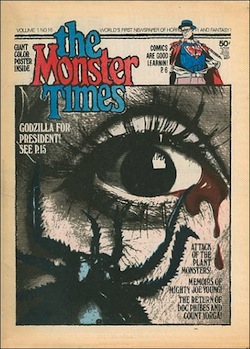 Recognized today as the last of Fun City's legit underground papers, with a writing staff that included Richard Meltzer, P.J. O'Rourke and the ever-prolific Latimer, the Ace attained additional well-earned fame for its lively biweekly wrap parties, attracting such diverse celebs as John and Yoko , Tuli Kupferberg , and NYC Hell's Angels prez Sandy Alexander . Not that you had to leave The Monster Times building to have fun; in addition to our zine, 11 West 17 th Street also housed the scandal rag The National Peeping Tom, the Communist Party's NYC headquarters, an undergarment factory, a busy massage parlor, and a rehearsal loft rented by long, tall Broadway star Tommy Tune. Definitely the street to beat in 1972.
Alas, like EVO before it, the Ace proved too beautiful to live, closing shop before the year ran its course. Fortunately, the bonds formed during that period lasted far longer. I had ample opportunity to work with Dean, Lynda, Rex, Yossarian , Pat Morris and many other EVO vets at High Times, The Soho Weekly News, Apple Pie magazine, Rex's own Reliable Source and, later in the decade, men's mags like Penthouse, Genesis, Gallery and Swank. The socializing likewise continued apace. When the Buffalo Roadhouse went the fern bar route, the movable drunk shifted to West 13th Street, first to Hilly Kristal's pre- CBGB saloon, Hilly's, later to the Bells of Hell across the street, with frequent stops at such other area watering holes as Euro's, McGovern's and the Lion's Head. Rex, Dean and I even formed a band, Blind Orange Julius, enjoying a lengthy weeknight run at CBs in '75.
The alternative press and Village bar scene had pretty much evaporated by the early '80s; the Bells of Hell's sad demise in 1982 further sealed the deal. My Monster Times stint ultimately led to a 25-year run covering the Times Square genre-movie and home-video beat at The New York Daily News under my "Phantom of the Movies" byline, along with several Phantom books and the launch of my own magazine, The Phantom of the Movies' VideoScope , now in its 20th year. And I almost owe it all to Dean Latimer and the East Village Other. (Accent on almost.)