Revenue crisis
Business models have to evolve with changes in the ecosystem for news
News production has always been subsidized by something. But the whole attention economy is changing and new sources of subsidy are needed.
The news business used to be fairly simple. Draw people to your product and sell ads to the companies that wanted to reach them. In print and cable TV there were subscribers too, and that was the entire business.
Not any more. As the news industry has gone digital — because that's where the users are — advertising has been transformed. What's called "inventory" (pages available to advertise against) has exploded because it's so easy to publish online. Prices for ads have fallen. Most of the revenue goes to Facebook and Google because they are better at targeting: finding people who are likely to be receptive.
In the wake of these changes, news producers have had to look for alternatives to subsidize the costs of gathering and publishing the news:
Paywalls and digital subscriptions
Asking the most loyal readers to pay a greater portion of the costs for news production has been one response to the revenue crisis. The most popular method is the "metered" approach. Users get a certain number of clicks free and after that they are asked to pay. The Financial Times, New York Times and Washington Post all have meters.
Events
Here a news company uses its reputation — and the ability to advertise itself for free — to lure people to events for which it can charge a fee. The Atlantic has been successful with this approach. At the local level, Chattanooga Free Press is a leader.
Native advertising and digital agency work
In a sense every company is a media company now. But what do most of these companies know about nonfiction storytelling? Not as much as publishers do! Converting this advantage into revenue is the strategy behind "native advertising," in which media companies leverage their strengths as known producers of quality content. Especially adept at it is Buzzfeed, which knows how to get its stuff widely shared online and sells this skill to advertisers. Many publishers are trying to create in-house ad studios to grab some of this business. The Hearst company is a leader.
Philanthropy
Nonprofit newsrooms like ProPublica, Texas Tribune and Voice of San Diego draw donor support by focusing on investigative and in-depth journalism that is clearly in the public interest.
Crowdfunding
This means appealing directly to users for financial support, usually on a project-by-project basis, as NPR's Planet Money did with its series "tracing the creation of a T-shirt all the way from the cotton fields to the department store." The Dutch site De Correspondent has signed up 40,000 paid members, which is crowdfunding on a more stable basis than Kickstarter campaigns can provide.
Other possibilities include micropayments for articles, e-commerce (selling things online), and subsidy by a related business, as Bloomberg and Reuters do by selling actionable information to traders and using the profits to support newsgathering for the public.
Useful charts and graphs
New York Times revenue growth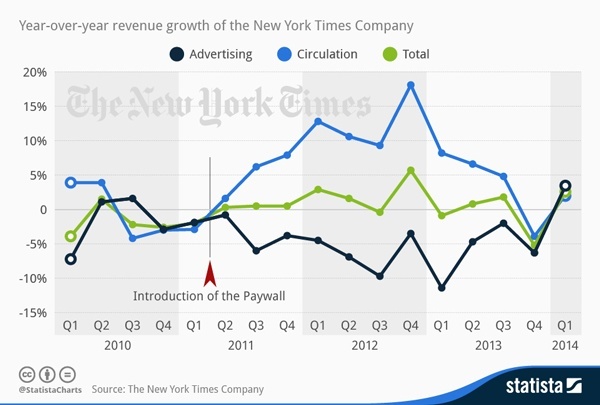 Statista
The New York Times is just one success story for the use of paywalls as a revenue stream. It shows loyal readers are willing to pay more for the cost of quality news production.
Evolving revenue strategies

Jake Batsell
"TribFest" is now one of The Texas Tribune's main sources of revenue. It builds upon their reputation and audience, and since its launch, other revenue streams have increased.
High expectations for native ads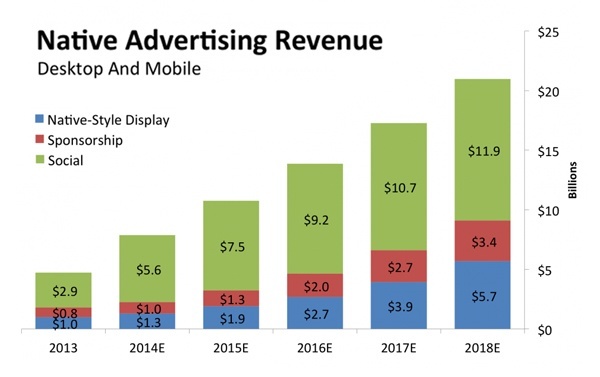 Business Insider estimates, Interactive Advertising Bureau
Social media is where the most readers are — and where native advertising is most successful. If this is where media is shifting, modern companies need a strong native advertising strategy.