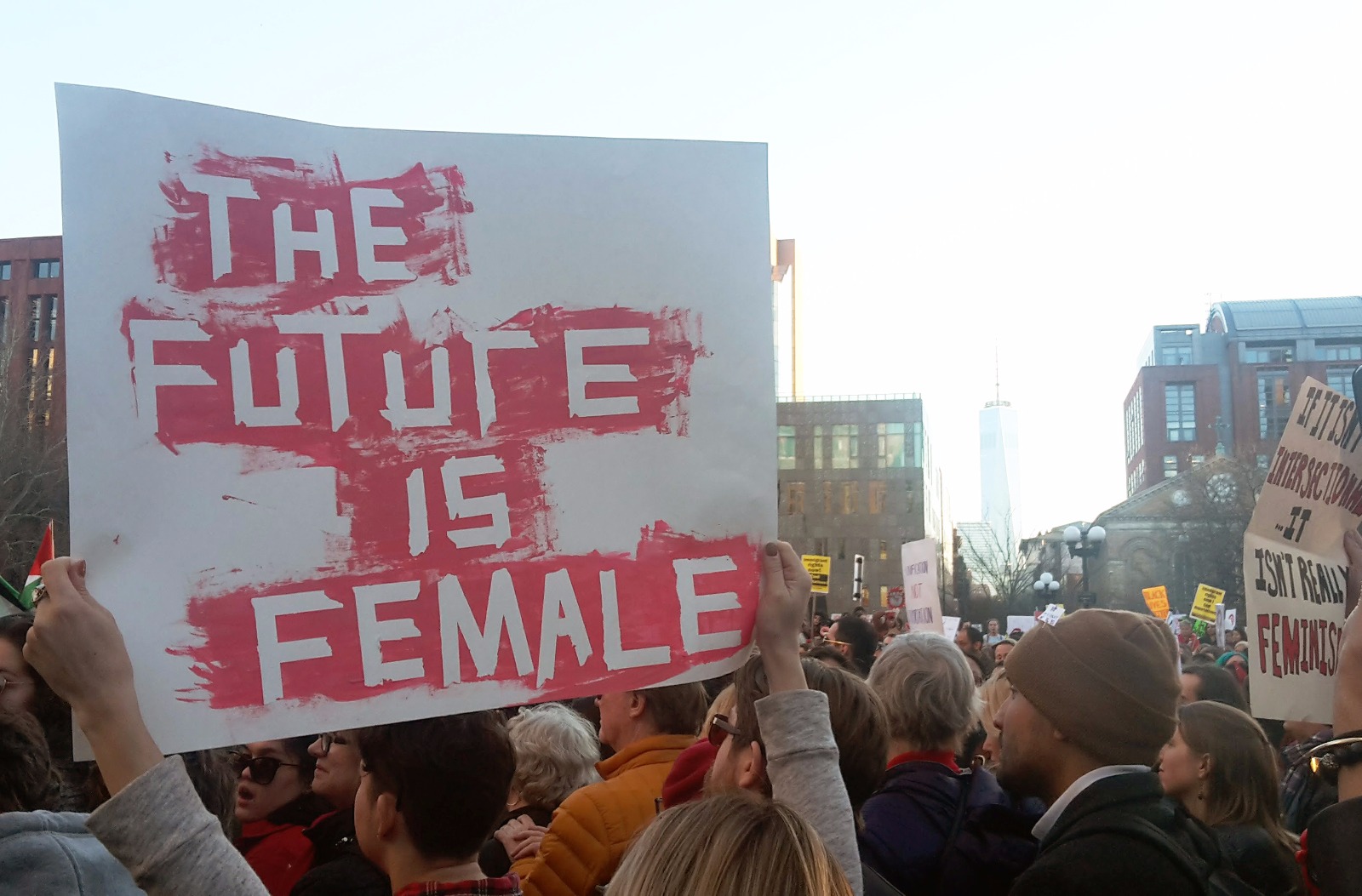 GENDER EDITORS
Newsrooms take a cue from #MeToo
The new jobs of gender editor, gender correspondent, and gender columnist promise to close a traditional gap in media content.
In October 2017, the New York Times hired Jessica Bennett as its first gender editor. In this new role, Bennett would "lead a multi-pronged initiative to deepen the engagement of female readers around the world," the Times explained. That meant not only expanding on coverage but "evangelizing best practices around the newsroom."
By early 2018, the Spanish newspaper El Pais announced a similar role, appointing Pilar Alvarez as its first gender correspondent. Soon after, digital native eldiario.es created a "senior gender writer" position, and the Washington Post named Monica Hesse as its first gender columnist. In Argentina, Clarin just made Mariana Iglesias its first gender editor.
Coverage of gender issues isn't new, but these dedicated roles are new. What's changed?
Both the Times and the Post had published some of the most notorious stories of sexual assault and harassment that defined the rise of the #MeToo movement. When the Post advertised for its gender columnist last year, it mentioned the "wave of sexual-harassment allegations [that had] catapulted gender issues to the forefront of the national conversation," yet it also stressed an interest in the "deeper roots" of the new consciousness. It expected this columnist "to navigate the full array: how gender intersects with sexual identity, race and class; how power relationships play out in the workplace, the home and other settings; how gender is represented in popular culture and the rest of society."
On the day Bennett began in her job, the Times printed a story tracing sexual-assault allegations against Hollywood mogul Harvey Weinstein dating back to the 1970s. Another article looked at sexual harassment claims in the UK Parliament. Yet, in a Q and A with readers published a little more than a month later, Bennett said she was looking beyond the headlines to see the larger world through the lens of gender. This lens could be placed on all kinds of subjects, adding depth and dimension to different stories, and Bennett promised the lens would result in more than producing new content across "the full array" of gender concerns: "It also means thinking about things like tone, visual display, representation in that visual display, who is writing articles, who is being photographed in those articles, sources we quote."
'Deeper Roots'
Research has long shown that women and their concerns are underrepresented in news coverage. When women, especially ethnic minority women, appear in stories, their portrayals too often hew to traditional roles and stereotypes.
Since 1995, the Global Media Monitoring Project has been tracking diversity in newsrooms and their products. Every five years it releases a comprehensive international report, with separate regional and country-specific studies. Its 2015 report found:
Only 10 percent of stories in print, radio, and television worldwide were focused on women. (In the United States, the number was only slightly higher at 14 percent.) Women tended to be particularly underrepresented in political stories, as well as in pieces about business and the economy.

That rate hadn't changed in the previous 15 years, and the numbers were just a bit better in the digital world. Only 26 percent of the people in Internet news stories and media news tweets were women.

When quoted, women were most commonly portrayed as eyewitnesses, victims, or just people giving their opinion based on their personal experiences, while men appeared more often as sources of knowledge or official spokespeople, as this graphic based on the study shows.
The Year of the Woman
The new efforts on gender stand in stark contrast to the practices of decades ago, when newspapers rolled out separate pages or special sections for women. Today's demands for fairer coverage extend over a host of topics, and the proposed methods for reaching readers' expectations are unique products of this era. The year 2018 was widely hailed as another "year of the woman," as women played their biggest role ever in an American election and the media became more interested in what their female audiences wanted.
Alvarez pointed to a series of women's demonstrations in Spain as a precipitating event that promoted change at El Pais. "Our social media team noticed a huge demand for the topics we were writing about," she said, "so the newspaper decided to have a specific position." It's not a coincidence that other Spanish media outlets, including the state-owned newswire EFE, decided to institute new positions. EFE devoted a vertical to gender.
If you had to pick a year when American legacy media became more serious about gender, it would be 2017, when women took to the streets and digital platforms over the national Women's March and the #MeToo movement. Civil rights activist Tarana Burke began using "Me Too" in 2006 as a way to raise awareness about the pervasiveness of sexual abuse and harassment, and a decade later that phrase had turned into a hashtag, after the Weinstein allegations.
"Whenever you start the clock, I say we have all had our consciousness raised about a very important subject and we are doing a better a job of paying attention to it," said Margaret Sullivan, media columnist for the Washington Post. For Sullivan, gender is not only an important subject area for women but a matter of interest to men as well. The new gender positions in newsrooms are "a way for organizations to speak to that audience and get it involved in their journalism," Sullivan said.
Audience First
When the New York Times' gender initiative began in the fall of 2017, "it just happened to coincide with the rise of the #MeToo movement, but that is not why it was formed," said Maya Salam, a member of the Times' gender team.
In its 2017 report on newsroom strategies and aspirations, the Times simply described its business as "subscription-first." Rather than trying "to win a pageviews arms race"—maximizing clicks to generate low-margin ads—the publication aimed to provide journalism so strong "several million people around the world are willing to pay for it." Under that mission, the newsroom would be guided by focusing on the needs of its audience, and the gender editor position was created to meet the needs of more female subscribers. Bennett told readers, "We are trying to organically expand and improve the coverage of these issues in every section, almost so that you don't notice—because gender shouldn't have to exist in its own section.".
Women want to see gender balance in news coverage. That's led the Financial Times to employ a bot—called She Said He Said—to tally the gender of story sources, with the aim of promoting greater diversity in articles. "The initiative is the latest step in the FT's efforts to attract more women readers," the newspaper explained on its website. "It is based on research showing a positive correlation between stories including quotes of women and higher rates of engagement with female readers."
Three Best Practices
1. Gender is a lens, not a silo.
At the New York Times, the gender team is not in charge of one specific section or vertical. Its members have created content in multiple subject areas, such as the series of obituaries for remarkable women whose lives went unnoted by the newspaper when they died.
As gender becomes a lens through which to view a variety of different stories, the storytelling is taking advantage of different platforms and formats: The Times' team produces a regular newsletter called Gender Letter, and it has collected the work of young women photographers around the world to show what life looks like for girls turning 18 in 2018.
2. It's not limited to women's issues.
Potential stories may concern new expressions of feminism and the #MeToo movement, as well as the work of women in politics, science, and technology, but gender affects and intersects with a range of other issues, such as masculinity, race, identity, class, and sexuality.
Given societal sexism and the gender wage gap, for example, women are more likely to experience poverty than men, and therefore can offer unique insights into the challenges of being poor. The gender gap in poverty rates closes between the ages of 40 and 65, but, according to an international study by UN Women and the World Bank, 122 women between the ages of 25 and 34 live in poverty for every 100 men of similar age. These years are the time many women become mothers. Patricia Crespo González, director of EFE's new gender-centered website Efeminista, has noticed that when EFE's reporters now write about economic statistics, they have started to include a paragraph addressing the special situation of women.
3. And its coverage is everyone's job.
After appointing Alvarez, El Pais decided to put more reporters on the gender beat. Alvarez said her team has already become a resource for colleagues who want to know more about including gender in their stories.
While having a bot that reminds reporters to quote more women might work for the Financial Times, other, traditional ways exist that every newsroom can adopt.
At EFE, the Efeminista team has organized trainings and created guidelines for reporters covering gender-based violence. "This is across the whole service—we want the gender lens in each corner of the agency," Crespo González said.
That ultimate goal is shared at the New York Times. After her appointment, Bennett said, "I will know I'm successful in this role when my job no longer has to exist."
Key quotes
The Washington Post recently started a new column, appointed Monica Hesse as its gender columnist. That's something they had never done before, and I don't think they would have done it before the #MeToo movement.
Of course these topics have been covered to some degree for decades, but it's more recent to kind of name it and say this is what we're going to actively talk about.
Understanding that we have women missing in the information and trying to fix it should, in the end, be a conscious task of all the staff.
We want the EFE staff to look through the gender lens. We want them to keep equality in mind in everything they do.
Why is this important?
Women make up half the population, but research shows only 10 percent of print, TV, and radio stories deal directly with them. Under a subscription-first business model, newsrooms must learn how to engage and understand their audience.