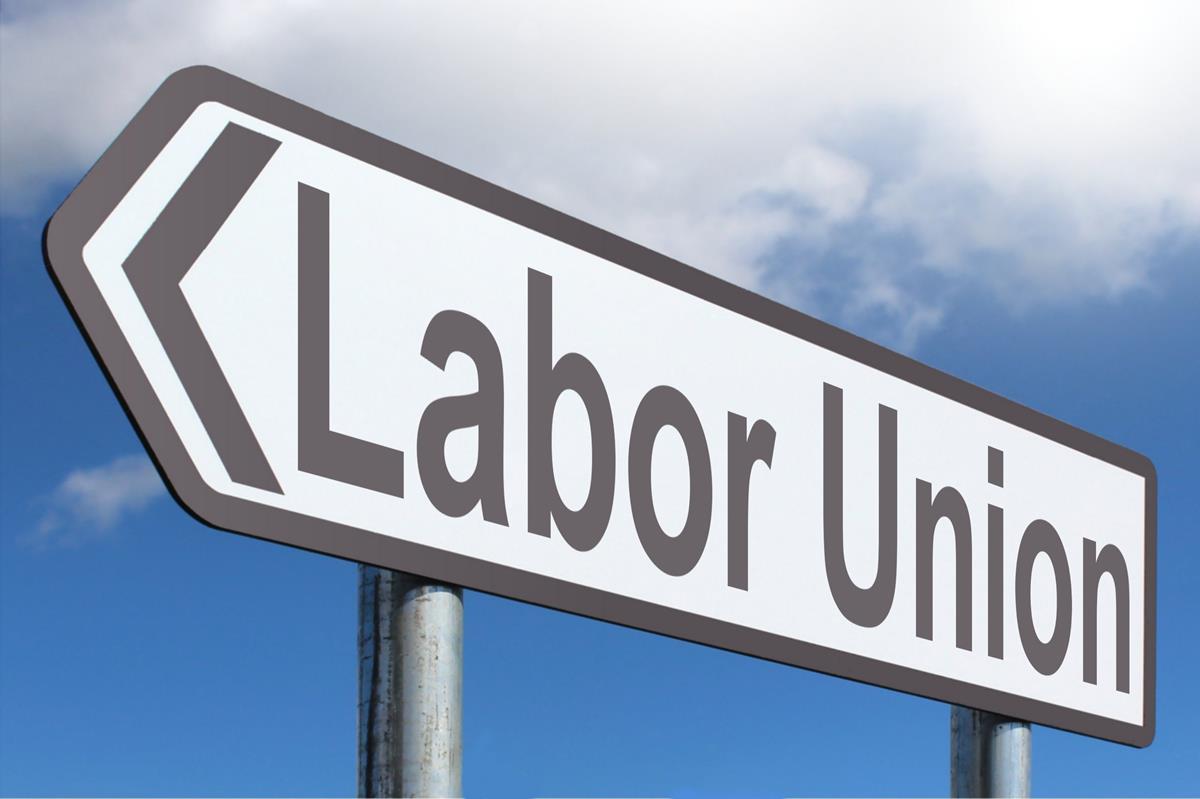 RANK AND FILE
New media workers welcome an old solution: Labor unions
Newsrooms organize for better pay, benefits, job security, and journalism.
Journalists face uncertain times, as newsroom jobs continue to shrink, dropping by nearly a quarter in less than ten years. Layoffs have affected both old and new media outlets, and declining ad revenues continue to challenge the costs of doing quality journalism. In these uncharted waters, many newsrooms are joining unions.
Shrinking newsrooms have upended journalists' understanding of their trade as an educated profession for the public good, like doctors and lawyers. That long-held notion formed the kernel of a deeper, historical conflict over newsroom unionization: when the American Newspaper Guild began in the depths of the Great Depression in 1933, labor organizers had to urge journalists to take a more practical view of their vocation. Publishers were fighting new workplace legislation by arguing that reporters and editors belonged to a professional class that was exempt from government mandates over wages and hours. The Guild promised better pay and working conditions.
For a long time, union newsrooms did fare better than non-union shops, as detailed in Walter M. Brasch's book, With Just Cause: Unionization of the American Journalist. In 1987, the average union reporter's starting salary was around $20,000 a year, much higher than the $13,520 median average for J-School graduates in the Class of 1985. The average annual pay for a unionized experienced reporter was nearly $32,000.
Nevertheless, as in other industries, union membership declined over the 1990s, and then the first digital media companies began to take shape. The changes divided newsrooms and brought unions back into the picture. First came the digital arms of legacy media publications, like the early online subscription service the New York Times started with America Online. Employees of the Times Company Digital unionized in 1999, and then the San Francisco Chronicle negotiated a contract for both its print and digital employees in 2001.
The newer, "born-digital" brands began to slowly follow suit: AOL UK in 2005, Truthout in 2009, and the Daily Beast (through a merger with Newsweek) in 2011. Then, with the continued harmful effects of industry disruption and the Great Recession, came a deluge: Gawker, Salon, and writers at Vice US all unionized in 2015, and over the next few years the Huffington Post, The Intercept, Slate, Vox, and others joined unions.
Yet labor organizing brought risks for workers in a business already under stress.
When solidarity's not forever
In 2017, the editorial employees of the commonly owned New York websites DNAinfo and Gothamist voted to join the Writers Guild of America East. Days later, the billionaire owner Joe Ricketts—an outspoken opponent of unions—decided to shut down the sites. While American labor laws protect unionized workers from retaliation, Ricketts was free to go out of business, even if retaliation was his primary motivation (he was also losing money). The event sent shockwaves through the new media landscape and served as an example of the dangers of organizing. 
However, many came to view the shutdowns as an example of why digital journalists need unions. A few weeks after DNAinfo and Gothamist shut their doors, the Writers Guild of America East announced it had negotiated a better severance package, which included three months of full pay and benefits, even for those who'd found new jobs, in addition to four weeks' severance pay. Plus, no one was required to sign a non-disparagement agreement. Even after they'd lost their jobs, the employees of DNAinfo and Gothamist had their union's help to improve a bad situation. 
Digital newsrooms, ripe pickings
A lot of born-digital publications operate as start-ups, requiring a great deal of idealism and sacrifice from staffers. But after these companies carve out a space in the media landscape, they sometimes treat their employees as though nothing has changed, with continued long hours for little pay and few (or no) benefits.
A volatile job market hasn't helped. While the number of jobs in digital newsrooms has grown, 23 percent of the "highest-traffic digital-native news outlets" laid off workers over a 15-month period between 2017 and 2018, according to the Pew Research Center. Last year, Web journalists were getting laid off without notice at the biggest and most prestigious shops, like Condé Nast, BuzzFeed, and Vice Media, which is reportedly seeking further staff reductions as it restructures amid stalled growth. Workers lucky enough to keep their jobs sometimes still had to deal with toxic office cultures, such as the conditions Gawker found at Vice in 2014.
At Vice, full-time employees were paid starting salaries as low as $20,000, according to Gawker reporter Hamilton Nolan. A print designer earned $28,000; a video editor who'd been at Vice for two years made $27,000. Freelancers—writers, photographers, and illustrators—complained about Vice's low rates and slowness to pay. Meanwhile, Vice co-founder Shane Smith was on his way to becoming a billionaire, overseeing a successful magazine, a hit cable TV show, multiple websites, and an ad agency. Vice published an angry response—noting that Gawker had no copy editors and was facing a lawsuit from unpaid interns—yet it didn't dispute the salary figures in the story or the claims by staffers that content had been changed to satisfy advertisers.
While guaranteed pay raises were part of a 2016 union contract—which was renewed for editorial employees and extended to include 200 more staffers in January—Vice's workers continued to level charges of sexual harassment, sexism, and salary disparities between men and women. Other newsrooms faced complaints of "frat-house" cultures, but the problems at Vice led to the suspension and resignation of its chief digital officer, and last year Smith stepped aside for a new CEO, Nancy Dubuc. In the lead-up to unionization, Vice workers wanted better pay and benefits, but many expressed a deeper disappointment to Gawker's Nolan: "Vice does lots of good work, and Vice knows it, and uses it to its advantage. Most of the Vice employees that spoke to us don't hate Vice—they love(d) it. All they want is decent pay and conditions in which to do the good work that attracted them to the job in the first place."  
Unions seek to give employees the power to make those changes happen. Web journalists want a seat at the table when their futures are discussed. According to the organizers at Vox Media, a seat at the table meant the chance to "guarantee terms of employment, including policies on severance, layoffs, discipline, and termination." Digital media companies had been expanding rapidly, and workers deserved "to participate in decisions made about the future of the companies they helped build."
Organizing on social media
Los Angeles Times copy editor Kristina Bui stressed the importance of social media in the organizing of her newsroom under the NewsGuild of the Communications Workers of America. "First, our newsroom is pretty far-flung, with journalists working in Orange County and Sacramento or as correspondents across the country. And in a newsroom as big as the Times, it's actually really hard to meet people outside your department, even if you're based in the same city," she explained. 
"Sports reporters, for example, are always out of the office because they're covering evening games and have later deadlines. So a lot of us actually had never even met some of our own co-workers, and pretty early on we recognized that we needed to find another way to connect with these co-workers if we couldn't meet with them face-to-face." 
Effective newsroom organizing also requires motivating readers, said Bui, and social media helped in that as well. "We wanted to get the public's support, especially because a key motivation for organizing was the sense that we needed to protect the Times as a civic institution from Tronc's mismanagement."
Tronc had been widely criticized for not recognizing the value of its legacy publications, which included some of the most well-known shops in American journalism, including the Los Angeles Times, the Chicago Tribune, the Baltimore Sun, and the New York Daily News. Allegations of Tronc's mismanagement were bolstered by an internal video, in which executives told employees that with artificial intelligence the company would become a "content curation and monetization engine," abandoning traditional journalistic methods of fact-finding and content creation. The company had even changed its name from Tribune Publishing, only to change it back after selling the Times and the San Diego Union-Tribune to its second largest shareholder, California billionaire Patrick Soon-Shiong. Social media had developed and deployed a resistance, Bui said. "One of my favorite things to come out of that was this flood of people tweeting at us to say they had subscribed to the Times in support of the Guild."
Social media played a key role in getting the attention of Tronc executives, too, who could not afford to ignore or oppose the union. Through social media, said Bui, newsroom organizers made sure that the executives "knew we were going to do what journalists do best: hold them accountable to the public. Broadly speaking, social media in newsroom organizing reflects the role it plays in journalism itself—it's about engaging people where they are, and journalists are always on Twitter."
Getting that seat at the table
Even as Hamilton Nolan covered the labor troubles at Vice, he could clearly see the benefits of unionizing his own newsroom at Gawker Media. He took part in the first conversations between Gawker and the Writers Guild of America East, when the union was just beginning to dip its toe into the choppy sea of digital media. Hamilton became a senior writer at Splinter News, after Splinter and other Gawker properties were sold at auction to Univision. Since then, he has been active in helping other publications unionize. For more than a year now, the pinned post on his Twitter account has read: "If you are a media worker interested in unionizing your workplace, please DM me." 
His advice for those attempting to organize their newsroom?
"Start out by finding a core group of people who are committed to the idea, and expand systematically from there," Nolan said. Once mutual interests are determined, workers can reach out to a union for help in plotting next steps and strategizing to gain support among co-workers. "Communication is a big key," said Nolan. "Always make sure that every single person who would be in the newsroom gets spoken to and listened to throughout the process.
"Though obviously it's often smart to keep union organizing quiet as a tactical matter, I would tell everyone to be bold. A union is a right. Anti-union activity by employers is not OK. Don't be afraid to stand up and assert yourself. That is how you will ultimately get what you want." 
After a newsroom votes to join a union, its members will have to pay dues, which are determined as a small percentage of each worker's salary. Nolan stresses that the members must then take responsibility for keeping the union strong. Union committees need committed representatives from every job title."The union doesn't just get a contract and disappear—it is always there representing everyone," said Nolan. "Anyone new to a union should speak to the people involved and ask how they can help. And if the union in your workplace is inactive or not properly representing you, you should get some enthusiastic people together and take it over and make it work for the members."
Publishers push back
Employers have long maintained that unions are bad for companies because they naturally stir up animosity between workers and management. This argument has resurfaced in news organizations with an added wrinkle: The adversarial relations caused by unions uniquely undermine the collegiality and teamwork required in good, well-functioning newsrooms. News executives warn that the practices and interests of lawyers and other third-party labor negotiators will diverge from the flexibility and shared values needed in a healthy newsroom culture. In other words, unions don't understand the journalistic process.
Former Los Angeles Times editor Jim Kirk detailed this argument in a memo to his newsroom, just before employees formed a union last year. A union, Kirk wrote, would fundamentally change the workings of a newsroom that's never had one and is now "among the best in the world." He said supervisors would no longer have the flexibility to allow people to work at home or take paid time off. Certain types of leave might no longer be granted, and a union could not protect workers, even those with seniority, from "economic-related layoffs." Everything employees like about their jobs may be lost in a contract negotiation. "Everything that is related to 'wages, hours and working conditions (including benefits such as 401k, time-off, Short-Term Disability, etc.)' is up for negotiation," Kirk wrote. 
BuzzFeed founder Jonah Peretti offered another version of the same pitch at a 2015 meeting with staffers. Unions could have a "positive impact," Peretti allowed, "if you're working on an assembly line," not at a company competing "for the very best talent" with Google and Facebook. "We need to provide amazing benefits," he said, pointing out that labor negotiators look at comparable wages, and writers and editors make much less at "start-up companies and tech companies." Peretti added that an "adversarial" relationship between management and employees would make BuzzFeed much less agile and dynamic. The union lost that round, but BuzzFeed's workers voted to unionize earlier this year, after the company cut its staff by 15 percent.
In contrast to Peretti, Talking Points Memo editor and publisher Josh Marshall embraced his editorial staff's unanimous decision to unionize. In a May 2018 article, he wrote of the notice he had just received from the "TPM union" requesting formal recognition. "I confess it was [a] novel experience hearing from someone else identifying themselves as 'TPM.' But I replied that I was happy to do so." Marshall included the union's press release, which announced his employees' desire for "a seat at the table to help determine the company's future."
Unions in the future
Hamilton Nolan is optimistic about the ways unions will shape the future of digital media. "Over time, unions will raise wages, build a stronger safety net for people in this industry, make the industry more diverse and open, give workers a fair share of the proceeds of the businesses, and most importantly remain as mechanisms for the working people in this industry to exercise power at work," said Nolan. 
"What were one-way relationships become two-way relationships with a union. I think, in just a few years, we have gone a significant way towards making the media a union industry once again. That means people will be able to have careers, not just jobs. And even though we're in an inherently unstable and unfair industry, unionization in the long-term will make it more stable, more accessible, and less subject to the whims of idiot owners."
Key quotes
"We wanted to get the public's support, especially because a key motivation for organizing was the sense that we needed to protect the Times as a civic institution."
"Don't be afraid to stand up and assert yourself. That is how you will ultimately get what you want."
Why is this important?
Unions were once big players in the news business. With recent successes in organizing digital newsrooms, unions are becoming powerful players once again.
People to follow
Mike Elk

covers labor and immigration for The Guardian. He is the founder of Payday Report.

Kristina Bui

is a multiplatform editor at the Los Angeles Times.