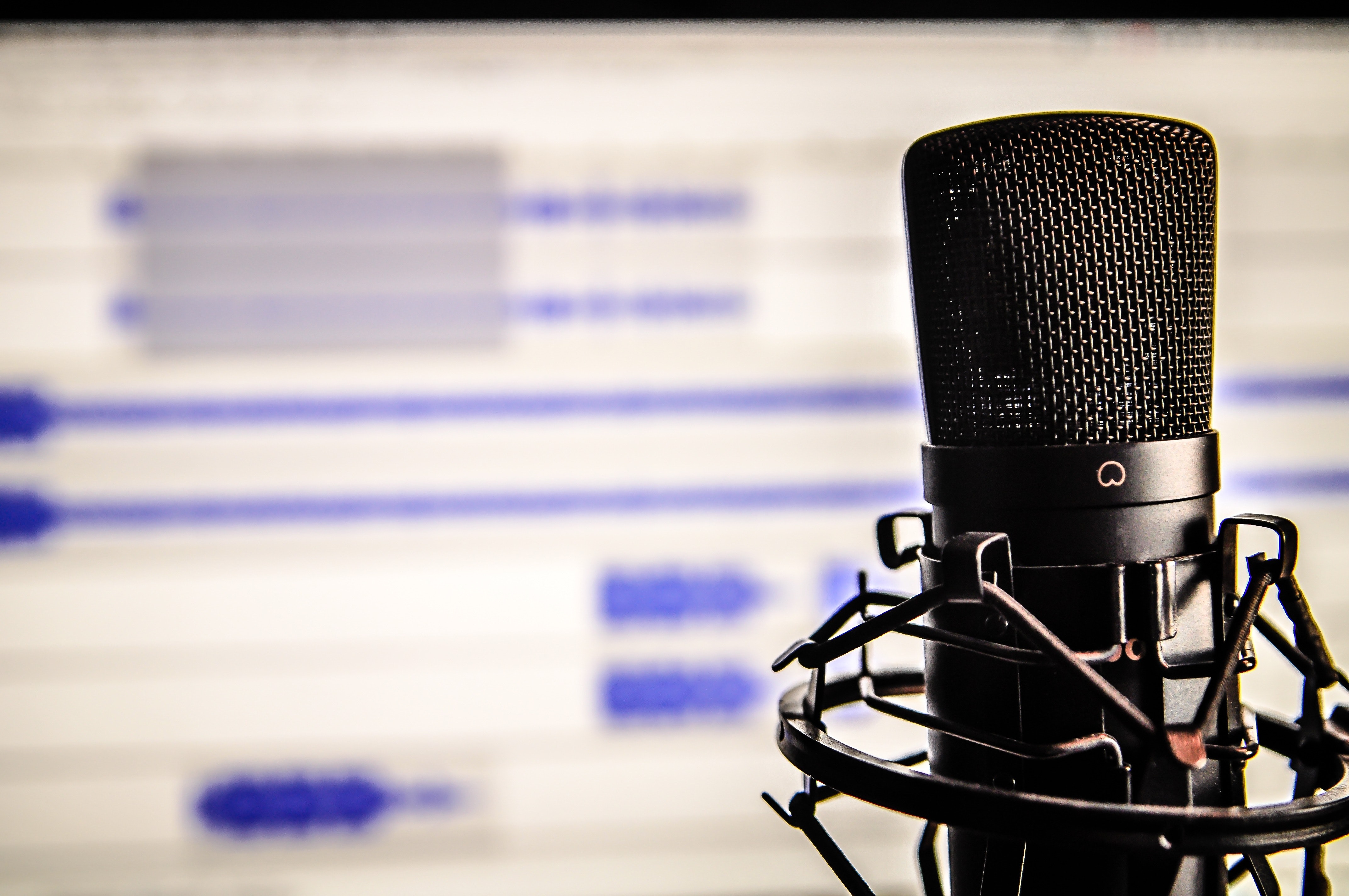 PODCASTING GROWTH
Podcasting grows up
An encouraging year brought bigger audiences, more revenue, and a clearer view of the challenges ahead.
In 2018, podcasting grew in the number of consumers, the amount of revenue, and the time audiences spent listening. Big players like Spotify, Google, and Pandora doubled down on their efforts to compete with Apple, which continued to dominate the podcast market. Producers faced new opportunities, as the industry sought to diversify its advertising-driven revenue stream. In the UK and Australia, major TV and radio outlets were offering podcasts, while Arab- and Spanish-speaking markets consumed more polished products.
In the U.S., podcasting showed impressive growth in several categories. A study last year by Edison Research and Triton Digital found 44 percent of Americans over the age of 12—an estimated 124 million people—have listened to a podcast; 26 percent—or 73 million people—are monthly podcast listeners; and 17 percent—or 48 million people—regularly listen to podcasts every week. Consumption used to be concentrated among 25- to 44-year-olds, but this study saw growth in every age demographic. In another 2018 report, the Interactive Advertising Bureau projected annual advertising revenue for podcasts will more than double in the next two years, to $659 million. Journalism makes up a lot of the content and takes in most of the revenue, with almost 17 percent of advertising dollars going to arts and entertainment coverage; more than 14 percent to technology topics; 13 percent to news, politics, and current events; and 11 percent to business reporting.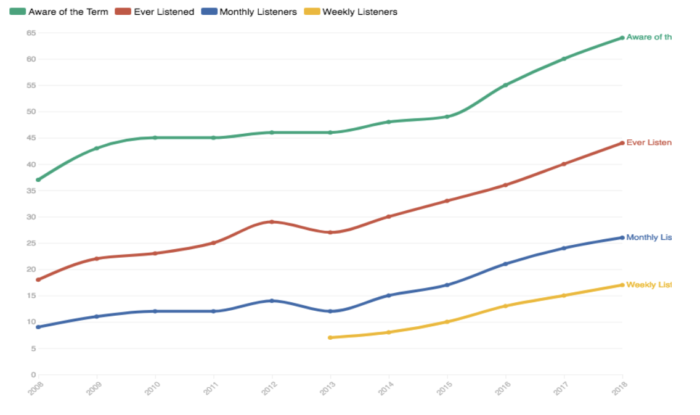 Although the Edison Research study found podcasts account for only 4 percent of audio users' total listening hours, podcast fans were extremely dedicated. They spent 33 percent of their audio listening time with podcasts, and the share of listening hours was even higher for podcast users on smartphones, with 52 percent of their listening time dedicated to podcasts.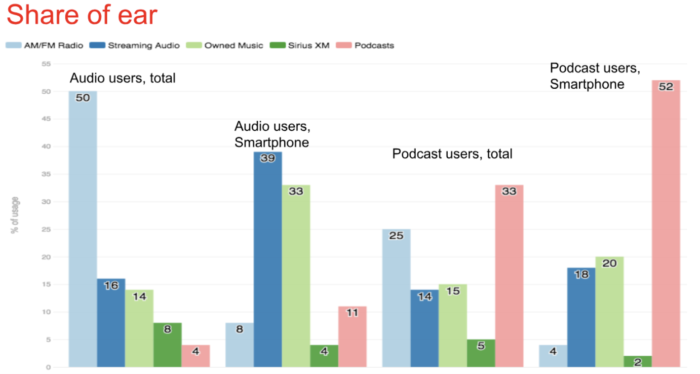 Challenges Ahead
Measuring impact is hard in a fragmented industry dominated by one seller.
Podcasts differ from other media, where audience behavior can be measured in myriad ways, giving advertisers better targeting possibilities. Measuring the reach of podcasts has been difficult, because separate companies control different steps of the production and distribution processes. Producers and hosting companies will only have information on the number of server requests and downloads, while the many available apps own the key consumer behavior data like ad-skipping rates.
The lack of comprehensive information has made downloads the dominant currency in an industry that has no enforced standards to avoid bots from gaming analytics and charts. Last year several reports presented evidence that showed the iTunes charts may be manipulated by bots making money from ads. This would pose a grave threat to the industry: With Apple Podcasts claiming half of the podcast market—directing more listening traffic than all other sources combined—the podcasting business depends on Apple's algorithm changes as well as the company's willingness to share usage data and to protect the integrity of  its charts. Podcast audiences are expanding, but to attract marketing dollars, the industry needs consistent and trustworthy metrics. 
Audience and application preferences inhibit shareability and advertising opportunities.
In a world where short, viral content reigns supreme, podcasts are often lengthy, and listeners and podcasters face a heavy lift if they want to share a clip on social media. Social platforms have also conditioned audiences to receive video content on mute, further marginalizing podcasters. 
Another distribution concern is "catching," when streaming platforms host podcasts on their local servers instead of directing end-users back to the podcast creator. Although streaming locally allows faster speeds for listeners, podcasters lose out on valuable analytic data and opportunities for dynamic advertising, as platform-hosted files are no longer up-to-date. 
Misconceptions about podcasts create access barriers. 
Last August, Tom Webster, vice president for strategy at Edison Research, published an article with ideas for making podcasts more appealing to a broader audience. He outlined some barriers that potential listeners could encounter when trying to access shows, and he suggested podcasters adopt different strategies for promoting their content. For example, most prospective listeners associate "subscribing" with paying a fee to access content, which may make people less likely to explore podcasts, which are largely free. In podcasting, subscriptions allow podcasters to send shows directly to listeners. Webster's solution was to ask listeners to "listen" rather than to "subscribe."  He also believed that radio broadcasters who produce podcasts must be more creative when promoting these shows on-air, so listeners don't assume the podcasts are just repurposed content they have already heard on the station.   
According to a 2017 survey by Discover Pods, 74 percent of podcast listeners said they depend on word-of-mouth recommendations. Friends were the number-one source of referrals, followed by the promotion of shows on other podcasts. These discovery methods favor the initiated and potentially alienate people who are not already podcast listeners. Podcasts need serious reviews, like books and movies, to escape the bubble of already like-minded people.  
Four Areas of Innovation in News Podcasting
New doors to discovery
Fresh interfaces
Podcasting written stories:

Many magazines have added podcasts and audio tracks to their written stories. In 2017, the Danish "digital newspaper"

Zetland

began to offer audio versions of its articles in response to customers' requests. "A bunch of them asked us to either go into podcasting or reading the stories and letting them listen instead," editor-in-chief Lea Korsgaard

told

Nieman Lab. Zetland discovered consumption of the audio versions of their stories outpaced the written text, with 60 percent of the audience opting to listen rather than to read.

Interactive listening interfaces:

In 2018, the Guardian US's mobile innovation lab

launched

a new player that blends graphics, story links, photographs, animation, and other visuals into the listening experience. It also allows people to subscribe to the Guardian's podcasts through the web rather than an app. The first offering was Strange Bird, a "new, interactive audio series" by data editor Mona Chalabi, who uses facts and statistics "to unpack common experiences such as sibling rivalries and religious rituals."

Bilingual podcasts

: In November, Vice launched

Chapo

, branded as the first bilingual podcast. The limited-run show

—which

chronicles the rise and fall of Mexican drug kingpin Joaquin "El Chapo" Guzman

—

tells the story from both sides of the U.S.-Mexico border. It is hosted by Vice reporter Keegan Hamilton in English and Miguel

Ángel

Vega, a Mexico-based narcotics beat reporter, in Spanish.
Improved measurements 
IAB proposed standard:

The

Interactive Advertising Board

(IAB) recommended a standardized system to measure podcast performance and get rid of possible bad actors trying to trick the system. It also proposed specific definitions for the following terms:
Download. For a download to count, it must carry enough content to play for at least 60 seconds. 
Fully Downloaded Episodes. Servers can detect when a particular episode has been fully serviced upon request. 
Unique Users. Servers can track the IP and the app used for a download request. 
Ad Delivered. Server logs can show that all bytes of an ad file were sent.
Remote Audio Data (RAD):

In 2017, NPR piloted the use of RAD, which uses

tags

inside audio files that are then read by the podcast player app and sent back to publishers. NPR then adopted RAD in December to

measure

"podcast listening across a range of participating clients and platforms, aggregating the data in an analytics endpoint." RAD, stressed NPR, would not replace but instead complement download statistics as a point of measurement for on-demand audio. The technology, developed in partnership with 30 other companies, was designed to provide data on "listening events." RAD will reportedly be implemented by Panoply, Omny Studio, Podtrac, PRI/PRX, RadioPublic, and Triton Digital in 2019. RAD supporters include ESPN, Google, the New York Times, Wondery, and iHeartMedia. 

Analytics companies:

Without a single place to access all the data, some companies are trying to become one-stop shops.

Chartable

offers to pull data from hosting services and platforms like ITunes, Spotify, Stitcher, and Breaker, converting the information into charts showing ranking positions, audience locations, downloads, and reviews. They claim to have data on more than 600,000 podcasts, which lets them

spot

bots actively tricking the charts. 

Australian radio united:

The major players in Australian radio

formed

a Podcast Working Group to lead the development of the growing podcast industry. The move will let them create "

marketing, measurement and education initiatives that will benefit both audiences and advertisers." They aim to

produce large databases of metrics, which can later be used when dealing with advertisers.

Bigger players, better data:

Big media players are trying to become end-to-end participants to gather more valuable client-side information.
Scripps. In October, the legacy news and broadcasting company—which already owned the podcast advertising firm Midroll and the app
Stitcher—acquired Triton Digital, the digital audio company that helps podcast producers to edit, host, distribute, and monetize their content. 
NPR. Known as a pioneer content provider, NPR alsohas its own player, NPR One, and in 2018 it announced a joint venture with other public radio outlets to buy Pocket Casts. 
Washington Post. The newspaper produces content in-house, hosts its own material, and has distribution abilities with Amazon Echo and sister company Audible. In July the paper announced the development of a dynamic ad insertion technology to find appropriate places to put in ads. The technology places the ads and then sends the file to different podcast platforms.
BBC. The British Broadcasting Corporation launched its BBC Sounds app, which offers "80,000 hours of music, radio and podcasts," including several original podcasts created specifically for the platform. It also brings together material from 18 national and 40 local radio stations.
More monetization opportunities
Keep an Eye On
Dynamic ad insertion for content:

Dynamic ad insertion technology was

used

in August by the fiction podcast

Welcome to Night Vale

to randomly provide its listeners with three different final episodes. The ability to tailor content to different listeners, based on such factors as location, opens up a new world of possibilities for journalism.
International players: With English-speaking markets in the U.S., UK, and Australia showing signs of maturation, companies in other regions are trying to become big players. Spain's Cuonda is leading the race in Spanish-speaking markets with end-to-end participation in producing, hosting, distributing, and monetizing digital audio products. In the Arab world, the UAE's Kerning Cultures and Jordan's Sowt are amassing significant portfolios. In Africa, mobile data costs seem to be limiting the industry, although podcasters in several countries are taking first steps. South Africa has perhaps the most professional market.
Key quotes
"We´ll use machine learning and AI to transform podcast listening and podcast discovery. We want to recommend not only the best show for you but also the best specific episode. We´ll also use AI in other features, like transcribing podcasts and offering subtitles."
"The platform fragmentation is a problem. If you want to watch a video, you go to YouTube. If you want to listen to a podcast, you have like 20 different apps. We also have a problem with the shareability of the content. You can´t share audio on Twitter or Facebook and make it viral."
"We are still not able to reach a huge portion of the population. It's still pretty niche. I think smart speakers are going to [help] as we become less dependent on screens when we consume content and more audio friendly. This will hugely impact the way we consume entertainment."
"The real revolution that we are seeing is with dynamic ad insertion. You can swap out ads really quickly, and you can give both publishers and advertisers a lot more control over ad slots. That has opened up the conversation significantly for more advertisers to participate in the space."
"I think the revenue projections are low. Once we have actual listening as the currency for the industry, that will open the doors to many advertisers, and that's going to drive the revenue at a much higher rate than some are projecting."
Why is this important?
Podcasts have been around for more than a decade, but in recent years the smartphone has spurred explosive growth. Journalism produces a lot of the content and takes in most of the revenue.