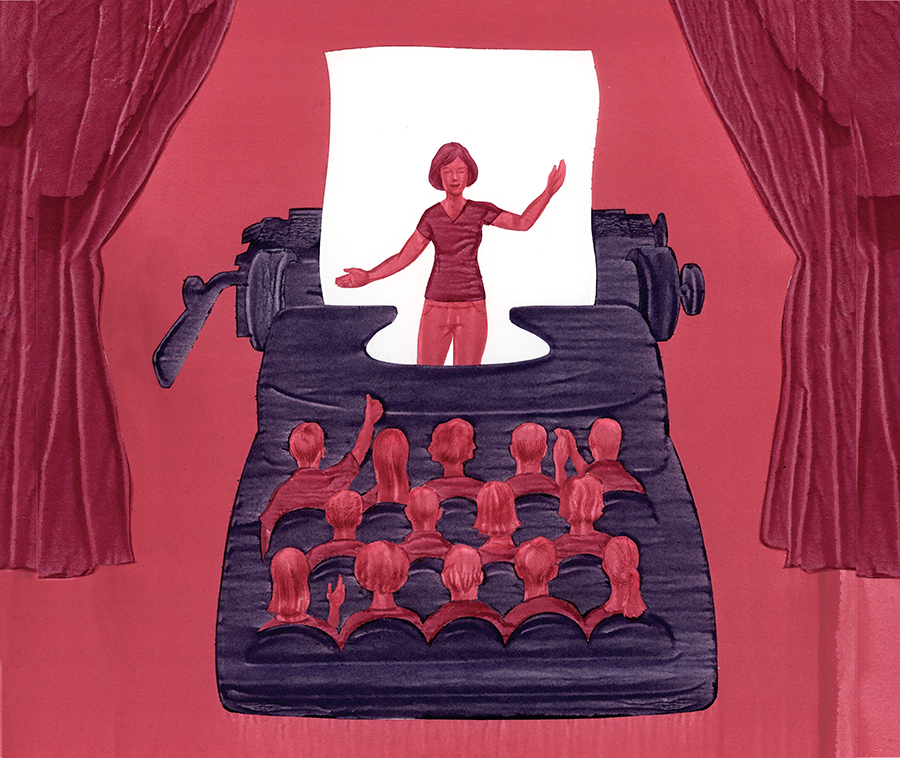 LIVE JOURNALISM
Building communities with news events
Festivals, conferences, public interviews, and live performances reward publications that directly engage their audiences.
In its shift from print to the evolving digital playing field, journalism has been in the innovative hot seat, working and competing with social media and other platforms to capture an increasingly dispersed audience. In this turbulent media landscape, more news organizations are reaching out to their customers in flesh and blood, staging live events that put journalists directly in touch with the public.
The term "live journalism" has been attached to festivals, subscriber conferences, and public conversations with newsmakers, as well as to a variety of other, more unconventional events—from walking tours to spoken-word performances—that connect with audiences in real life and in real time. "Live journalism is about living, breathing people creating memorable experiences at an event or on an interactive online platform," explained Kelly Damore, the chief content officer of TechTarget, a provider of business-to-business stories. The idea isn't new. "In fact, I can't remember a time when we weren't moderating panels or covering events," Damore said.
As reader habits and technology have evolved, journalism has adapted and innovated, offering the public new and interesting ways to experience and consume information. Live journalism brings both the excitement and substance of reporting straight to the curious and concerned crowds that news publications need to reach.
From page to stage 
There are many types of live journalism, and the variety of offerings brings new subjects and fans to publications, burnishing their brands and—particularly in the case of onstage interviews—sometimes even making news. Dorothea Herrey, senior vice president of the New York Times' growing conference and events unit, NYTLive, admitted the old labels might turn off some people: "Conferences can be boring." But negative preconceptions can be overcome with updated formats, provocative panelists, and the Times' journalists acting as moderators.
While live journalism can range from seminars on timely topics to book club discussions, a growing number of events are drawing on such popular spoken-word models as TED Talks and The Moth, live events that promise entertaining experiences. Consider StoryTour, a "live, experiential magazine of guided stories" in New York City. It was started by Samantha Gross, a former Associated Press reporter who had worked as a tour guide at the Vatican. The company combined Gross' love of cultural tours with her favorite part about being a reporter: "getting to enter into the lives of so many people whom I wouldn't have met otherwise." She wanted to create two-way streets, including the audience in the process. "It was thrilling to look directly into the eyes of my audience and see them react as I told them stories," Gross told Nieman Storyboard.
Pop-Up Magazine began in 2009, when a group of San Francisco editors, writers, and designers decided to stage "a live magazine," with nonfiction storytellers performing alongside films, photos, and animation. Backed by a live orchestra, their reported, often first-person tales—on such wide-ranging topics as tech, politics, pop culture, sports, and social issues—truly come alive. Pop-Up Magazine tours the country, and organizers promise a new experience, with fresh elements and new contributors, for each show. They also host after-parties, where the creators and attendees can mingle and continue the conversation.
Pop-Up Magazine Productions—which includes the live shows, the California Sunday Magazine, and an advertising and branded content studio—was purchased in November by one of its chief investors, the Emerson Collective. Founded in 2004 by Laurene Powell Jobs, the widow of Apple co-founder Steve Jobs, the Emerson Collective has operated as a philanthropic organization, funding groups focused on education and immigration reform, as well as the environment and social justice issues. It's also taken a keen interest in media properties. In 2017, the collective acquired a majority stake in The Atlantic. It's invested in for-profit publications like Axios and Ozy, as well as in the for-profit podcaster Gimlet Media, and it's supported the work of such nonprofit journalism outlets as ProPublica and the Marshall Project. When Emerson bought Pop-Up Magazine, Jobs praised the live-journalism venture for fostering "empathy and better understanding in the world." She said, ""Pop-Up Magazine's live format engages audiences in a fresh, impactful way."
Making the experience special
Imagine reading one of your favorite editorial writers from the comfort of your home, on your couch while you're sipping your morning coffee. Now imagine sitting face-to-face and interacting with that journalist. That intimacy can be shared in a group setting.
"In some ways, these live shows fill the newspaper's historic role as a focal point for its community," wrote Lene Bech Sillesen in the Columbia Journalism Review, "a role that has faded as information sources have grown more diffuse." That relationship had been mutually beneficial for the publications and their communities. As Alexis de Tocqueville observed in Democracy in America, "Newspapers make associations, and associations make newspapers."
The need to recapture and revitalize this relationship has led publications to create more roles to foster audience engagement. When Nikki Waller was named its editor of live journalism and special content, the Wall Street Journal made a point of noting that its live journalism events, which had "expanded dramatically," were "done to the highest standard as all our journalism." Soon Waller used a Medium Q&A to announce she was looking to hire more people in live journalism jobs.
Pop-Up Magazine's co-founder Douglas McGray has said he launched the live venture to bring together the various people who create a magazine and have them show their work onstage. The after-parties acknowledge that the audience is made up of smart, like-minded individuals who would enjoy talking about what they'd just witnessed. In this way, the community plays a role in enlarging the immediacy of the event, making a grander, more visceral experience than the traditional encounter between writer and reader. 
"We get people to cry and laugh and leave the theater feeling a deep connection to what they just experienced, the stories they heard, and the community they felt involved with," said Jakob Moll, CEO of Zetland, a Danish digital news outlet that has been mounting theatrical events for its subscribers since 2013. Moll made his comment at the 2018 International Journalism Festival in Perugia, Italy, on a panel with live journalism organizers from Le Monde and the Financial Times. While Moll noted, "We do not have great profitability on the shows themselves," he said their strategic value was "very high," because the shows raised Zetland's profile and attracted new investors. "We're an investor-funded business, and we could never have connected with the people that ended up funding us—and that keep funding us in this period of time—without live journalism. . . . It's the fuel that keeps everything going."
The news organizations that find the greatest value in live journalism align their events with their larger journalistic missions, because appreciative audiences will seek out the outlets and publications. The public radio show and podcast Radiolab sees live shows as crucial to growing its audience. Former executive producer Ellen Horne told Nieman Storyboard, "A lot of people are brought to a Radiolab show by a Radiolab fan. It seems to be a way that fans are able to introduce Radiolab to people who aren't listening to podcasts."
Yet at last year's International Journalism Festival, Louis Dreyfus, CEO of France's Groupe Le Monde, stressed that live journalism shouldn't be regarded as a loss leader: It can be an important, "highly profitable" business, attracting valuable sponsorships and new revenue, as well as an audience recruiting tool. "We are organizing around 30 events a year," Dreyfus said, including festivals, seminars, and other live offerings in different parts of France, Quebec, Senegal, and the Ivory Coast. Every year Le Monde holds an English-language event in Singapore. "We are recruiting a new audience," Dreyfus said. Live journalism is "a way for us to talk to a younger audience, talk to a foreign audience, and we're making money because we are offering a new format to our advertisers."
Ways to monetize live journalism
Live journalism is attracting publishers looking to enlarge and diversify their revenue streams, and publications have used live events to incentivize subscriptions. The New York Times offers its subscribers exclusive events aimed at building long-term relationships, or, as the organizers put it, "experiences to bring subscribers closer to the Times." Recent events include a newsroom tour with a chance to sit in on the editors' Page 1 meeting; a guided visit to the Times' "morgue," or archive, with photos and news clippings dating back to 1851; and conversations with journalists on such topics as immigration, #MeToo, and cyber-conflicts among nations. Some of these events can be accessed online. Both digital and print subscriptions account for a majority of the Times' revenues, and the live events and other special offerings are aimed at retaining subscribers.
Le Monde has built its lucrative festival and conference business with "90 percent" of revenues coming through sponsorships, according to Louis Dreyfus. Since 2014, it has enlisted 2,500 sponsors for events open to the public, subscribers only, and "selected numbers of people invited by our partners," Dreyfus said. Sponsors have ranged from household brands like L'Oreal and Google to providers of corporate services like the consultancy company PricewaterhouseCoopers and the multinational law firm Clifford Chance. "Partners and advertisers are looking to do special events, and that's a way for us to better address their audience."
With the need to develop this new business, Le Monde has increased the size of its editorial staff "from 300 to 430 journalists," Dreyfus said. "That's something we invested in to make a business model out of it and to find a new format for [Le Monde's reporters and editors] to express their talents."
While Le Monde relies on sponsorships and often holds free events, other outlets make their money on the events. Pop-Up Magazine sells tickets at prices comparable to those for Broadway plays. This spring's tour has sold out theaters, auditoriums, and opera houses in seven cities, with the cheapest seats starting at $36. Pop-Up Magazine recently raised $4 million to invest in expanding the enterprise. Exclusivity comes with even higher price tags. Fees for some of the New York Times' business conferences can run as much as $4,990 a person, including meals, refreshments, and other activities.
Here today, gone tomorrow?
Publications can profit from live journalism, but is the novelty in danger of wearing off? How sustainable are the various business models? Do operations depending on sponsorships run the same risk as publications that over-relied on advertisers? 
Many of the live journalism events are done in a day and can be experienced only by those who are fortunate enough to be in the room. That's a big part of the appeal for writer and producer Rose Eveleth: "Stories happen in the moment. As soon as they're done, they're gone." 
"The challenge is continuing the conversation beyond the ballroom, and making sure it translates to the broader audience online," said the WSJ's Nikki Waller. She looks to technology as a remedy. "We're experimenting with video formats that capture the same interesting person and ideas we had onstage, but in a way that's highly consumable on other platforms."
Some have questioned the journalistic value of the more theatrical live events as well as the sponsored conferences. The Columbia Journalism Review's Sillesen makes the case for live events like those staged by Radiolab and Pop-Up Magazine, where "the editorial process behind the shows resembles that of traditional journalistic platforms."
"Stories are researched, factchecked, and edited by professional journalists, editors, or producers," she noted. "But other outlets are adapting journalism for the stage, and sometimes altering facts in the process."
A few years ago London's Royal Court Theatre and the Guardian collaborated on a series of six filmed "microplays" based on conversations among the directors, playwrights, and journalists. The short works were fictions derived from facts, yet the Guardian's website treated them almost like journalism, providing links to the plays at the top of articles on related subjects.
Even the most serious journalism profits from a sense of theater, holding the audience's attention. In her Medium Q&A, Waller vowed to grow the Wall Street Journal's live journalism business by making its offerings unpredictable. "We want to surprise people and hook new audiences, too," she said. "Speakers and attendees also want to meet and hear from the editors and reporters who gather and break real news. And that demand is only growing stronger."
Key quotes
"This year I'm focused on updating our offerings, modernizing the coverage, and bringing more diverse voices and formats to the fore. We want to surprise people and hook new audiences, too. At an event we held in December, one attendee in the front row had a man bun — I'll call that progress."
"[The audience] really enjoyed the increasing transparency of journalism. When the journalist onstage tells a story, the journalist usually tells something about the process––reveals the process––and it adds to the transparency."
Why is this important?
"Live journalism" events bring both the excitement and substance of reporting straight to the curious and concerned crowds that news outlets need to reach.