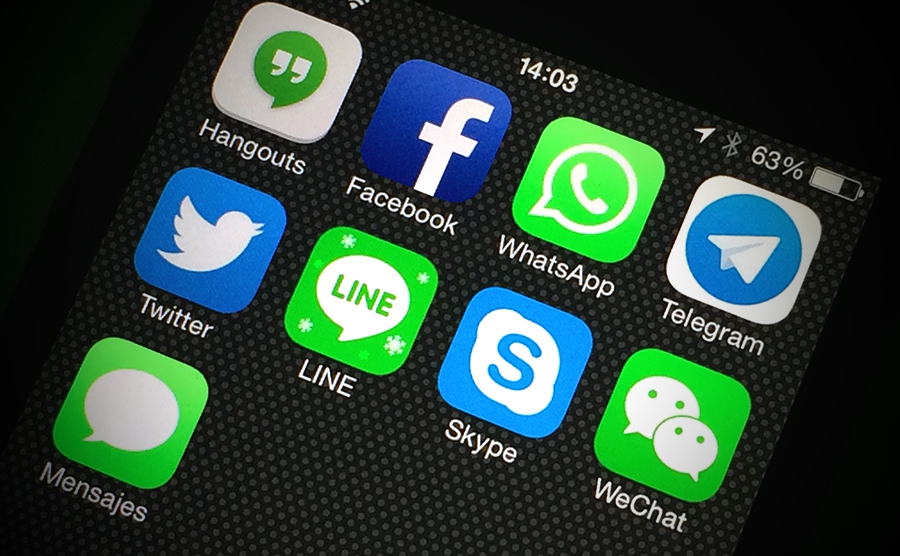 CHAT APPS
The rise of messaging for news
Messaging apps are shaping future newsrooms by helping to reach and cover more of the world.
If you think the rise of chat apps reflects a growing disenchantment with social media, you may not be far from the truth. The blistering criticism directed at Facebook and Twitter in the aftermath of the 2016 U.S. presidential race—over such issues as data privacy, the spread of misinformation, and foreign election interference—roughly coincided with the increased popularity of closed-group messaging apps.
A recent report by the Reuters Institute and the University of Oxford found the use of social media has been slipping in key markets after many years of robust growth. Last year in the United States, the usage of Facebook as a news source was down 6 percentage points from 2017. Among young Americans, the decline was even steeper, falling 14 percentage points from 2016 to 2018. Meanwhile, more people were using messaging apps for news, the report said, as consumers looked for "more private (and less confrontational) spaces to communicate." WhatsApp was now used for news by about half of the online consumers surveyed in Malaysia and Brazil, and about a third of those surveyed in Spain and Turkey.
When the report came out in 2018, WhatsApp (which is owned by Facebook) was the world's most popular messaging app, with 1.5 billion users, who sent more than 60 billion messages daily. Facebook Messenger placed second, with 1.3 billion users, and then came WeChat, the Chinese messaging and mobile payment app, with more than 900 million users, mostly in China (where WhatsApp and Facebook are blocked).
Other chat apps were making rapid gains, too. The Luxembourg-based Viber had around 900 million active users last year, while Line, launched in Japan in 2011, had about 700 million registered users. Telegram had under 200 million users, but the Reuters Institute report discovered the app's strong encryption feature made it particularly popular in countries with "more authoritarian" governments, such as Malaysia and Singapore. Kik, with about 300 million users, remained popular in its home country of Canada.
Overall, the findings showed audiences, particularly younger people, moving to chat apps for sharing and discussing news. While social media platforms allow users to share content among a social network, messaging apps support private, real-time online communication. Worldwide usage of SMS, or the mobile phone's short messaging service, has dropped dramatically over the last decade in favor of chat apps, which are free and incur smaller data charges. The popularity of messaging also improved with technological advancements, as apps evolved from the sending of simple text messages to providing more complex functions, such as audio and video chats, voice memos, file transfers, and group as well as broadcast lists. These enhancements make messaging apps useful tools for newsrooms.
4 Killer Apps
| | | |
| --- | --- | --- |
| App | Strengths | Weaknesses |
| WhatsApp | End-to-end encryption. Free to download and use. Group chats, voice and video calls, unlimited broadcast list. Allows users to send messages without an Internet connection. | Group chat limited to 256 people. App shares data, such as contacts and phone numbers, with owner Facebook. |
| Viber | End-to-end encryption. Free to download and use. Group chats, voice and video calls. "Doodle" feature allows users to create drawings or to write over photos. | Group chat limited to 250 members. |
| Line | End-to-end encryption. Free to download and use. Group chat, voice and video calls. More stickers and emoji. Social "Timeline" allows users to see photos posted by contacts. Option to follow pop stars. Voice calls can be made to non-members. | Group chat limited to 200. Additional features slow down speed. |
| Telegram | Best app for security, with two layers of encryption: "cloud chats" use server-client encryption, and "secret chats" use an additional layer of client-to-client encryption. Free to download and use. "Supergroup" chats for up to 10,000 members. | No video calls, but can send video messages. The app is banned in Russia and Iran. |
Opportunities and Challenges for Newsrooms
Messaging apps have grown significantly in developing countries, where users face the challenges of limited phone data and Internet access, and private communication is especially valued under difficult regimes. The apps have already become a vital source of information about newsworthy events, connecting reporters and participants. When Ebola broke out in West Africa in 2014, for example, and when a severe earthquake hit Nepal in 2015, the BBC launched services on WhatsApp and Viber, respectively, to gather facts and to share news and life-saving information by mobile phones. Or look at the Amsterdam-based Radio Dabanga, which began in 2008 as a shortwave provider of Arabic-language news for Darfur and Sudan. It has now expanded into satellite TV, Soundcloud, and Facebook, as well as WhatsApp, which broadcasts Radio Dabanga content to 118 groups and reaches a potential n estimated 133,450 people. Participation is part of the chat platform, so audiences respond. Radio Dabanga's WhatsApp service receives up to 100 news tips a day. An editor sorts through the tips before dispatching a reporter to check out the most promising leads.
Yet, despite their benefits as news gathering and distribution platforms, messaging apps present their own unique challenges.
Power
Messaging apps, like the social media platforms, have handed more editorial power to the audience and democratized content creation and curation. One of the major concerns in this power shift has been over the integrity of the news.
The nonprofit Institute for the Future captures the fears succinctly: "Millions of ordinary people are driving the flow of news through chat apps. By sharing individual messages that paraphrase, editorialize and contextualize the information, these people change the content. This potentially risks the integrity of the news and shifts authority from professional journalists to everyday citizens."
Reach
Messaging apps are closed platforms, which can't reach a wider public like other social media and traditional websites. Limits are set on group sizes, and users of WhatsApp, for instance, can't contact people from outside of their circle.
These difficulties have convinced some news outlets that chat apps aren't worth the trouble, said Christine Roberts, the director of audience development at Axios and a former mobile editor at HuffPost. Another problem is that people have been conditioned to not share their phone numbers, she added.
"Each app has different challenges," Roberts said. "It is very easy to grow audiences on Viber and Line via stickers and other tactics; however, those audiences are often not very engaged. WhatsApp is tough to manage from a programming standpoint, because you can only message users in small groups, which makes it difficult to send out messages at scale."
Revenue
Media organizations are still trying to figure out a revenue model for messaging apps. Not only do they face the difficulties of engaging larger audiences—ads are difficult to serve on messaging apps. Some outlets, however, are using chat apps to drive people to their premium products, like newsletter subscriptions.
HuffPost wanted to recruit a brand to sponsor its chatbots, but it found no takers. One plan involved getting Netflix to sponsor a movie recommendation bot or the Food Network to sponsor a recipe bot.
"The issue, right now, is that the scale of the audience for chatbots is small, so there isn't a ton of interest on the sales side yet," said Roberts. "Because it is a relatively new offering [and] technology, it is so hard for brands to measure impact."
Regulation
Like the social media platforms, messaging apps have been the target of government crackdowns. Congo-Brazzaville, Chad, Uganda, and the Gambia have blocked the use of social media and WhatsApp during elections.
In Brazil, WhatsApp was blocked three times over an eight-month period. In Uganda, the government imposed a tax on social media and messaging platforms, including Facebook, WhatsApp, Viber, and Twitter, on the grounds that they aid "Lugambo," or gossip. It was struggling to register all mobile phone SIM cards. Of the 23.6 million mobile subscribers in Uganda, only 17 million use the Internet.
Authentication
While major media outlets are using messaging apps—including the BBC, NBC, HuffPost, the New York Times, and the Financial Times—one of their biggest challenges is verifying the content circulated by others in their groups.
"We'll get a lot of people sending the same video on WhatsApp," said Trushar Barot, a mobile editor at the BBC World Service. WhatsApp attaches a phone number to each user, but that may not help when fact checking. "They'll say [the video] it was passed on by a friend. "In those situations, it's often very, very difficult to get through to the original poster because there's no original tweet to get back to and say, 'Here's the original link.'"
Future Implications
News organisations are already creating roles that never existed before, like mobile editor and engagement expert. In the future, newsrooms will likely create such jobs as chat apps editor or chat apps specialist to handle news distribution on these platforms. Newsrooms will need journalists skilled in using the new technology to drive their chat apps for audience growth and engagement.
The top four messaging apps combined have just as many users as the top four social networks. While the rise of closed networks won't spell the end for social newsgathering, smart newsrooms are experimenting with messaging because their audience and sources are hanging out on chat apps. By equipping reporters to use the apps well, news outlets can increase their influence and connect to audiences on a deeper level, strengthening engagement and encouraging loyalty, the key performance indicators of successful newsrooms.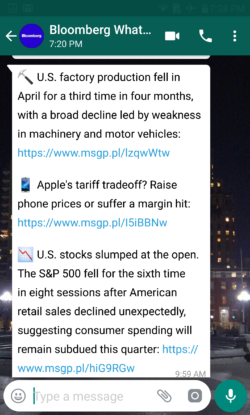 h
Tips for Newsrooms
Here are some simple steps to engage audiences on messaging apps.
Invite your audience to join you on messaging apps. Create a dedicated phone line and share it.
Explain the purpose of creating on the new platforms. Let the audience know how it stands to benefit.
To share content effectively, make stories as short as possible with a link to the website for details. A two- or three-line paragraph is enough. Readers who want to go deeper can click on the link to read more.
Choose a specific time of the day to share links. An early morning broadcast could sum up the top stories. The day'sA news roundup would then go out by the close of the day.
Engage your audience. Seek feedback from readers. Ask them to send tips and story ideas.
Acknowledge feedback. Let audience members know when their suggestions, comments, or contributions are published.
Dedicate staff to your audience. Engagement builds trust.
Key quotes
"We find that the move to distributed content via social media and aggregators has been halted—or is even starting to reverse, while subscriptions are increasing. . . . At the same time, we continue to see a rise in the use of messaging apps for news as consumers look for more private (and less confrontational) spaces to communicate."
"The whole thing about social media is like wearing a mask. So when I am in my messaging groups with my friends, the mask comes off, and I feel like I can truly be myself."
Why is this important?
Newsrooms are using messaging apps to both share and gather news among mobile audiences. This development promises to be particularly useful in countries with limited Internet access and oppressive regimes.
People to follow
Trushar Barot

works as a mobile editor at the BBC World Service in New Delhi, where he is overseeing the launch of new digital news services in different Indian languages.